Most likely you've driven by it on the way to some famous winery along the 29, or perhaps you've seen the name somewhere, but how many people actually make a stop to Cardinale? The plain roadside sign of big block letters with no winery in sight has more often than not, led people to bypass what has been a premium wine destination.
For us, we have had Chris Carpenter's wines before, mainly the ever so famous Lokoya that has been getting acclaim, but never had the chance to consider other wines in his portfolio. After an invite from Cardinale, we took it upon ourselves to try some world-class wines under Chris' already impressive portfolio of wine.
ituated in Oakville, a short drive up a road and hill led us to a very secluded, serene, and beautiful destination of Cardinale. Walking inside the winery, we immediately noticed how pristine everything was situated, it gave an aura of prestige and impressiveness, needless to say, we felt like this would be quite an amazing tasting.
We were introduced to Mollie (our host), who promptly poured us a glass of the 2012 Cardinale Intrada Sauvignon Blanc
Cardinale 2012 "Intrada" Sauvignon Blanc
Aromatic and fresh nose with bright citrus notes and florals. The palate is clean and bright, featuring zesty notes of grapefruit and lime, with richness of pear and stone fruits featuring a creamy finish. We gave this a 89/100 points at $43

As we sipped on the Intrada, Mollie gave us the run-down on Cardinale. Part of the Mt. Brave, La Jota, Lokoya family, Cardinale was on the higher end of these families with its flagship being the yearly red blend, kind of like Opus One. One thing that Molly was proud to tell us was that the Cardinale's blend has always been only and nothing but mountain fruit, with the blends consisting of Howell Mountain, Mt Veeder, Diamond Mountain, Spring Mountain and St. Helena. Yes, that meant all the fruit grown on the Estate, none of it has ever gone into the Cardinale blend. Quite an interesting idea to look at, considering they were sitting in the middle of beautiful Oakville but used none of its famous fruit.
Our next wine was from the La Jota portfolio, and was quite a special wine, the 2012 Cabernet Franc. Fun fact that this year was the first year that two different blocks other than the winery block were added to the blend.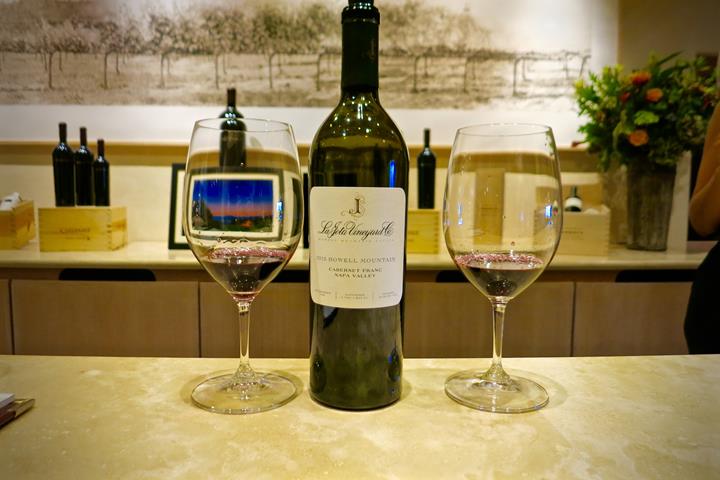 La Jota 2012 "Howell Mountain" Cabernet Franc
Aromatics of black tea, strong red fruits and berries. The palate displays rich candied red fruits, cherries, and features great persistence and extraction with round tannins and a hint of vanilla. We gave this 90/100 points at $75.

While tasting the La Jota, Mollie gestured for us to take a quick view behind us, where we found an amazing wall displaying all the soil types that were found in the Cardinale blends. Meticulously labeled, it was a great representation of the abundance of rich terroir that served as the basis of all of the Cardinale blends.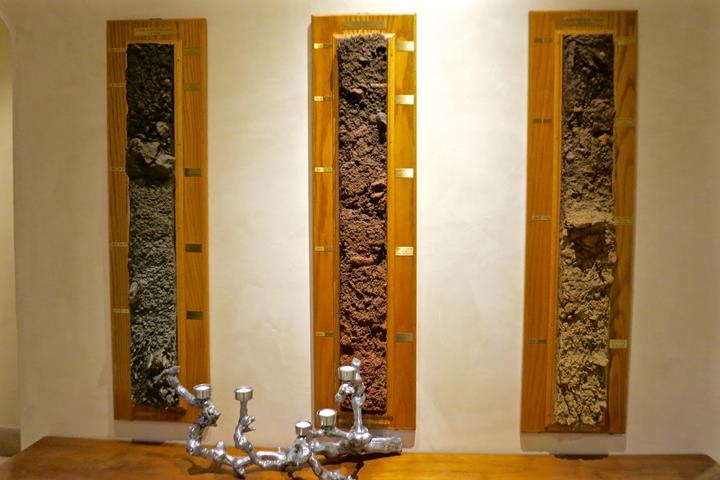 (Wall of terroir)

After our brief lesson in terroir, we were able to take a seat outside on the patio to enjoy our wines and soak up the view. We enjoyed the relaxing weather and view over the Intra and La jota while talking about personal life with Mollie. It was a great refresher to relax in contrast to how prestigious it was inside the winery.
(View from the outside patio)

Following our enjoyable chat with Mollie outside, we decided that it was finally time to get down to business, and we went back into the "saloon" tasting room and were greeted by an incredible spread!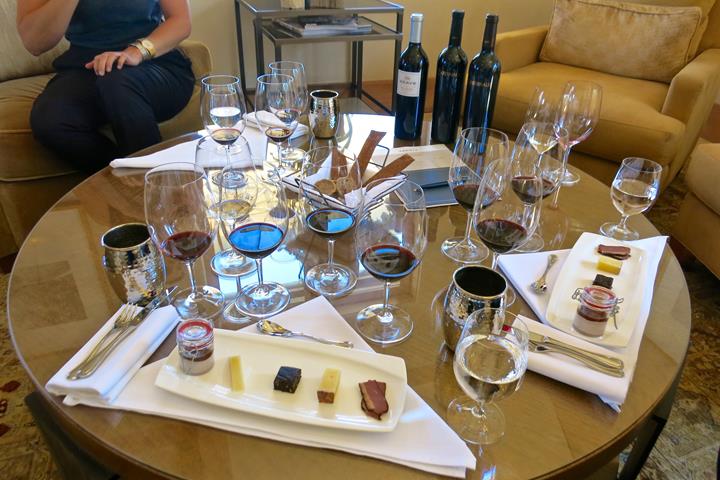 (Complete spread at Cardinale)

With their own onsite chef and cheese monger, Cardinale provided for us an incredible tasting + pairing to the lineup. The tasting plate featured an array of small bites, from the mushroom panna cotta to smoked duck breast and various cheeses. It was definitely one of the finest presentations we had seen at any winery tasting up to date.
(Tasting spread at Cardinale)

Our first wine of the tasting was the more "entry level" wine to Chris Carpenter's portfolio of wines, the Mt. Brave family. We had already tried this at the Mt. Veeder tasting a couple of months back, but it was good to see what a few months had done for the bottle and adequate aeration.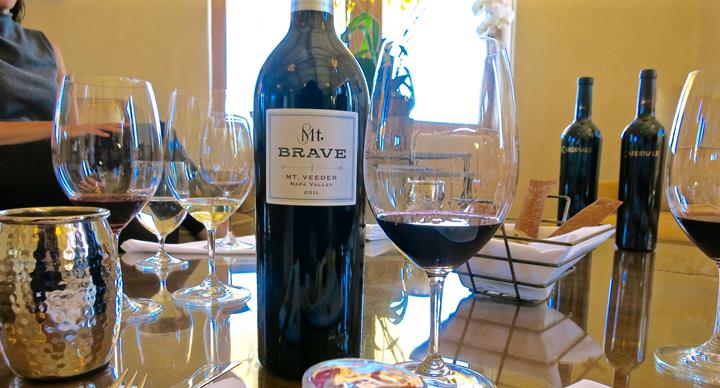 Mt. Brave 2011 "Mount Veeder" Cabernet Sauvignon
Gorgeous and deep nose of black fruits and dried herbs, the palate is rich with notes of blueberries, spices, blackberries and licorice. Soft mouthfeel, but you can taste the expression of mountain fruit. We gave this a 92/100 points at $75/btl

Moving onto the heavy hitters, the next few wines would be quite the expression of mountain fruit and Chris Carpenter's style of winemaking.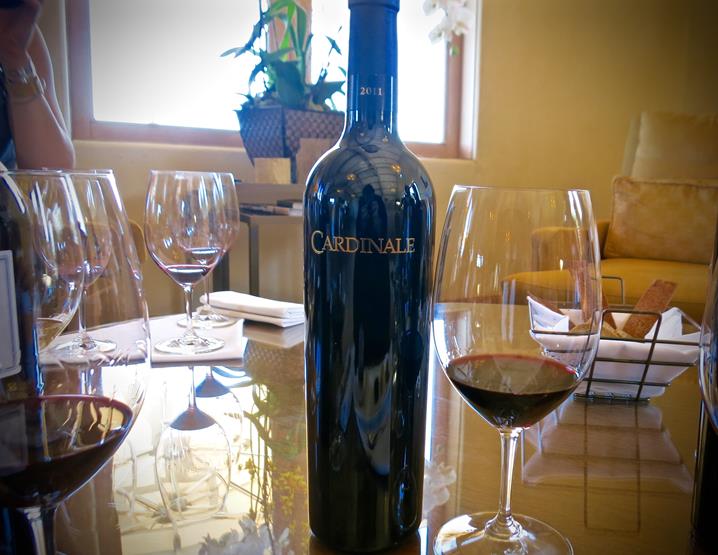 Cardinale 2011 Cabernet Sauvignon
A solid expression of the balance between fruit and tannin, the classic aromas of cassis, bitter chocolate, coffee and black fruits really shone through. Although tight, the complexity and persistence shine through this vintage, and should drink beautifully in the next 10 years or so. We gave this a 94+/100 points at $250/btl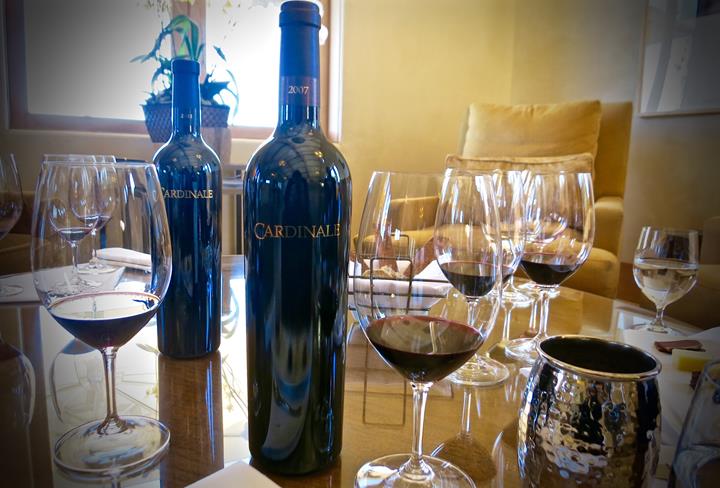 Cardinale 2007 Cabernet Sauvignon
While retaining the core of blackberries, cassis, licorice, spices and oak, the 2007 showed maturation with the time it has been given, but still drank young. The fruit was more matured but integrated beautifully with the secondary layers of spices and herbs were becoming more apparent. The persistence was good, high level of extraction and complexity were beginning to show the potential of this wine given a few more years. We gave this a 96+/100 points at $250.

As if every bite of the food did not already complement each of the fantastic wines provided, Mollie came out with one last surprise for us.
Lokoya 2009 "Howell Mountain" Cabernet
An incredible expression of Howell Mountain, the Lokoya displayed deep notes of chocolate, black fruits, licorice and fine minerality. The palate was persistent, pure, and gave an incredibly lush mouthfeel which ended in a finish that lingered to no end. A robust and rich wine, we could only imagine what a few years could do to this wine, flirting with perfection. We gave this a 98/100 points at $350/btl.

As we revisited a few pours of the Lokoya and Cardinale for note-taking, Mollie graciously let us know that if there was anything needed, we should not hesitate but ask, and she would kindly walk us out when we were finished. We were amazed at the incredible service that Mollie and the rest of the Cardinale provided for us that it seemed to just make the wine that much better. There was nothing pushy about the experience, no sales pitch, no wine club talk; just the experience of enjoying great wine. We could not have started our day any better than this.
Overall Experience: World class wines made by a world class winemaker, set in an environment of prestige but none of the stuffiness that comes with it. This is an experience everyone interested in the fine wine category should definitely try. If you can, ask for Mollie, she is nothing short of an amazing host.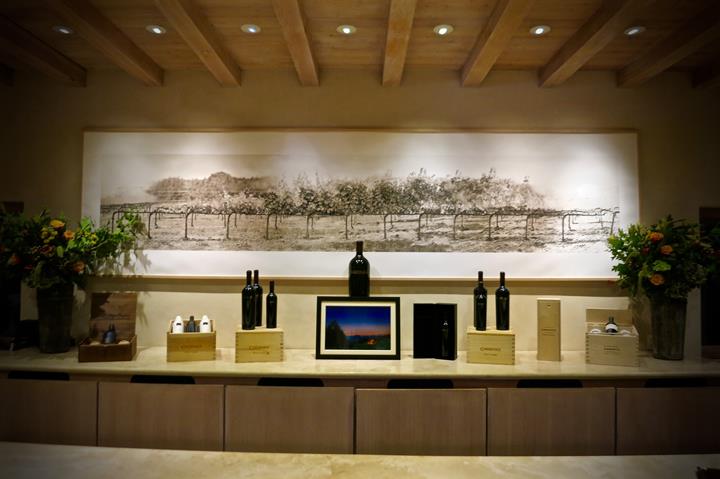 (An incredible piece of artwork of the vines of Cardinale in all stages)

TheWineGuys Recommendation: A Must Visit
7600 St. Helena Highway
Oakville, CA, 94562
707-948-2643
Appointment Required
Tasting Fee: $75+/Person