It's been long known among the high end wine collectors and enthusiasts in the world that wines made by Philippe Melka sit among the top in the world. With a resume that commands big shot names like Chateau Haut-Brion, Chateau Petrus, Hundred Acre, Dominus Estate, Byrant Family, Dana Estates Moone-Tsai and much more, it's not a wonder he was named one of the Top 10 winemakers in the world by Robert Parker in 2015.

Philippe spent his childhood growing up in Bordeaux, eventually getting a degree geology at University of Bordeaux. During his last year in school, he took a wine course (because why not?) that would change his life. Immensely intrigued by the wine making process, he began interning at Chateau Haut Brion and Chateau Cheval Blanc, in where he eventually completed his masters in Agronomy and Enology.

Wanting to learn more, Melka set off to discover more about wine, traveling the world to Australia, Chianti, and fatefully, eventually Napa Valley where he worked at Dominus with Christian Moueix, and Paul Draper from Ridge Vineyards. It was at Ridge where he met Cherie, who was the lab manager at there, who would eventually become his wife. Both wanting to no longer be apprentices, Philippe and Cherie decided to stay in California, where opportunity was bigger, and allowed more chances to experiment and explore, where as in France, rigid structures were to be followed in winemaking.

After years of consulting, Philippe and Cherie opened up Melka Wines, in 1996, celebrating their first vintage of a Bordeaux styled Red Wine labeled Melka Metisse. Soon after, Melka's success would eventually lead him to 3 more labels, the Mekerra, Majestique and CJ. Under each of these labels, would come forth an array of wines from blends, to single vineyards.

We were fortunate to get connected with Sylvie Laly, who graciously hosted us. Melka Wines in no way was some grand estate with gorgeous views and giant vinyeards, in fact it was just a giant metal barn, on a piece of property that was still being developed. However, inside the barn, was a beautifully set up tasting area that reminded us of a cozy home, and it really helped set the mood.

We started off with with the 2012 Melka CJ Cabernet Sauvignon blend, which was named after their kids Chloe and Jeremy. The goal of this wine was to really make a great value wine, which would show off the youthful spirit of their children.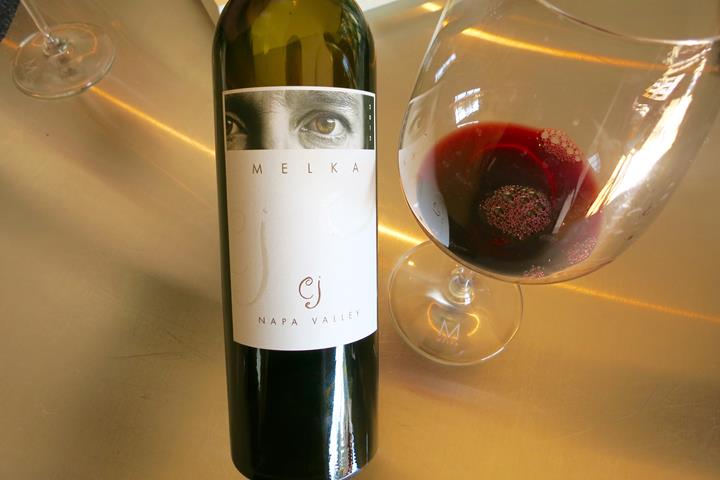 2012 Melka "CJ" Cabernet Sauvignon: The CJ really did a good job in displaying a child's youth with bright and lively aromas red fruits, black fruits, red berries, warm spices, currant and tobacco. The palate was rich, with big notes of red and black cherries, plums, tobacco, hints of mocha and baking spice. A very approachable wine in it's youth (perhaps intended), the CJ was a delicious and well priced Cabernet. We gave this a 92/100 points at $65

The next wine was a Syrah from Paso Robles under the Majestique label. The label of Majestique was chosen as an homage to represent wines from around the world that inspired them and from vineyards that were simply "majestic." One of the vineyards that they really loved hailed from Central Coast, with rich limestone soils, the famous Paderewski vineyard.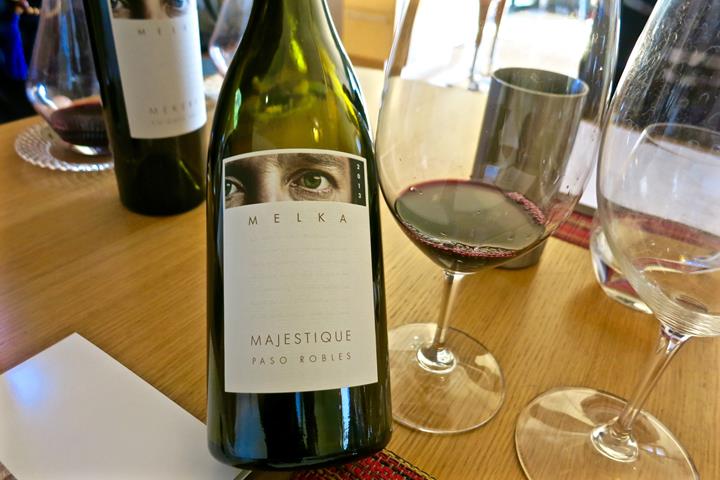 2013 Melka Majestique "Paderewski Vineyard" Paso Robles : This particular Syrah really struck a chord with us, with the big, incredible aromas of bacon, dried dark fruits, smoke, and spice. The palate was bold with the dark fruits, yet hanging onto to that absolutely savory smoked bacon. The gorgeous mingling of cherries, plums, and the crushed earth notes from the limestone soils really helped bring a rich and pleasant mouthfeel. We gave this a 94/100 points at $145

Following the Syrah, we moved onto a red blend from up in the Knights Valley at an elevation of 2400 ft named the La Mekerra Vineyard. The word Mekerra was chosen to pay homage to a river in Algeria, which flowed near Philippe's father's birthplace. The 10 acre vineyard was made to plant Cabernet Franc on volcanic ash while the Merlot on clay loam, giving birth to a Cheval Blanc blend.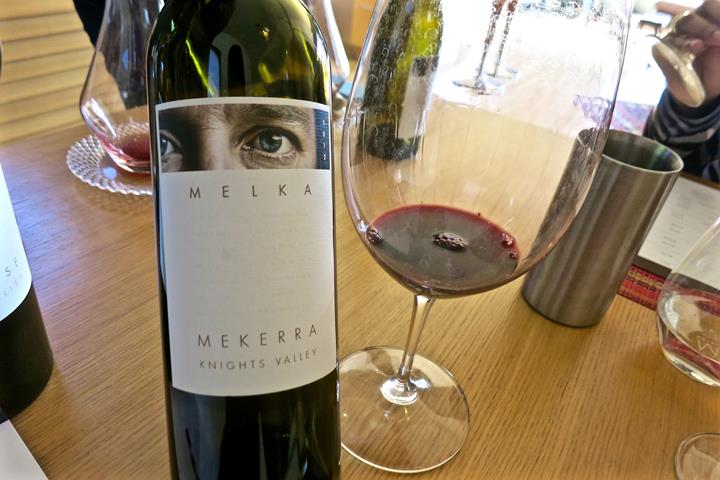 2012 Melka Mekerra "Knights Valley" Red Blend: Re-creating his take on the Cheval Blanc, this blend was dubbed as "The Beast" by Melka, and after having a sip, we couldn't have agreed more. The nose was intense, with wild florals, wild dark berries , smoke and spice. The palate was an absolute haymaker of a punch of cherries, currant, licorice and an abundance of earthy terroir notes. The tannins really ripped at our palates (even though it was decanted for 2 hours) and it was so well structured, we could only imagine how it would be in the years to come. We gave this a 96+/100 points at $165

Moving on from the Cheval Blanc blend, we made our way to another red blen under the label of Méttise. The word Métisse came from a French word that means "a blend of culture" and it was used as a label as it embodied their original concept of the wines they wanted to make and of themselves as French Winemakers in American Vineyards.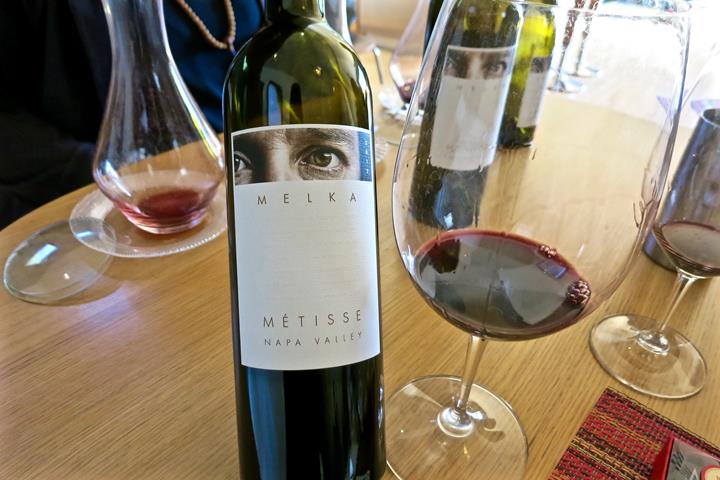 2012 Melka Metisse "Jumping Goat Vineyard" Proprietary Red: The Jumping Goat Vineyard was purchased in 2003 from Jumping Goat Vineyard and led to one of the first single vineyards that was produced under the Melka label. The aromas of this red wine really showed a classic red wine approach of dark fruits, crushed gravels and brown spice, lit cigar, with a balanced touch of oak. The palate featured a gorgeous structure of dark cherries, blackberries, licorice and graphite. We gave this gorgeous and expressive wine a 94/100 points at $165

We were fortunate enough to have Sylvie pour an extremely limited wine for us, the Métisse Montbleau Vineyard, which technically could be called the "Estate" wine, as it came from the property off the slopes of the Silverado Trail on St. Helena. The vineyard, which pays homage to his family, is a small 2-acre vineyard with only Cabernet Sauvignon planted. Naturally, the wine was 100% Cabernet Sauvignon.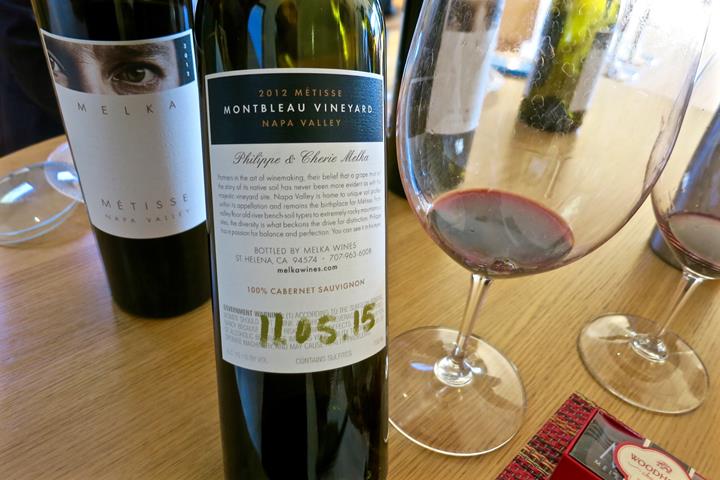 2012 Méttise "Montbleau Vineyard" Cabernet Sauvignon: The only full Cabernet Sauvignon from the collection, this was really a small production treat. The nose was classic, seductive aromas of dark fruits, mocha, tobacco, herbs and currant. The palate showed youthful notes of dark cherries, tobacco, anise, currant and bitter chocolate and crushed gravel. The Cab was well structured, and the mouthfeel was soft yet showed just a flash of boldness. We gave this gorgeous and limited quantity Cabernet a 95+/100 points at $185

Before wrapping up our tasting, we were treated to the first vintage of their Proprietary White. Sylvie told us that, although it was technically a Sauvignon Blanc (97% Sauvignon Blanc, 3% Muscadet), they wanted to call it a Proprietary White to escape the common conception that Sauvignon Blanc could not be an expensive wine. After telling us that, she went on to tell us that this was the most expensive Sauvignon Blanc in the states, at the rate of $145. It definitely was steep, but nothing could really prepare us for what we experienced. Fermented 22 months in oak, and using a special barrel created by Melka, this was by far one of the best Sauvignon Blanc's if not the best that we have ever had.

2013 Melka Mekerra Sauvignon Blanc Knights Valley: Coming from the same vineyard at 2400 feet, the grapes should have struggled already but what came from it was an intense and incredible concentration and richness. The nose featured notes of crushed hillside gravel, white florals, white fruits, mangoes, lime and brioche. As if the bouquet was not beautiful enough, the palate was an absolutely beautiful medley of green mango, pear, white peaches, apricots, jasmine, with lime zest acidity. What really made this wine for us was the mid-palate to finish texture of this creaminess and touch of oak characteristics that really counterbalanced the acidity and fruit. Everything was so well balanced, seamless, structured, and nothing was overbearing, we really enjoyed this ethereal white wine. It almost was a shame that we drank it so early before letting it develop more! We gave this marvelous wine a 98+/100 points at $145.

We really enjoyed the fact that the Sauvignon Blanc was poured last, and Sylvie informed us that it naturally was poured last since most people who visited Melka wanted to try his red wines, and to pour a Sauvignon Blanc first would take away from the expectation of the red wine.

This concluded our tasting at Melka wines and it really was quite an experience. Throughout all of the wines, you could really taste the style of the winemaker and his background in geology, as he really let the terroir and vineyard speak in the wines. Everything we sampled was a beautiful display of different terroirs and a very simple and beautiful approach on winemaking. Sylvie also gave us a pro tip on when to approach the wines, she said that about seven years later from harvest, that is where Melka has claimed that would be the vision he had for the wine. So for the wines we picked up, they will likely sleep for 6-7 years, and we really can't wait to see the matured expression of Philippe Melka.

For any serious wine lover, or for anyone who truly appreciates terroir and brilliant winemaking, this is a no-brainer place to visit. It surely isn't for just anyone, and not everyone can get an appointment to visit (it is highly selective) but to really understand or appreciate high levels of winemaking, this is a perfect example. Although his wines command a high price and are definitely deemed as a luxury wine, after your visit, you should more than likely come to the conclusion that the wines are worth every penny.

Recommendation Level: A Must Visit

Melka Wines

2930 Silverado Trail (During Construction)

707-963-6008

Private tastings by appointment only

Recommend coming with intent to buy