We recently were reached out to on Instagram by Amanda to head down to Odette estate for tasting, and once we found a weekend, we headed up. Odette Estate, the newest member of the Plumpjack and Cade family, is located in the beautiful area of Stags Leap, just off the famous Silverado Trail. Odette, is the youngest sibling of the Plumpjack and Cade and has actually only recently released their first vintage of Cabernet. However, as the three wineries are linked, they do serve their other labels such as Plumpjack, Adaptaion, cade and CADE.
We arrived at Odette in the early afternoon with the sun beating down on the estate and us. As we entered the tasting room, it was already bustling with a lot of people at the bar and sitting outside on the patio. After a few minutes, we finally were connected with Amanda and she wasted no time for us to dive into our tasting!
Amanda quickly explained that the first few wines we were going to try were the wines served in the Adaptation label. The Adaptation label was made to create an easy going-more approachable wine that was affordable to consumers who wanted to drink quality wine immediately.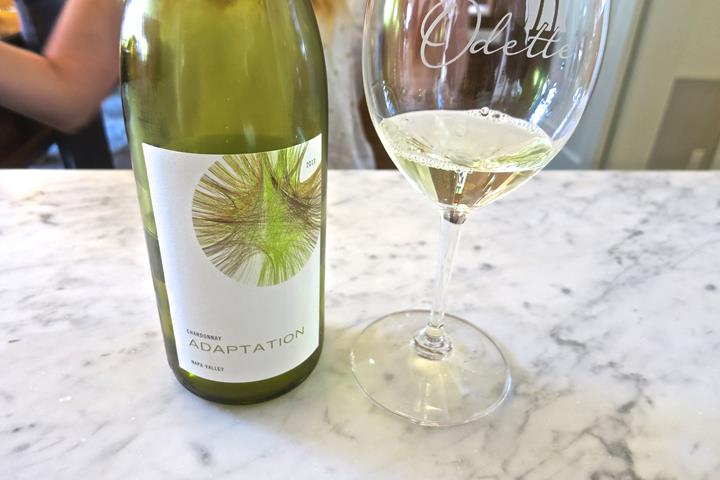 Adaptation 2013 Chardonnay
Bright and inviting citrus notes, white florals, and green tropical fruits permeate the nose into palate notes of green apple, melon, banana's and kiwi. Very little evidence of oak (although some), with a crisp and refreshing finish. We gave this a 88/100 points at $32.
The next wine was off the tasting menu, we were fortunate enough to have Amanda let us try it!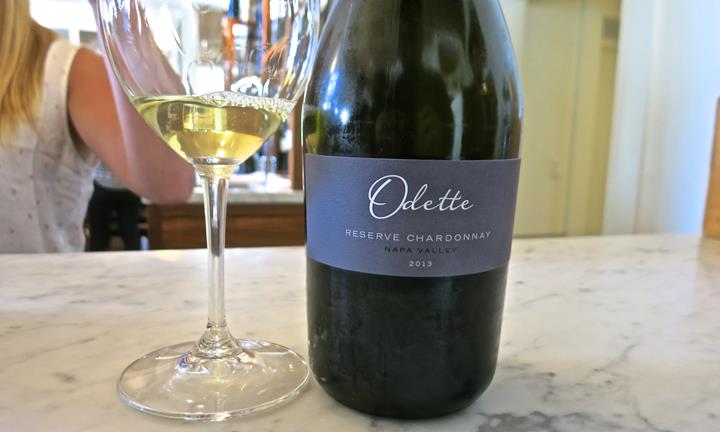 Odette 2013 Reserve Chardonnay
Aromas of fresh and lively apples, pears, lively acidity with a hint of vanilla and spice. The palate is rich with creamy notes of pear, figs, kiwi, banana, that are enveloped with subtle and non-overbearing notes of oak. We gave this a 90/100 points.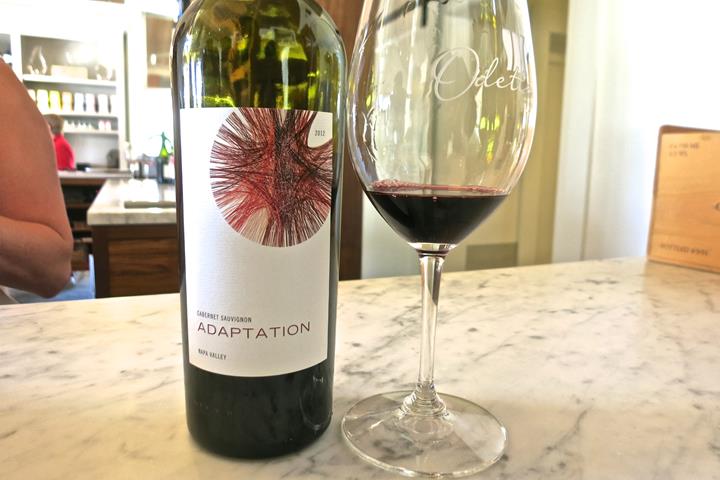 Adaptation 2012 Cabernet Sauvignon
Bouquet aromas of red berries and blue fruits with hints of vanilla and herbs. Very approachable palate with notes of red cherries, tart raspberries, clove, vanilla and chocolate. Rich and creamy mouth feel, definitely a drink now wine. We gave this wine a 89/100 points at $46.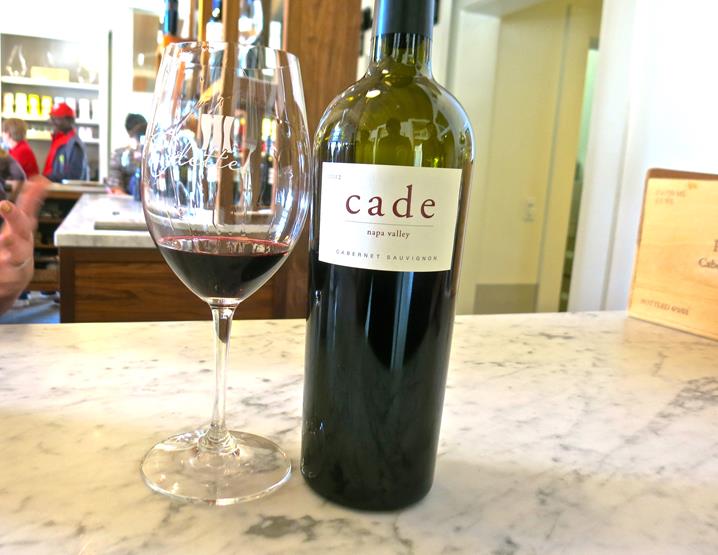 2012 cade Cabernet Sauvignon
Aromatic notes of red berries, red floral, chocolate, toasty notes and cassis. Juicy palate featuring red cherries, raspberries, chocolate, cassis, vanilla and mocha. We gave this a 93/100 points at $64.
Off the tasting menu, we were able to try the 2012 CADE Cabernet next. Not to be confused with cade, CADE (all upper case) Cabernet is comprised of all Howell Mountain fruit, while cade (all lower case) is consisted of valley floor fruit.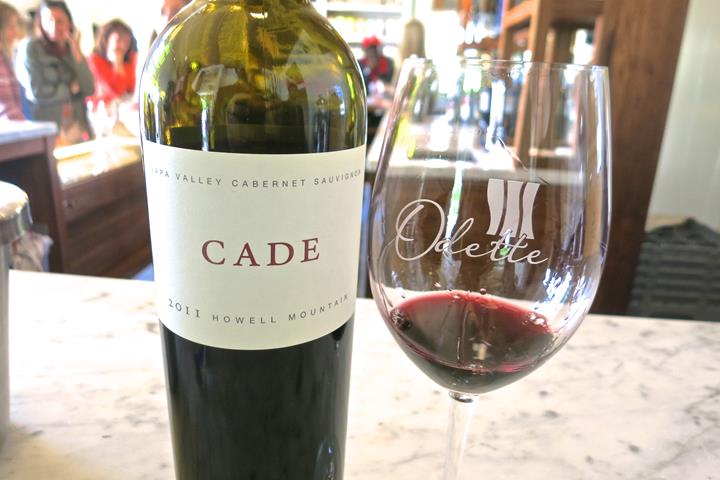 2011 CADE Cabernet Sauvignon
Intense aromas of wild berries, cassis, earthy notes and minerals. The palate displays equally intense and rich notes of raspberries, cranberry jam, cassis, tobacco, baking spices and earthy soils. A fine showing for the rather difficult 2011 "cooler vintage" We gave this a 94/100 points at $80.
Finally, we reached the long awaited moment of our tasting, the inaugural release of Odette Cabernet! Would it be worth the long awaited hype? Here are our in detail notes: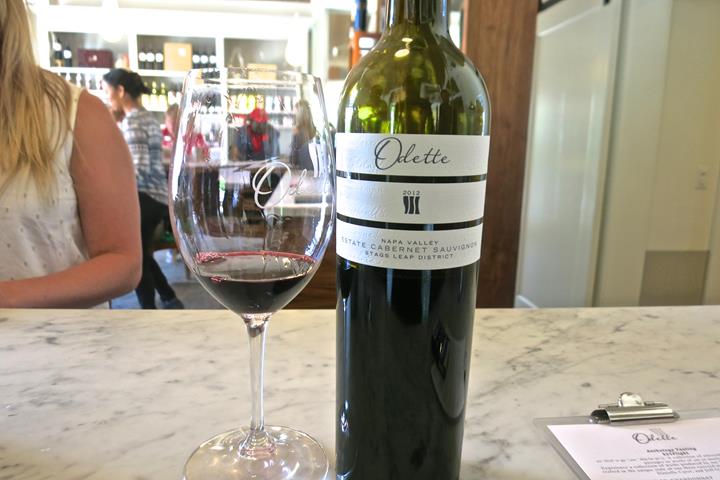 Odette Estate 2012 Cabernet Sauvignon
Aromas of crème de cassis, wild red berries, dried herbs, mocha notes and baking spices. The palate is juicy and intense with dominant layers of raspberries, red cherries, crushed minerals, licorice and tobacco. Secondary layers of herbs, vanilla, and earthy minerality push the wine towards a long and beautiful finish. Incredible first vintage and a great start for Odette Estate. Drink for another 15 years. We gave this wine a 95/100 points at $98.
Off the menu: As we marveled at the great first vintage of Odette Estate, we were treated to something real special from Amanda. She brought out the highly sought out CADE Reserve for us to review as well.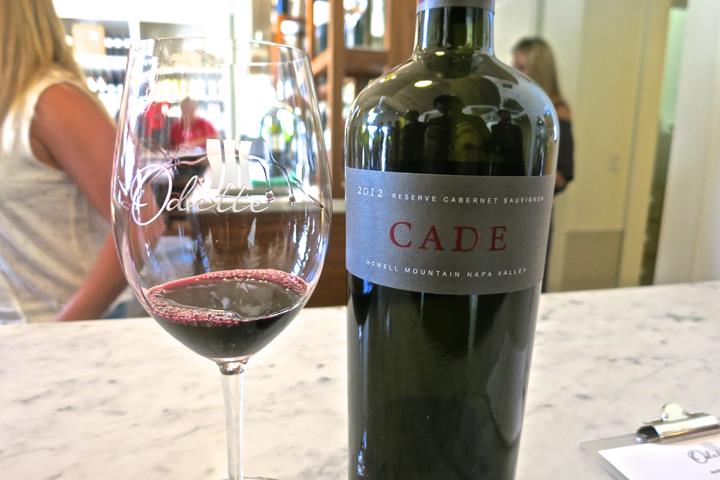 CADE 2012 Reserve Cabernet Sauvignon
Aromas of green herbs, lively blue and black fruits, smoke, chocolate and cassis. The palate displays notes of cassis, black currants, blueberries, blackberry jam, tar, mocha and chocolate. Incredibly juicy and complex palate, leading into a stunningly smooth and refined mineral finish. We gave this wine a 97/100 points at 175.
Overall impression: Hailing from the family of well established wineries Plumpjack and Cade, it isn't a surprise that Odette's inaugural release already had all the pieces necessary to make a world class wine. As they continue to gain acclaim, especially with their 2012 Odette Reserve Cabernet which received 100 Points by Robert Parker (we did not try), don't be too surprised to see them busy at all times of the day. But, expect to have some world class wines be served to you with a cheery smile, and make sure to say hi to Amanda for us!
The Wine Guys Recommendation: Recommended
Tasting fee: $20/person
5998 Silverado Trail, Napa, Ca, 94558
(707) 224-7533
Appointments not required