It's been long known among the high end wine collectors and enthusiasts in the world that wines made by Philippe Melka sit among the top in the world. With a resume that commands big shot names like Chateau Haut-Brion, Chateau Petrus, Hundred Acre, Dominus Estate, Byrant Family, Dana Estates Moone-Tsai and much more, it's not a wonder he was named one of the Top 10 winemakers in the world by Robert Parker in 2015.

Philippe spent his childhood growing up in Bordeaux, eventually getting a degree geology at University of Bordeaux. During his last year in school, he took a wine course (because why not?) that would change his life. Immensely intrigued by the wine making process, he began interning at Chateau Haut Brion and Chateau Cheval Blanc, in where he eventually completed his masters in Agronomy and Enology.

Wanting to learn more, Melka set off to discover more about wine, traveling the world to Australia, Chianti, and fatefully, eventually Napa Valley where he worked at Dominus with Christian Moueix, and Paul Draper from Ridge Vineyards. It was at Ridge where he met Cherie, who was the lab manager at there, who would eventually become his wife. Both wanting to no longer be apprentices, Philippe and Cherie decided to stay in California, where opportunity was bigger, and allowed more chances to experiment and explore, where as in France, rigid structures were to be followed in winemaking.

After years of consulting, Philippe and Cherie opened up Melka Wines, in 1996, celebrating their first vintage of a Bordeaux styled Red Wine labeled Melka Metisse. Soon after, Melka's success would eventually lead him to 3 more labels, the Mekerra, Majestique and CJ. Under each of these labels, would come forth an array of wines from blends, to single vineyards.

We were fortunate to get connected with Sylvie Laly, who graciously hosted us. Melka Wines in no way was some grand estate with gorgeous views and giant vinyeards, in fact it was just a giant metal barn, on a piece of property that was still being developed. However, inside the barn, was a beautifully set up tasting area that reminded us of a cozy home, and it really helped set the mood.

We started off with with the 2012 Melka CJ Cabernet Sauvignon blend, which was named after their kids Chloe and Jeremy. The goal of this wine was to really make a great value wine, which would show off the youthful spirit of their children.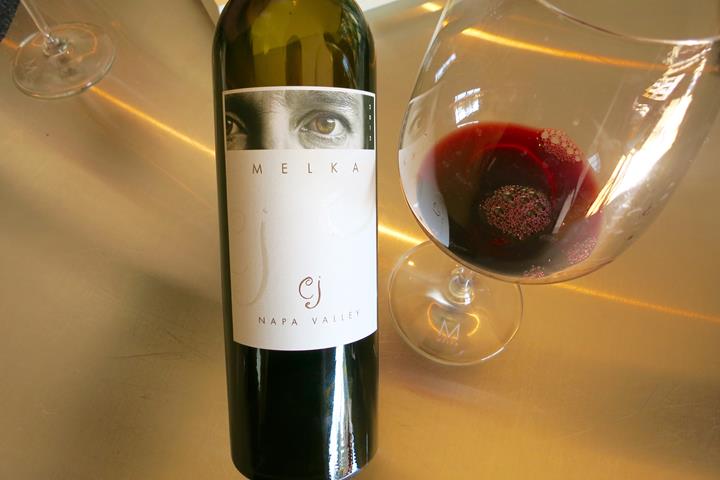 2012 Melka "CJ" Cabernet Sauvignon: The CJ really did a good job in displaying a child's youth with bright and lively aromas red fruits, black fruits, red berries, warm spices, currant and tobacco. The palate was rich, with big notes of red and black cherries, plums, tobacco, hints of mocha and baking spice. A very approachable wine in it's youth (perhaps intended), the CJ was a delicious and well priced Cabernet. We gave this a 92/100 points at $65