If you've gone to Napa over the last few years, it's been pretty hard to miss the construction going on at Piazza Del Dotto right at the beginning of Oakville. Already known for their exceptional wines and super fun cave tours, it seems like they were ready to expand even further in the realm of their top of the line experiences.The installment of Piazza Del Dotto came from their family philosophy that wine tasting should be a complete sensory experience. Dave and Yolanda Del Dotto, already avid wine collectors, managed to snag a property in Rutherford in 1988 after falling in love with the views there. Shortly after moving the family up from Hawaii, they began what everyone else in Napa with a property does, winemaking. Their success with winemaking (a couple of 100 pt wines) would not only cement their legacy, but allow them to expand even further, giving way to Piazza Del Dotto. Piazza Del Dotto, boats an Italian-inspired barn, surrounded by acres of Oakville Cabernet Sauvignon, tasting cabanas, vegetable gardens, 17th century fountains, and an outdoor barn.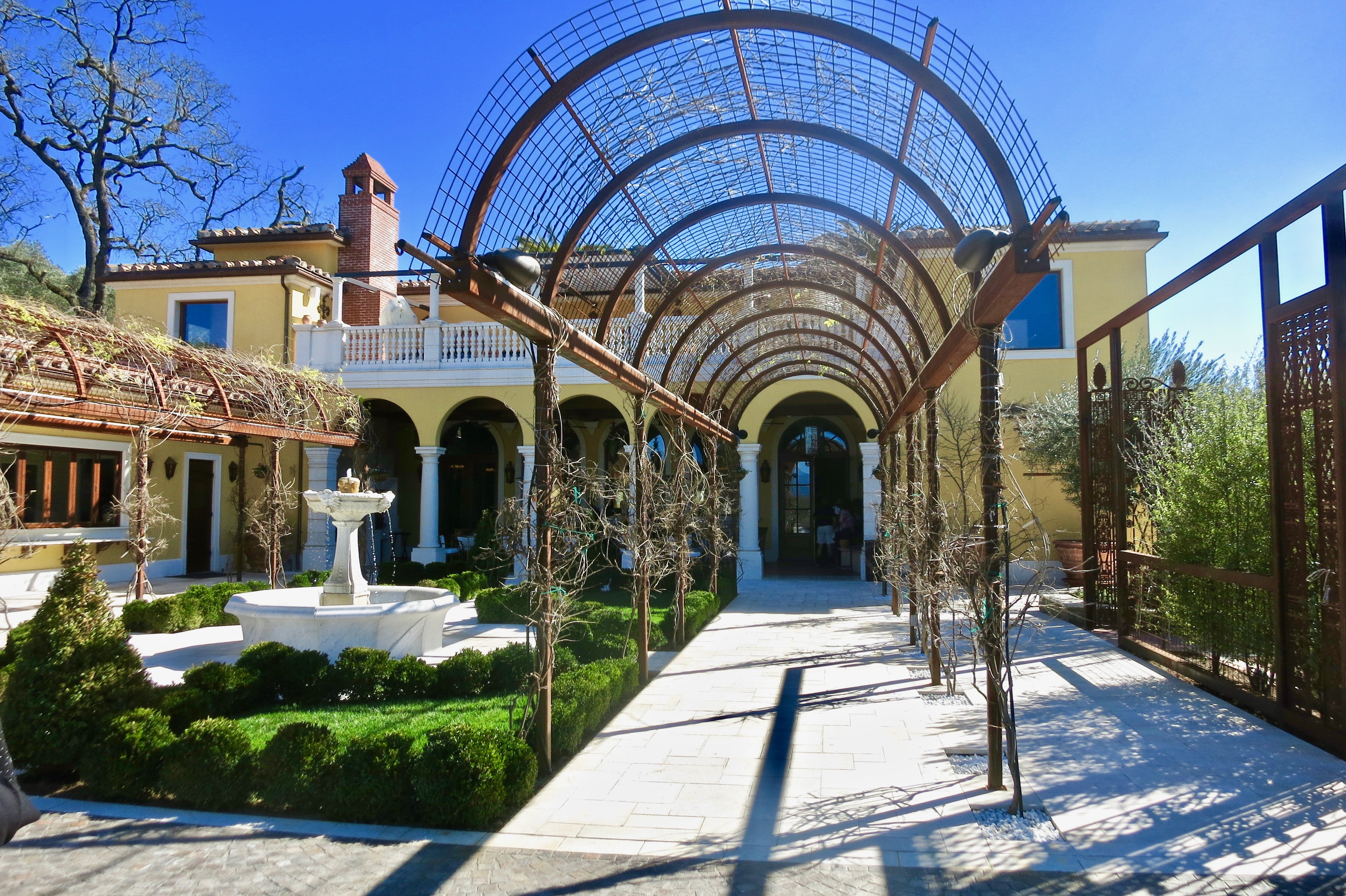 With food and wine being the heart and soul of a Del Dotto experience, they have their own Chef Joshua Schwartz running their program, boasting a career from The French Laundry, Per Se, Bouchon and Bouley. The story is the Del Dotto family loved to dine in Yountville, and after many wonderful experiences at Bouchon, they favored dishes that came from Josh, and decided to poach him for their own. Offering him a double pay, freedom of direction, and less grueling hours, the switch was made, and Schwartz has been with them for the last 10 years. With great wines and a rockstar for a food program, it's pretty easy to see why the opening of Piazza Del Dotto was a highly anticipated event.Piazza Del Dotto opened late last year, and we were invited to the grand opening, but unfortunately didn't get to make it out. Luckily enough we were able to secure a time early this year and made the trip up. — WARNING:  PICTURE HEAVY POST INBOUND.–
We were running a little late to our appointment, so we didn't get to take a photo of the front gate, but we  can assure you it is a thing of beauty, be sure to take in the view upon entering. Upon arriving, we were checked in promptly and immediately moved towards the left-side bar are for just a quick splash of rose.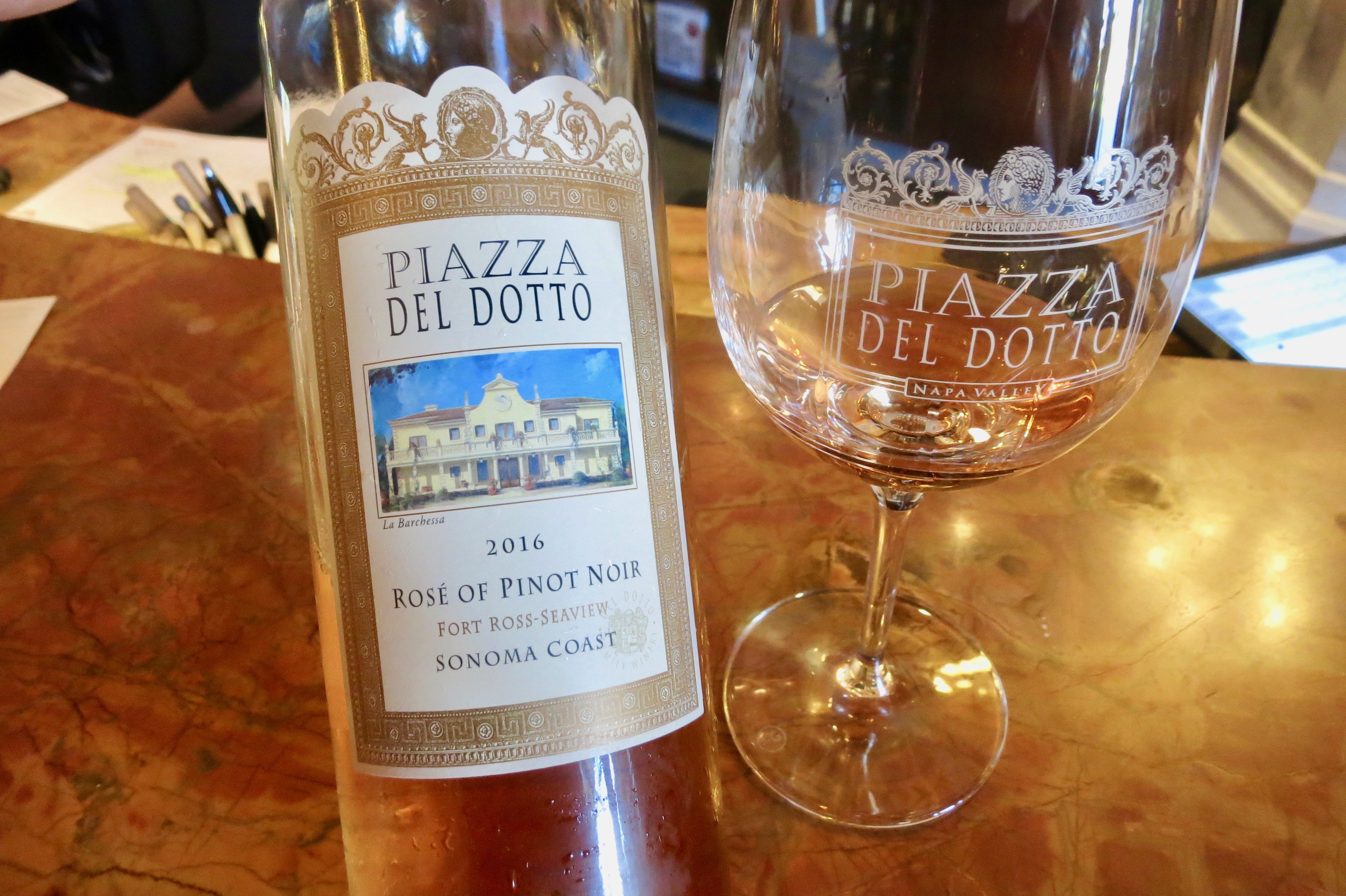 Fairly candied and floral notes of candied cherries, raspberries, strawberry, red florals, peaches and guava. A bit more dense on the palate, but good mouthfeel and acidity, with slightly earthy undertones. A nice way to warm up the palate. We gave this 87 points. (Couldn't  find the price on any of the sheets.)
We were seated shortly after outside on the patio area overlooking a beautiful vineyard with the mustard in full bloom. We were briefly asked if there were any allergies or things we didn't eat, and just like that, our "Delicacies" experience began.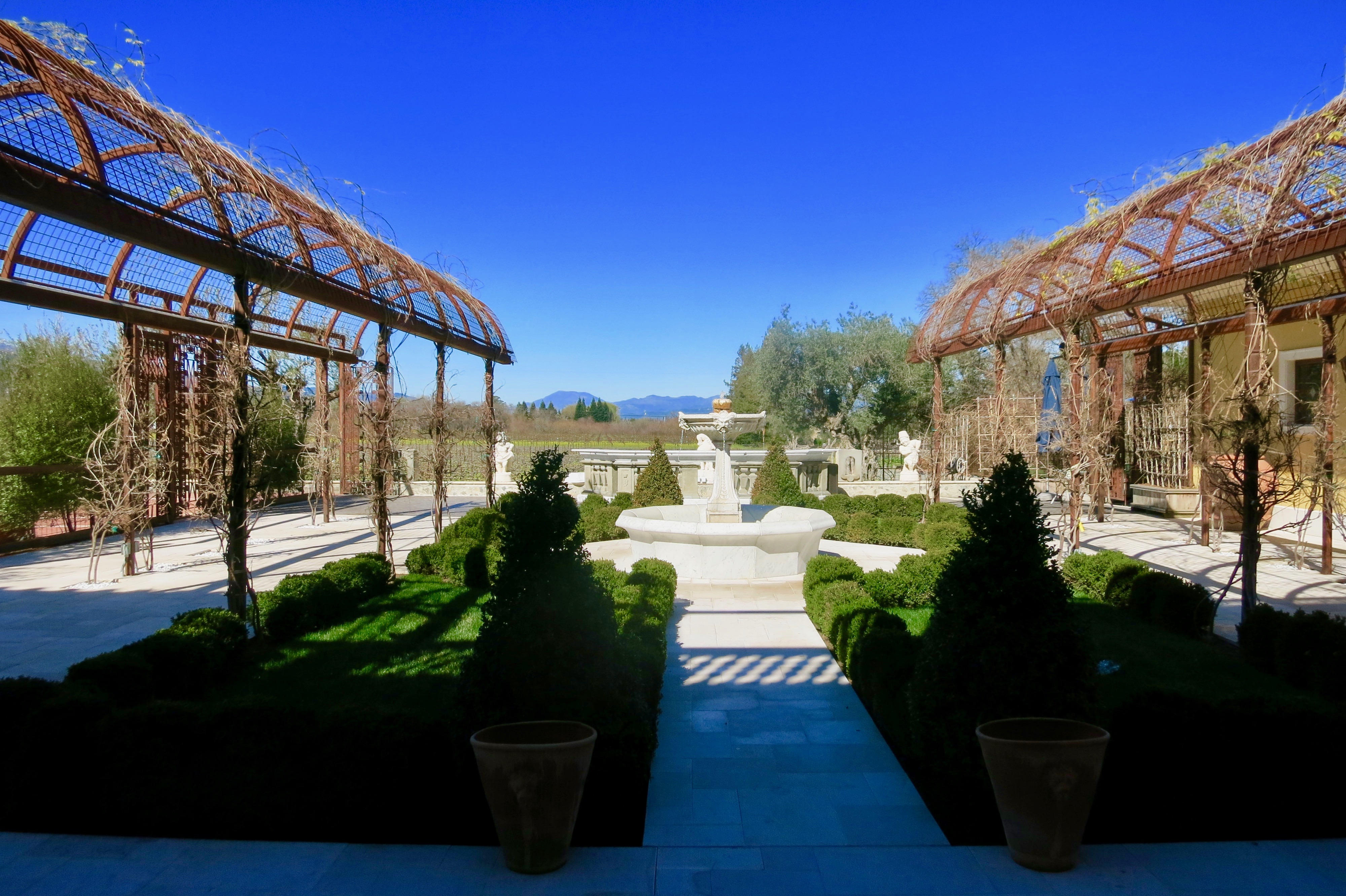 The first course was an "Omelette."  It was paired with the 2016 Piazza Del Dotto Sparkling Brut Rose from the "Cinghiale" Vineyard in Sonoma.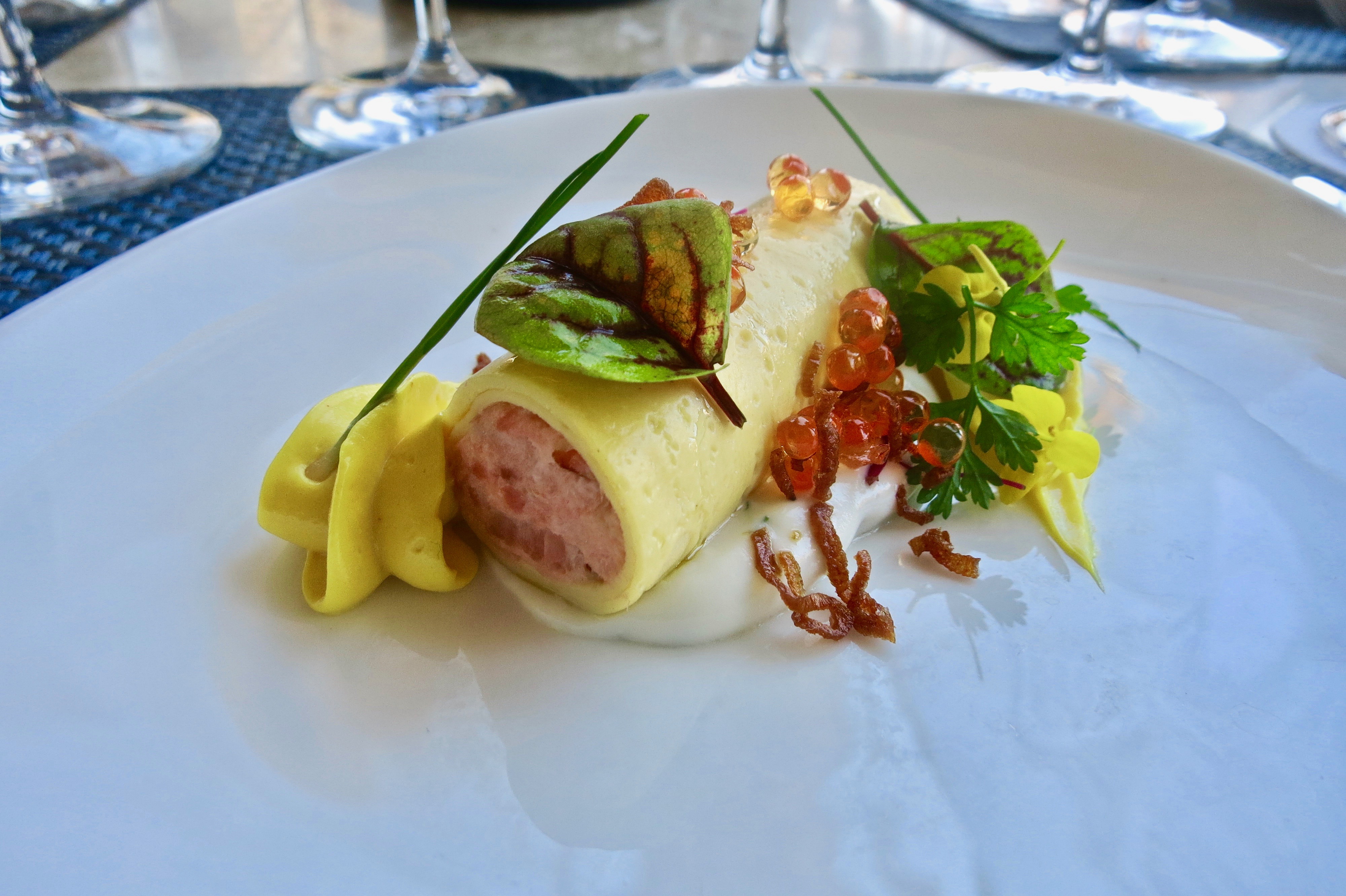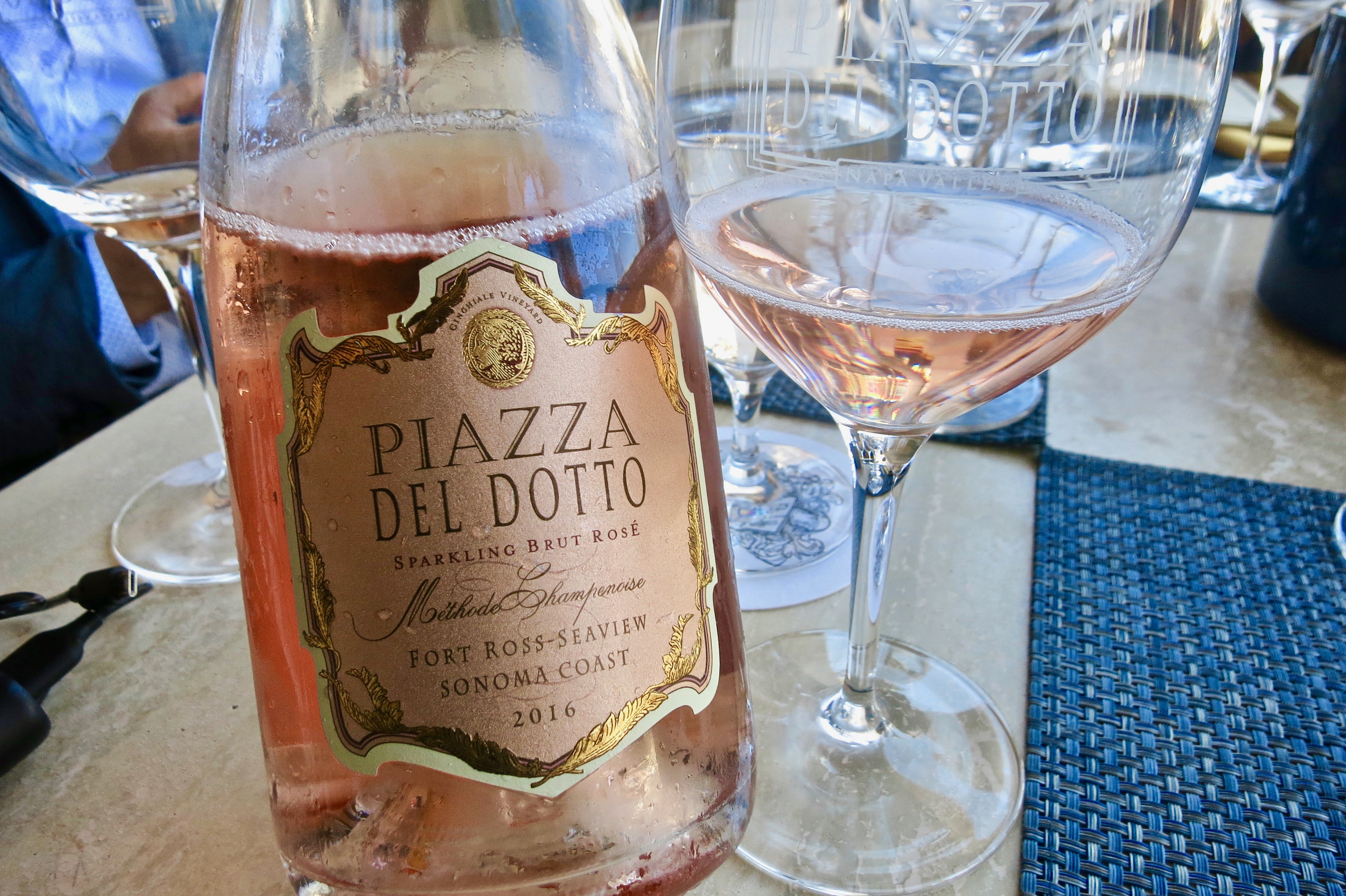 Wine: Slightly similar to the initial Rose, floral with earthy undertone notes of strawberries, raspberries, vanilla, citrus zest, grapefruit and crushed minerals. Well made, fine mousse on the palate, and a good balance of acidity and salinity. Really good with food. We gave this a 89 points at $48
Pairing: The Omelette was delicate and full of savory flavors, with the Roe adding the saltiness that was needed. Some fresh florals, a mustard mousse and the crema lifted the dish and gave it the freshness to contrast the savory components. The sparkling complimented the dish extremely well, giving that sparkling clean mouthfeel of minerality and gentle red fruit. Just the thing to start get our palate started.
The second Course was a "Maine Lobster Roll." It was paired with a 2015 Piazza Del Dotto Chardonnay, also from the Cinghiale Vineyard.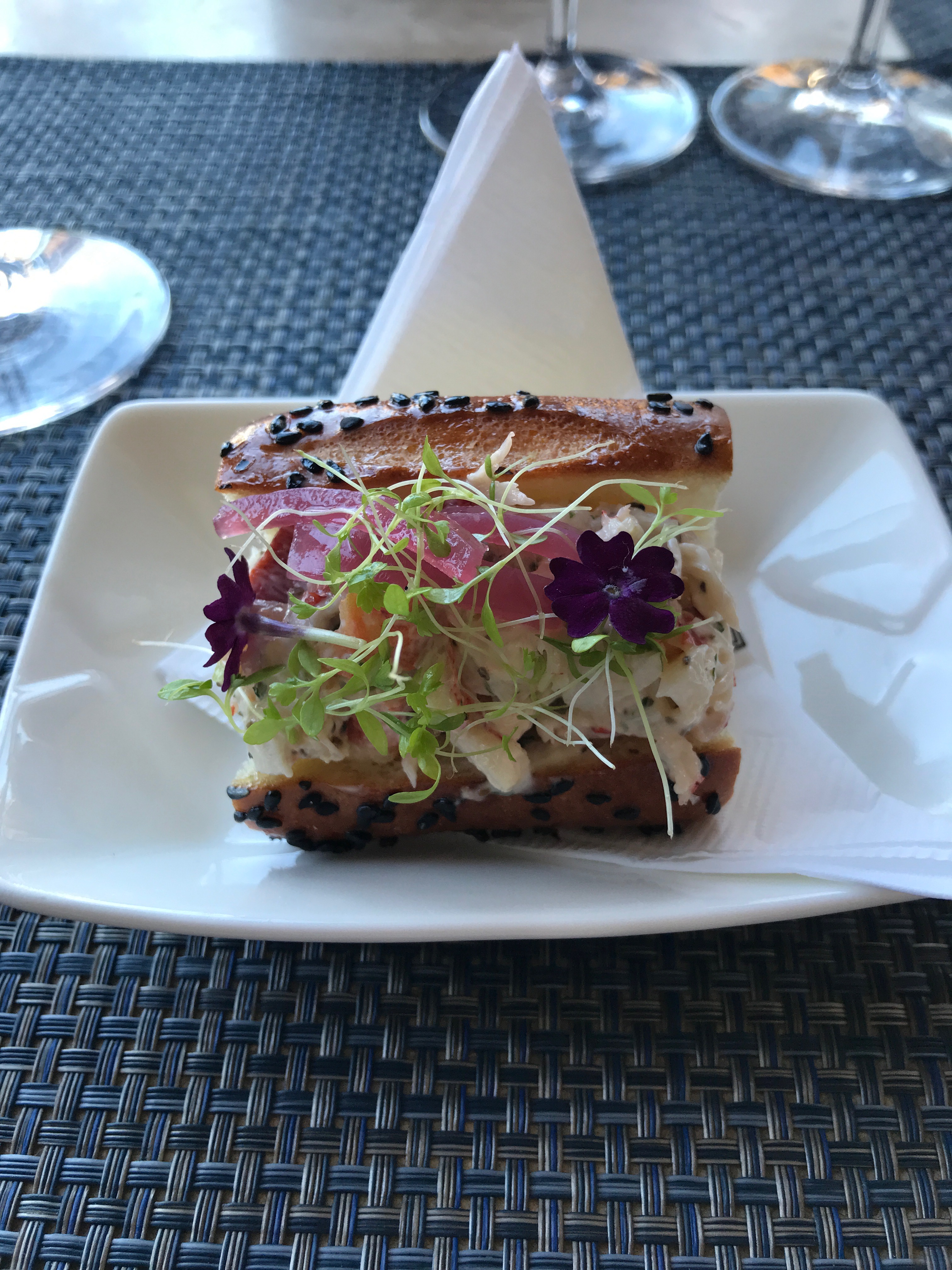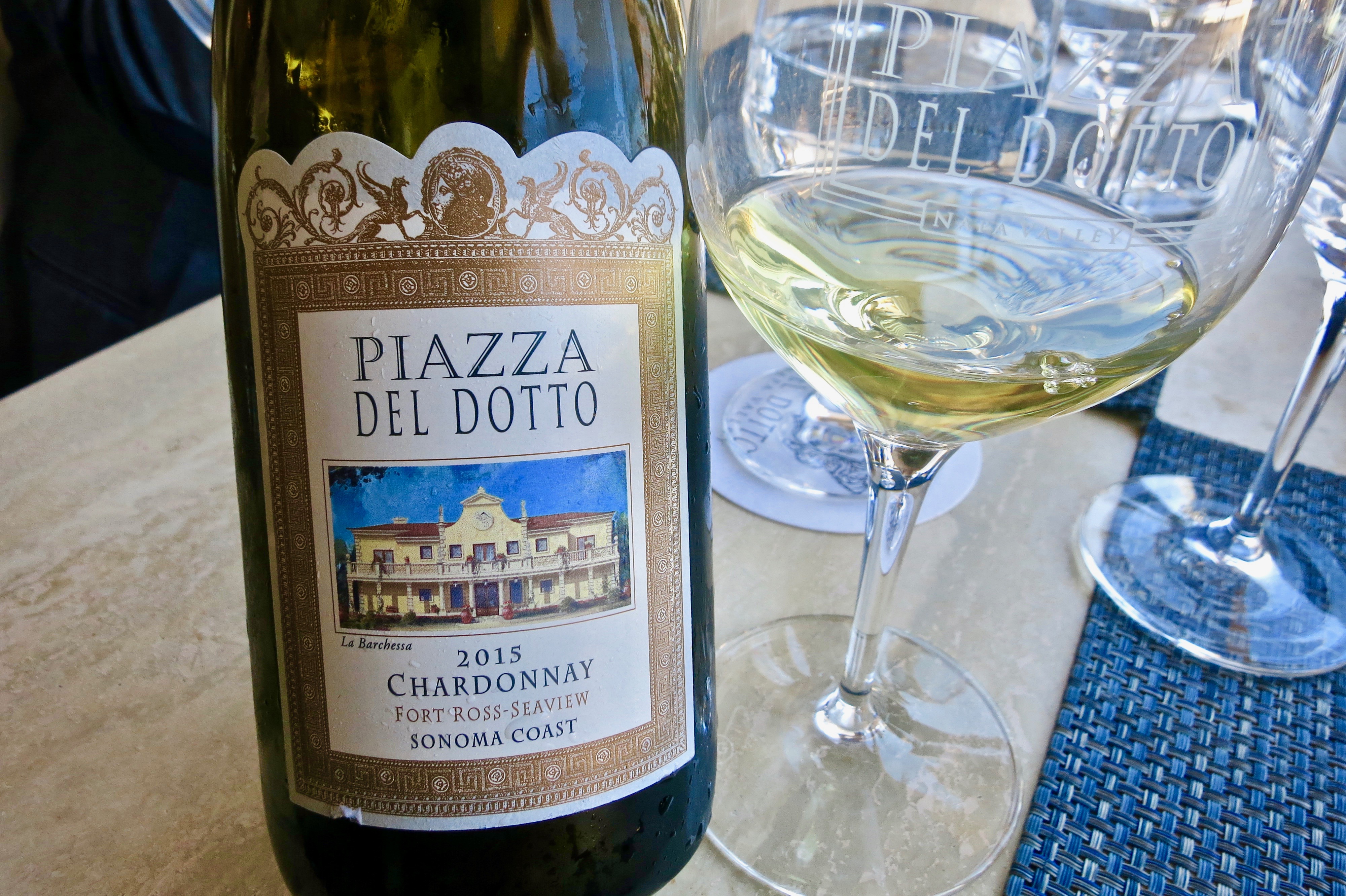 Wine: Really interesting bouquet of meyer lemons and apple jacks. The palate expresses notes of vanilla, toasted nuts, lemon, nutmeg, and pineapple. Although a bright mouthfeel with beaming acidity, there is a layer of gentle creaminess that glides through for a rather fun and unique surprise. We gave this a 91 points at $42/bottle.
Pairing: Really not much to say about Lobster Rolls that haven't been said before. Absolutely delicious. We really enjoyed the added acidity of pickled onions, and the micro-greens gave it freshness and balance. The homemade brioche roll was top notch. Wish we could've eaten 10 of these. The Chardonnay was an excellent pairing as well, especially with such a lemon-dominant flavor, it gave an acidity and slight creaminess that worked really well with this classic shellfish dish favorite.
The third course was  "Ricotta Dumplings." This dish was paired with a 2012 Del Dotto Pinot Noir from the "Cinghiale" Vineyard, but we also got a bonus and received a double pairing with the 2012 Piazza Del Dotto Merlot from Napa Valley.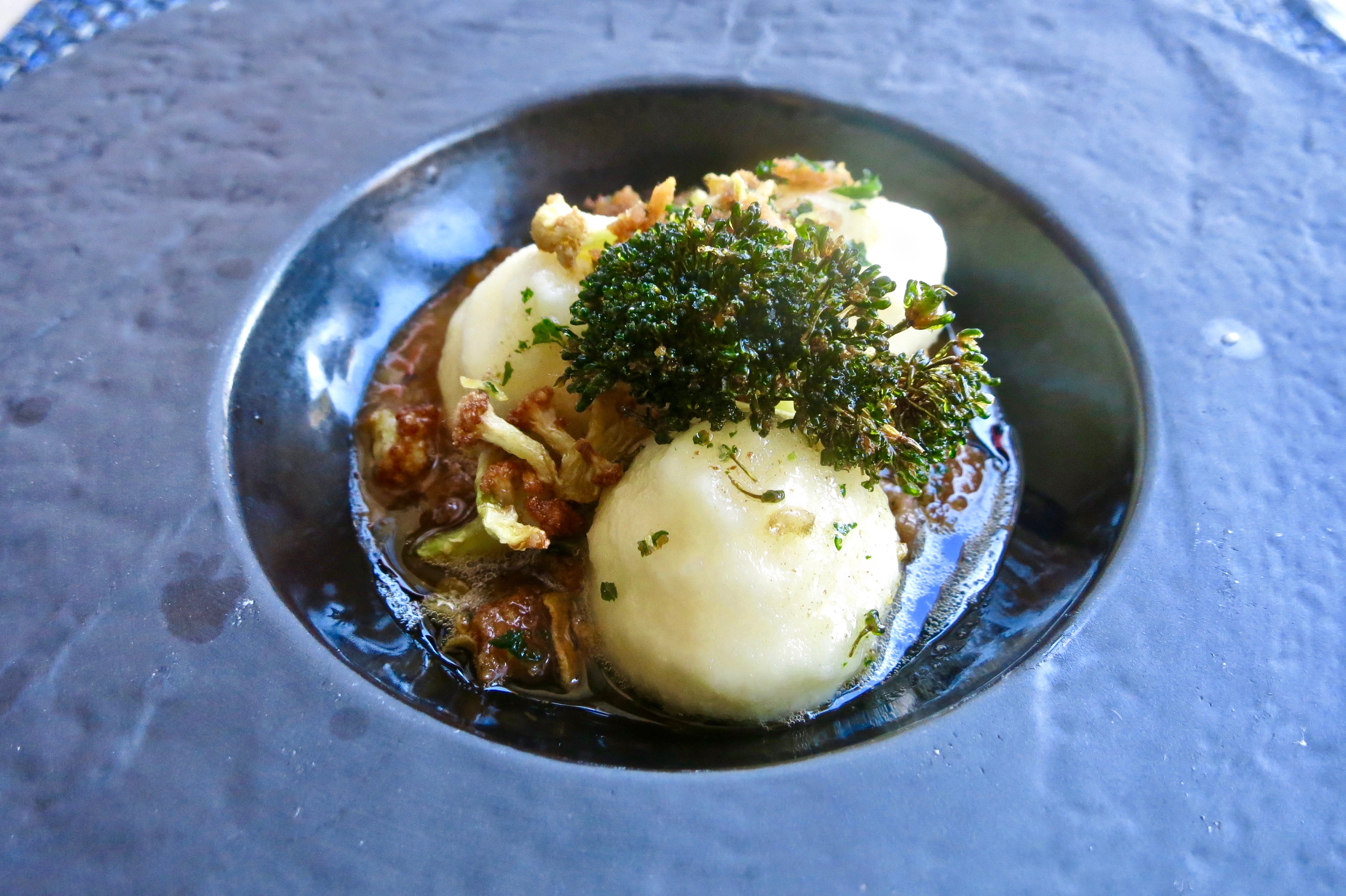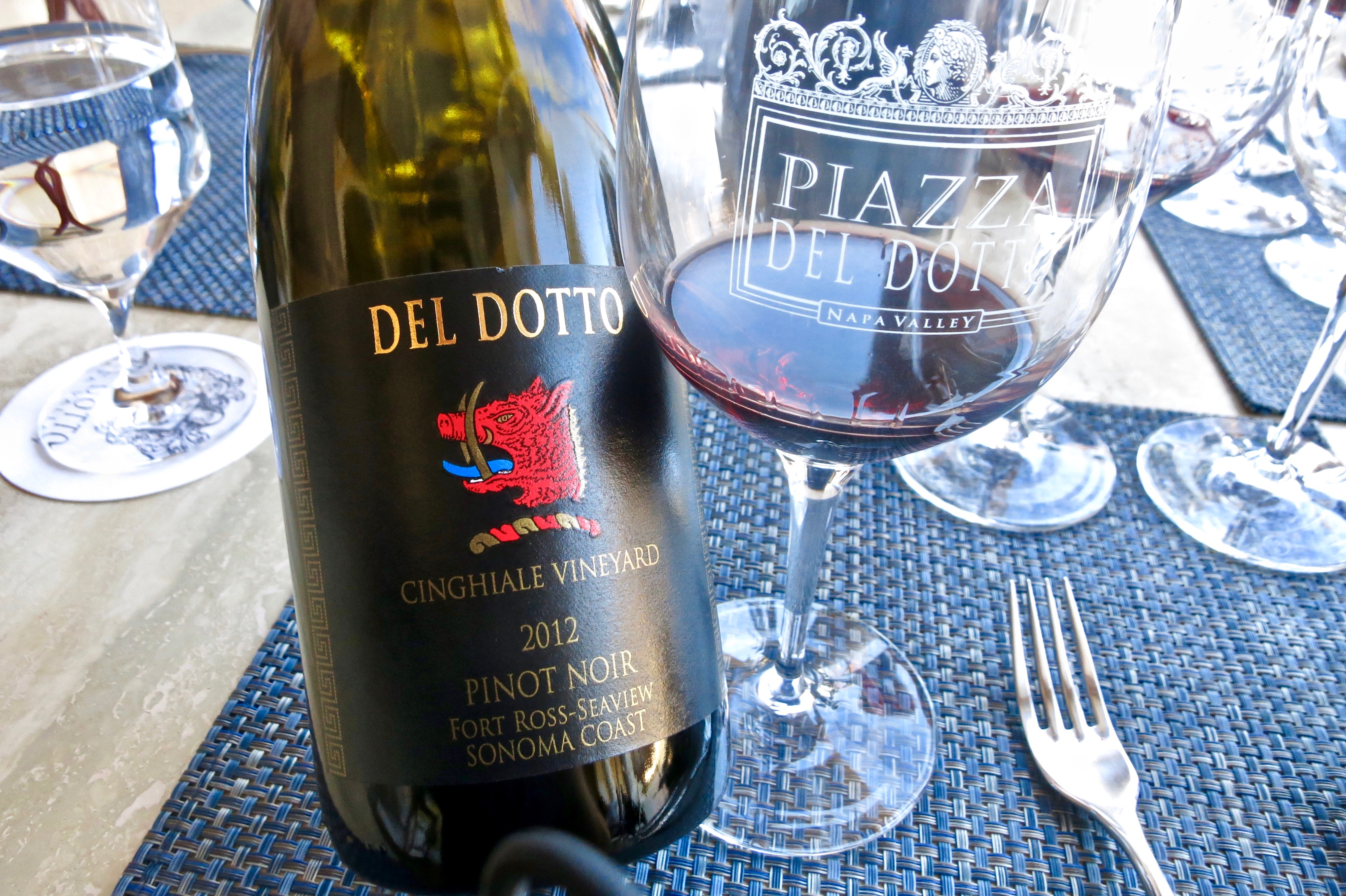 Wine: The Pinot Noir was a classic and rich California, notes of cherry cola, vanilla, brown baking spice paired with big notes of red fruit. Strawberry and cherry dominant palate, with slight notes of citrus peel, big upfront palate that eases up near the end. Complex and well structured, we gave this a 93 points at $75/bottle.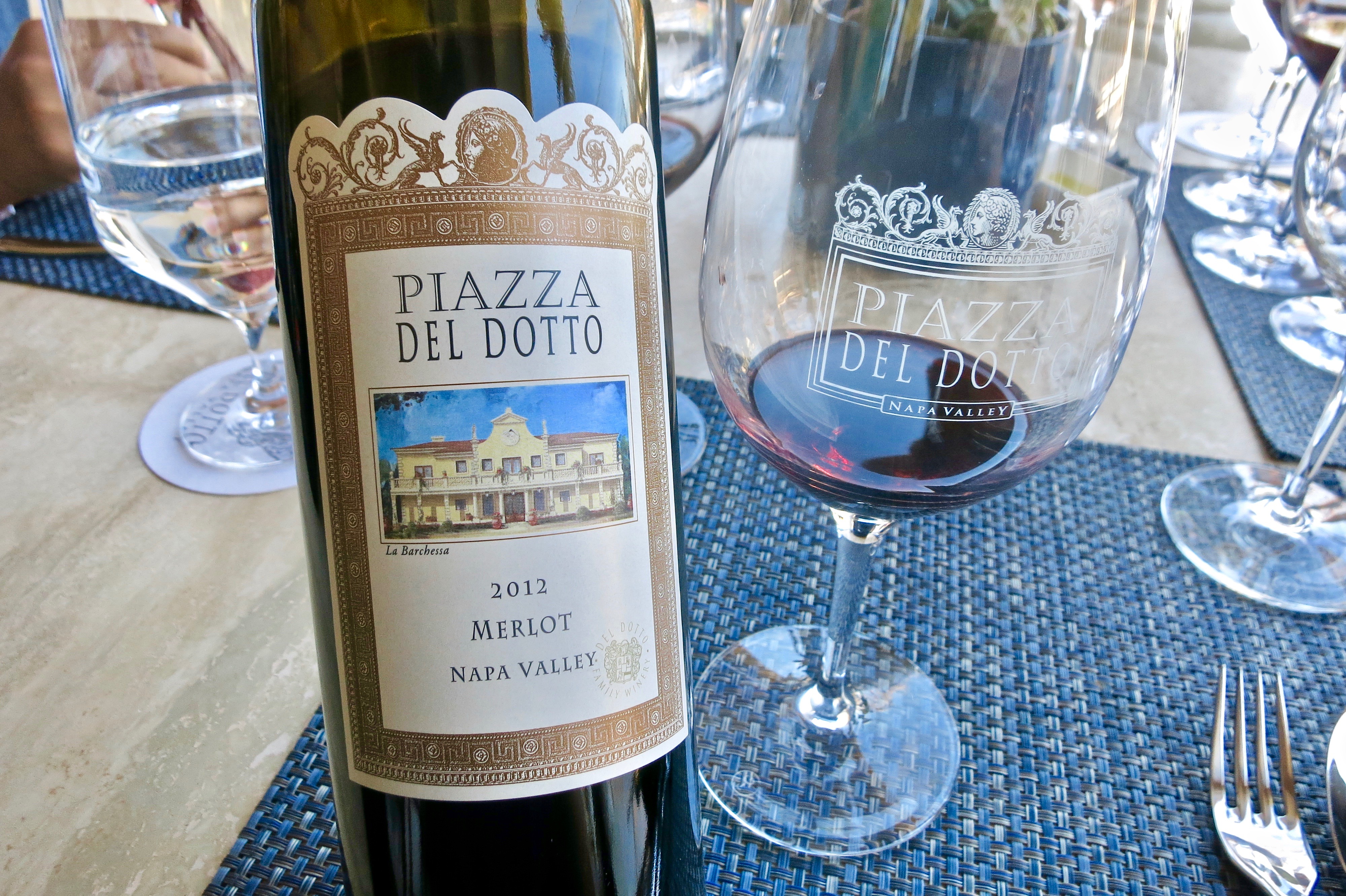 Wine: The Merlot we almost expected to be big and jammy like most Napa, but were surprised to receive bright notes of red florals, red cherries, earthy spice, cedar and red currant. Almost felt like a medium-bodied merlot, with a stretch of elegance at the finish and refreshing mouthfeel. A bargain for its price as well. We gave this 91 points at $38/bottle.
Pairing: The Ricotta Dumplings were absolutely delicious, soft and pillowy with savory bits of cheese oozing through. Layers upon layers of cheese with bits of pork and fried garlic/cheese, this really was a heavy hitting, but delicious combination of richness. While we tried both pairings, we gravitated towards the Merlot a little more due to the gentleness and acidity that it gave off. We felt that the Pinot Noir, while a very good pairing, was already complex enough that it could just be enjoyed by itself.
The final savory course was a "Wagyu Burger" paired with 2013 Piazza Del Dotto Cabernet Sauvignon Reserve. However, like the last dish, we received a double pairing, with the 2013 Piazza Del Dotto Cabernet Sauvignon "American Oak" for some contrast.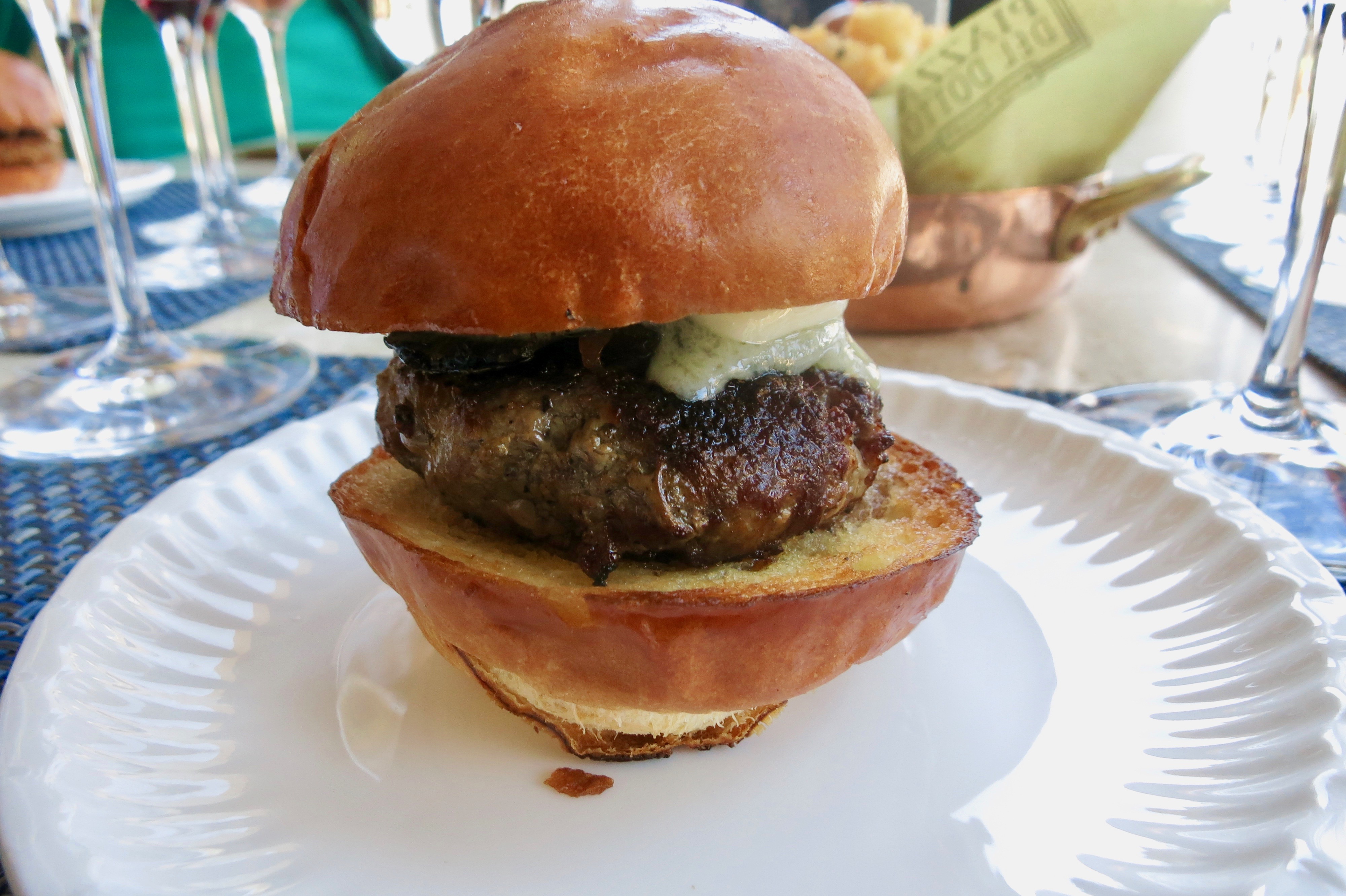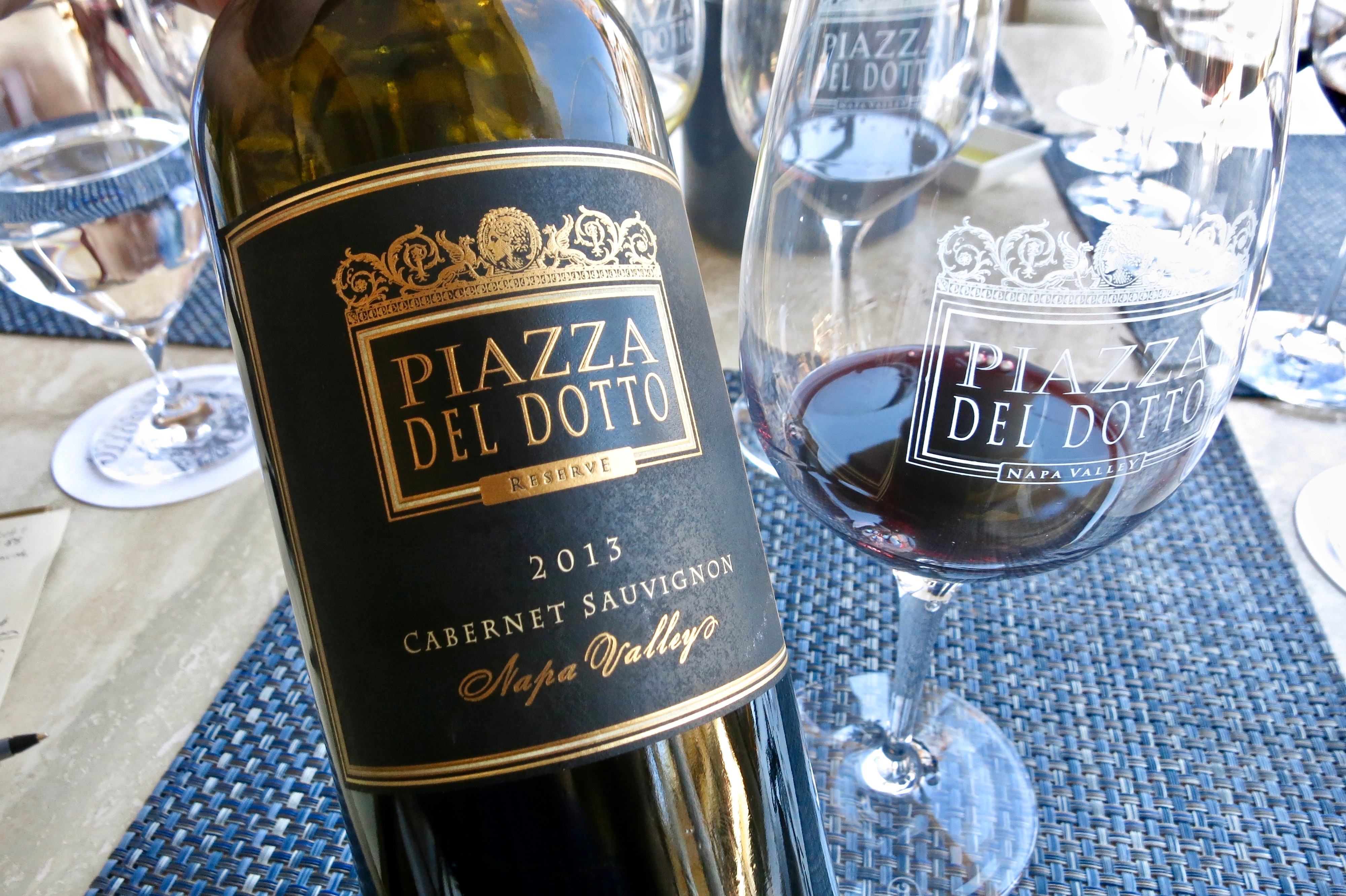 Wine: The "Black Label" here at Piazza, this Cabernet sees the same quality of grapes as the Del Dotto flagship label itself. Notes of coffee, sweet tobacco, mocha, peppercorn, anise, blackberries and black cherry. Classic Oakville notes, well balanced and good integration of oak. We gave this 94 points at $125/bottle.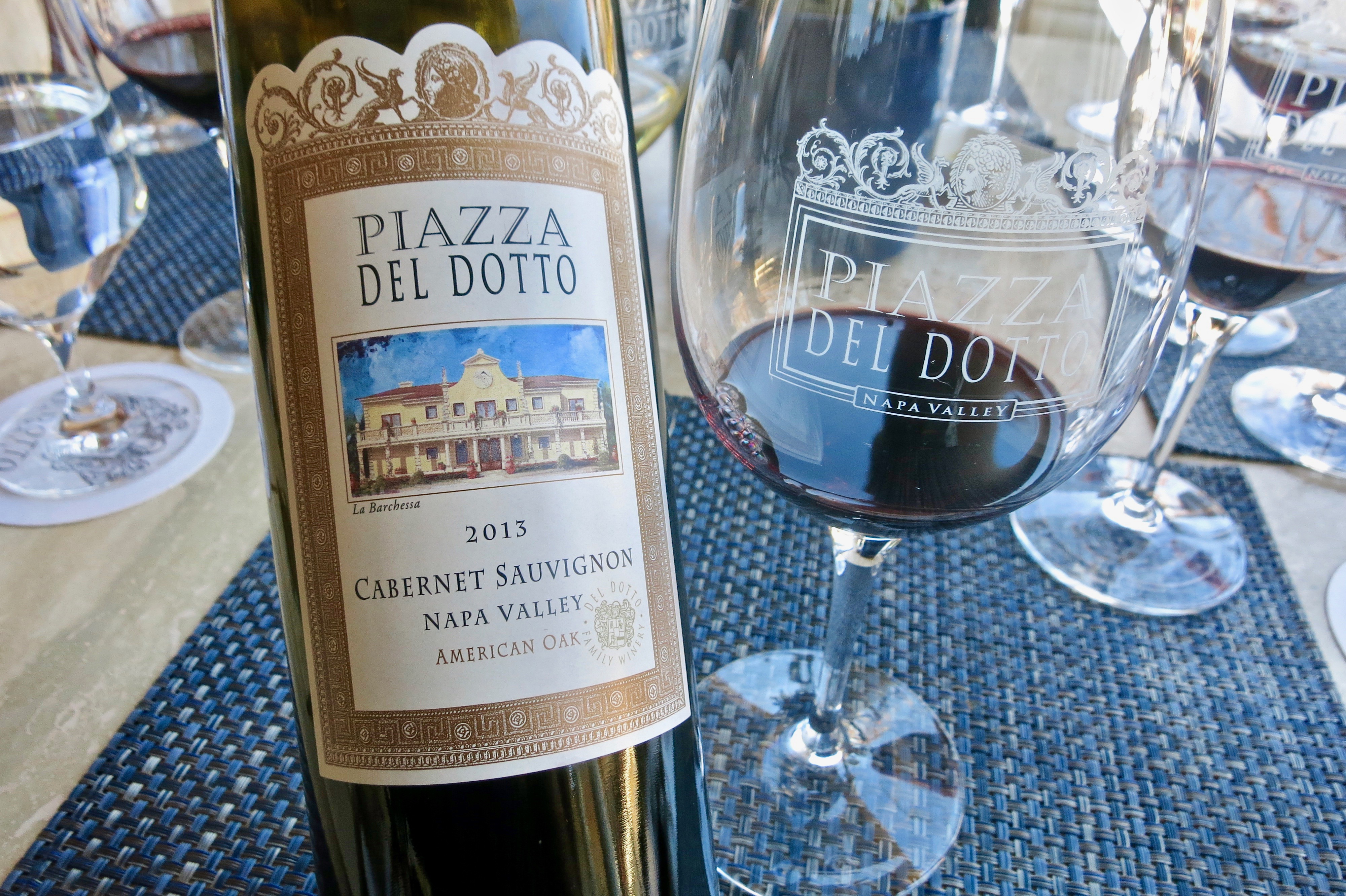 Wine: While it can be said that the use American Oak usually gives a giant overbearing notes of vanilla and chocolate, the usage here showed incredible restraint. Notes of anise, tar, gravelly soil, black cherries, dark chocolate, vanilla spice, cassis, cigar box and cedar. Again, feeling much more of a medium-bodied wine, good restraint and overall balance on the mouthfeel with the gentle implementation of oak and backbone of acidity. We gave this 92 points at $65/bottle.
Pairing: Take Cabernet and quality red meat, and it looks like you have a match made in heaven. This was certainly the case here, with the fattiness and richness of the beef, complimented with the earthiness of truffles, pairing with a beautiful Cabernet the best thing to do. Both Cabernet's paired well, but we felt with the reserve, the French Oak gave a more refined elegance that did justice to such a big dish as a burger.
The staff was so nice that they threw in a customer favorite (it seemed like everyone was getting it) the Tater Tots. Needless to say, fried potatoes, always a good thing.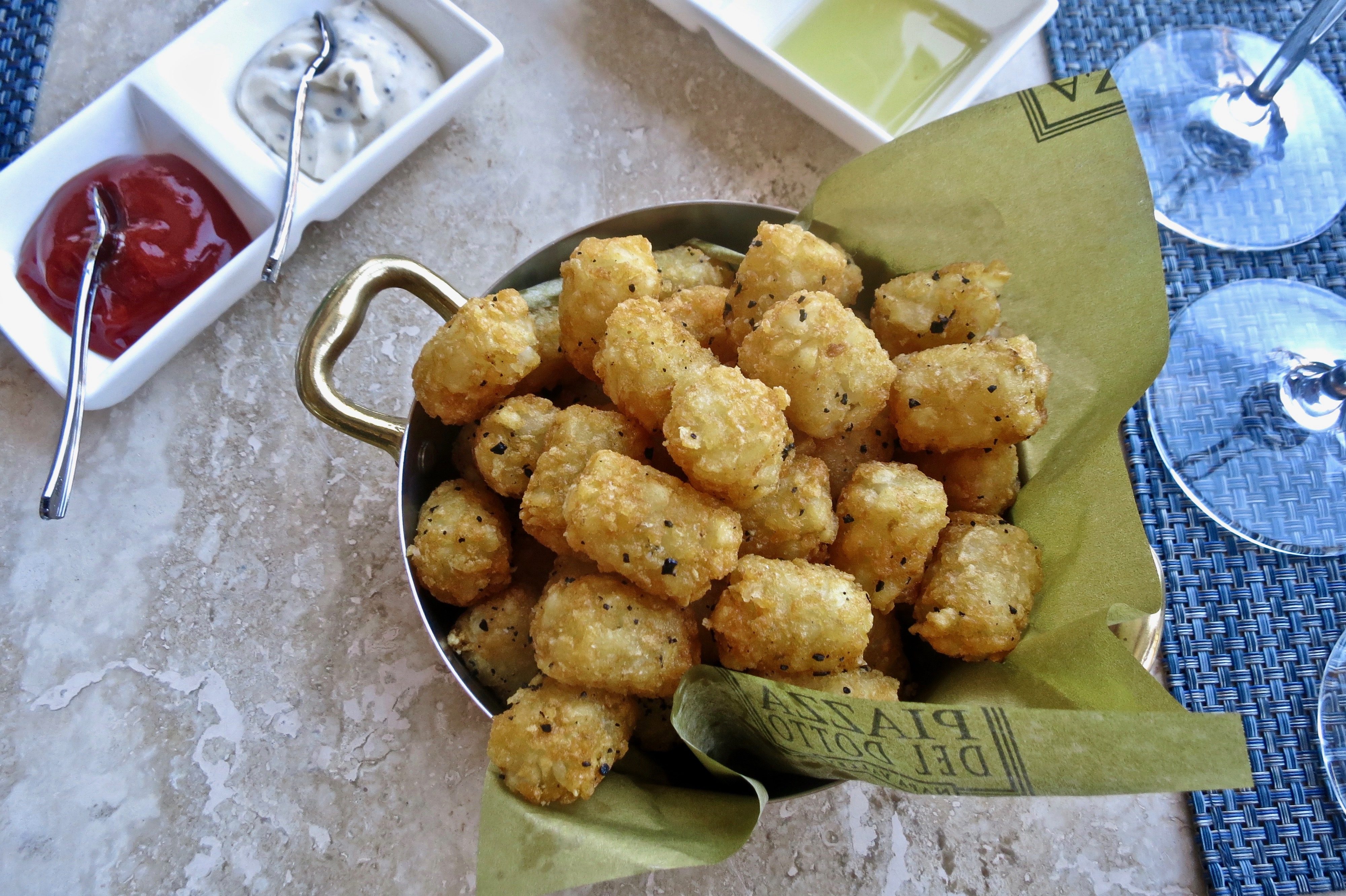 The final dish was a "Fico Linzer Torte" paired with Del Dotto "Dolores" Red Dessert Wine.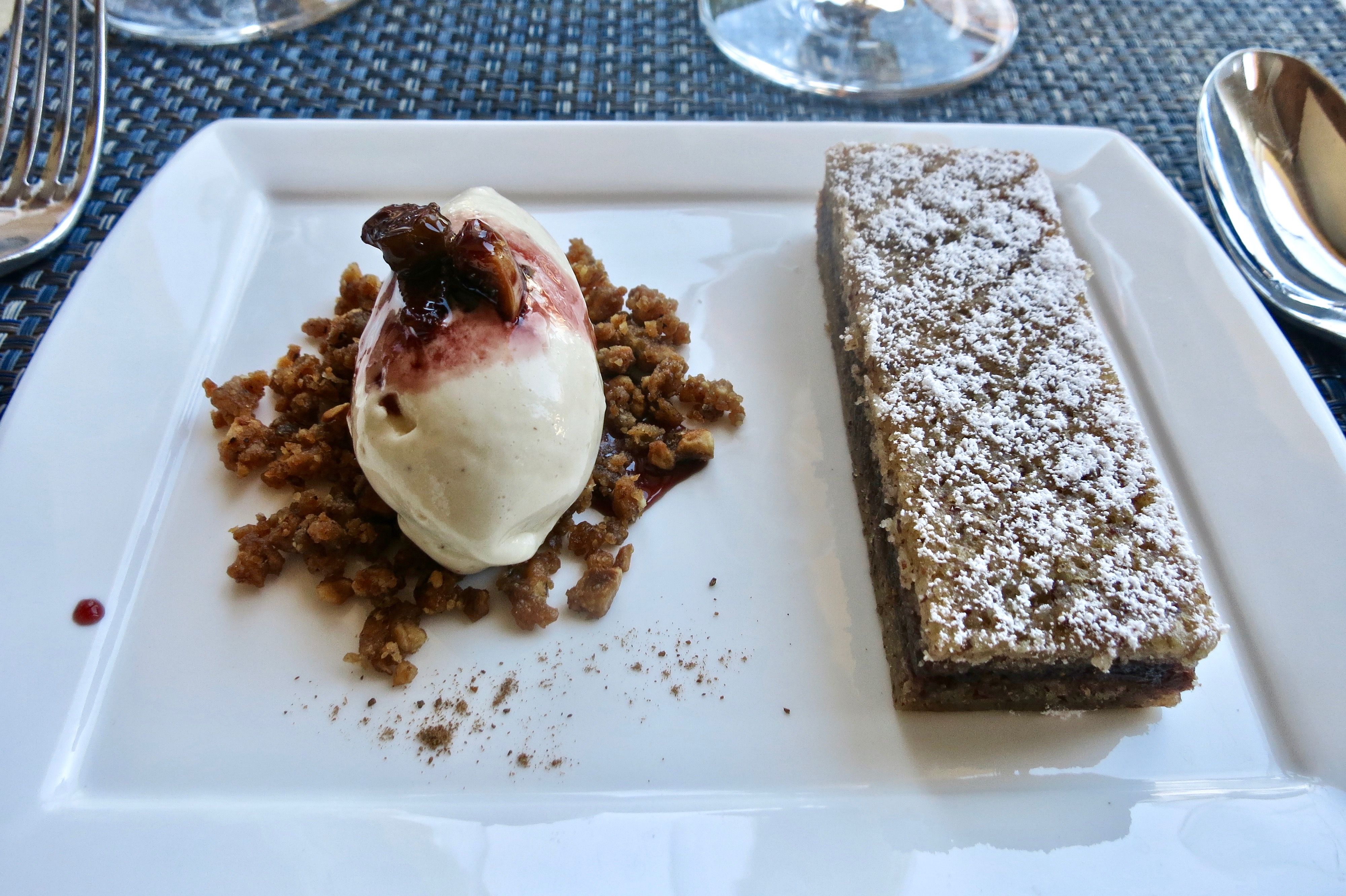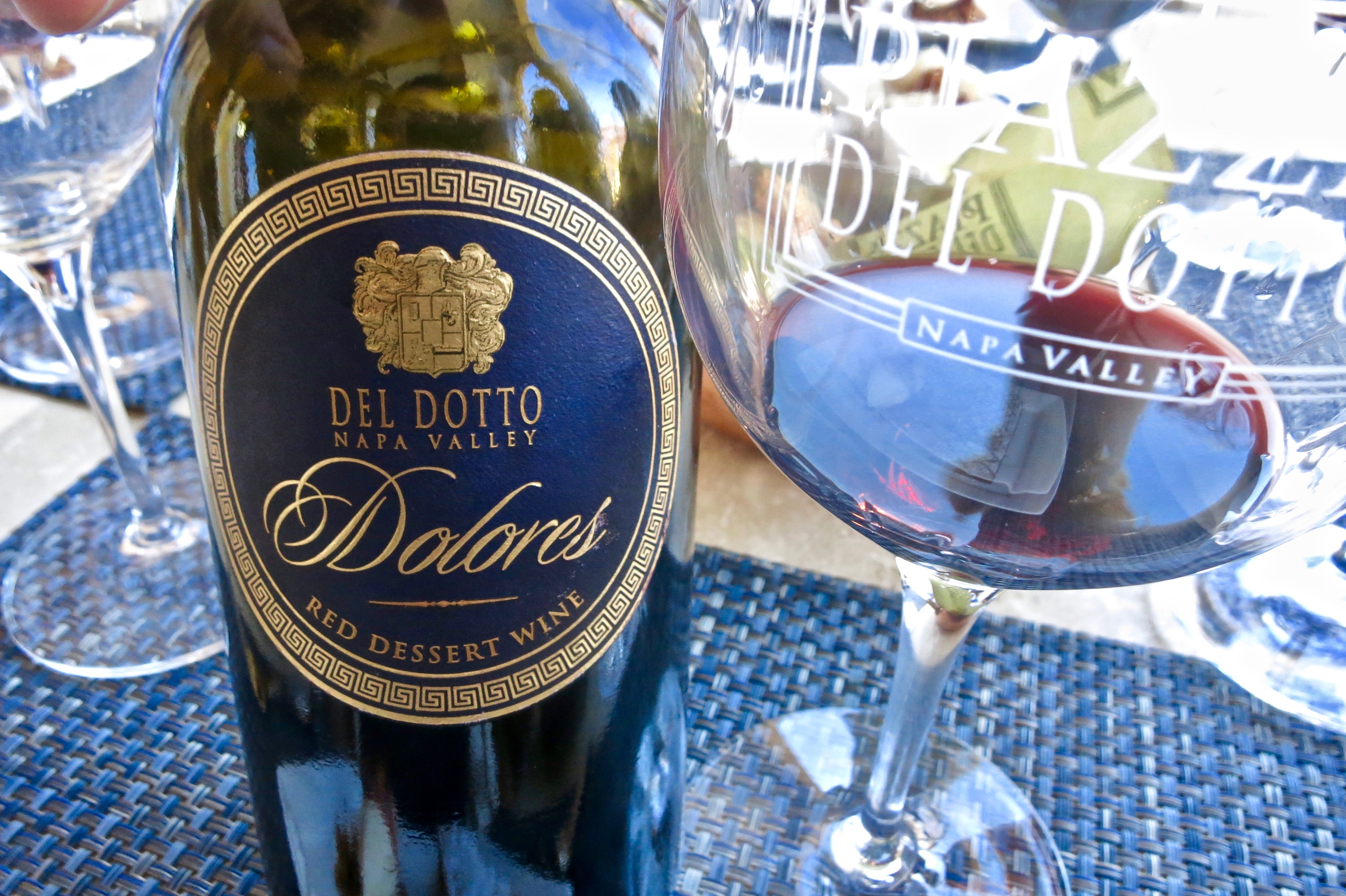 Wine: The Dolores is what we pretty much expected from a port-style dessert wine. Notes of sweet figs, toasted oak, baking spice, extracted cherries with a hint of tobacco. Just the right amount of raspberry tartness and lift on the finish, sweet but not overbearing. We gave this 93 points at $55/bottle
Pairing: This pairing worked extremely well, with the Dolores providing almost like a red-fruit sauce that binded with the already port-soaked figs. The right amount of softness and textures with the coolness of the gelato really worked on bringing out levels of baking spice and fruit in not only the dish but the wine itself.
We were given a small treat after our meal, and we got to try out their top wines, the 2015 Piazza Del Dotto "Oakville" Cabernet Sauvignon.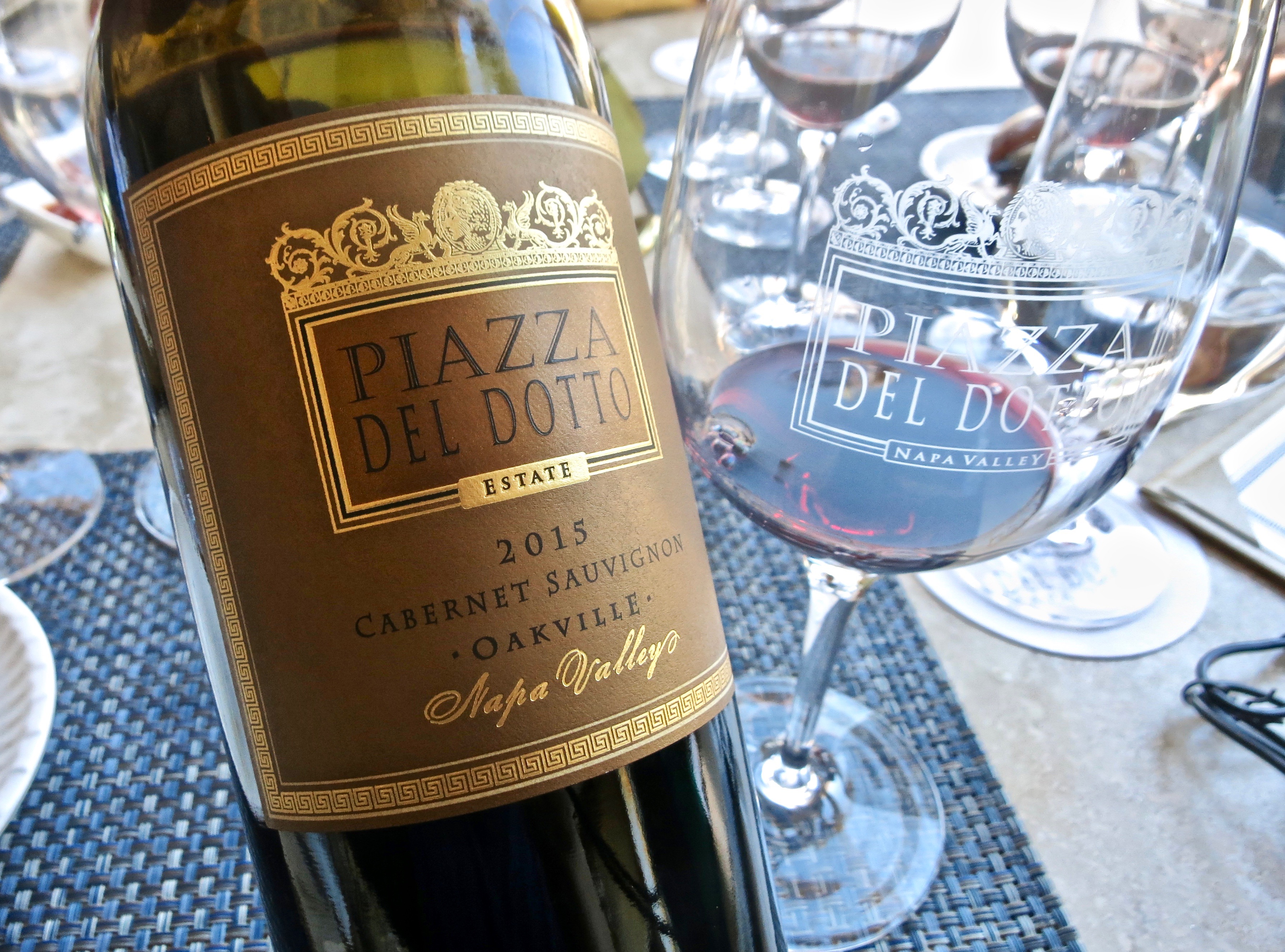 Now this  was a phenomenal effort, and really spoke nothing but praises for the winemaking team. A beautiful expression of Oakville and the '15 vintage, notes of creme de cassis, mocha, tobacco, peppercorn, mint, anise, black tea, blueberries, and black cherries. The palate is so elegant, with a gentle silkiness that coats the palate while still letting the beautiful blue and black fruits shine. Great oak integration, fantastic body and persistence, with a finish that stretches as far as their vineyard goes. Incredible wine, especially for a '15 that will only get better. We gave this 97 points at $195.
After our delicacies experience ended, we picked up a few bottles of the "Oakville" and walked around the beautiful gardens and soaked in the view. It was mentioned to us that the caves were not quite done yet, and we would definitely have to come back when it was done. Needless to say, they really didn't give us a reason why we shouldn't after this incredible experience.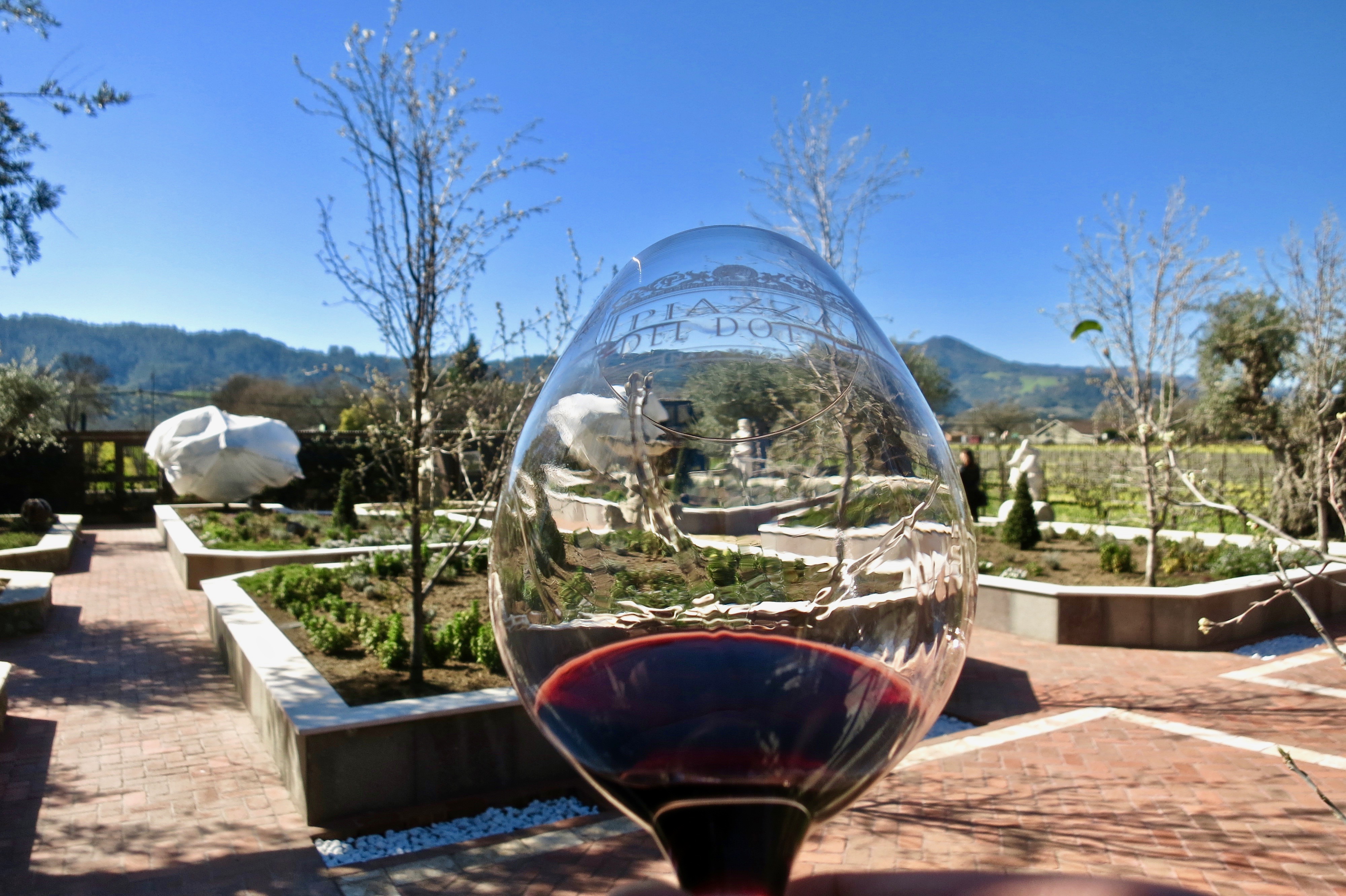 Everything about the Piazza Del Dotto "Delicacies" experience was what we had hoped and dreamed for, it really delivered on all points of great food, great wine, and beautiful views. The concept really delivered on the family's mantra of wine tasting should be a full sensory experience. For the price you pay, you really are touching upon one of the great wine and dine deals in Napa Valley no doubt.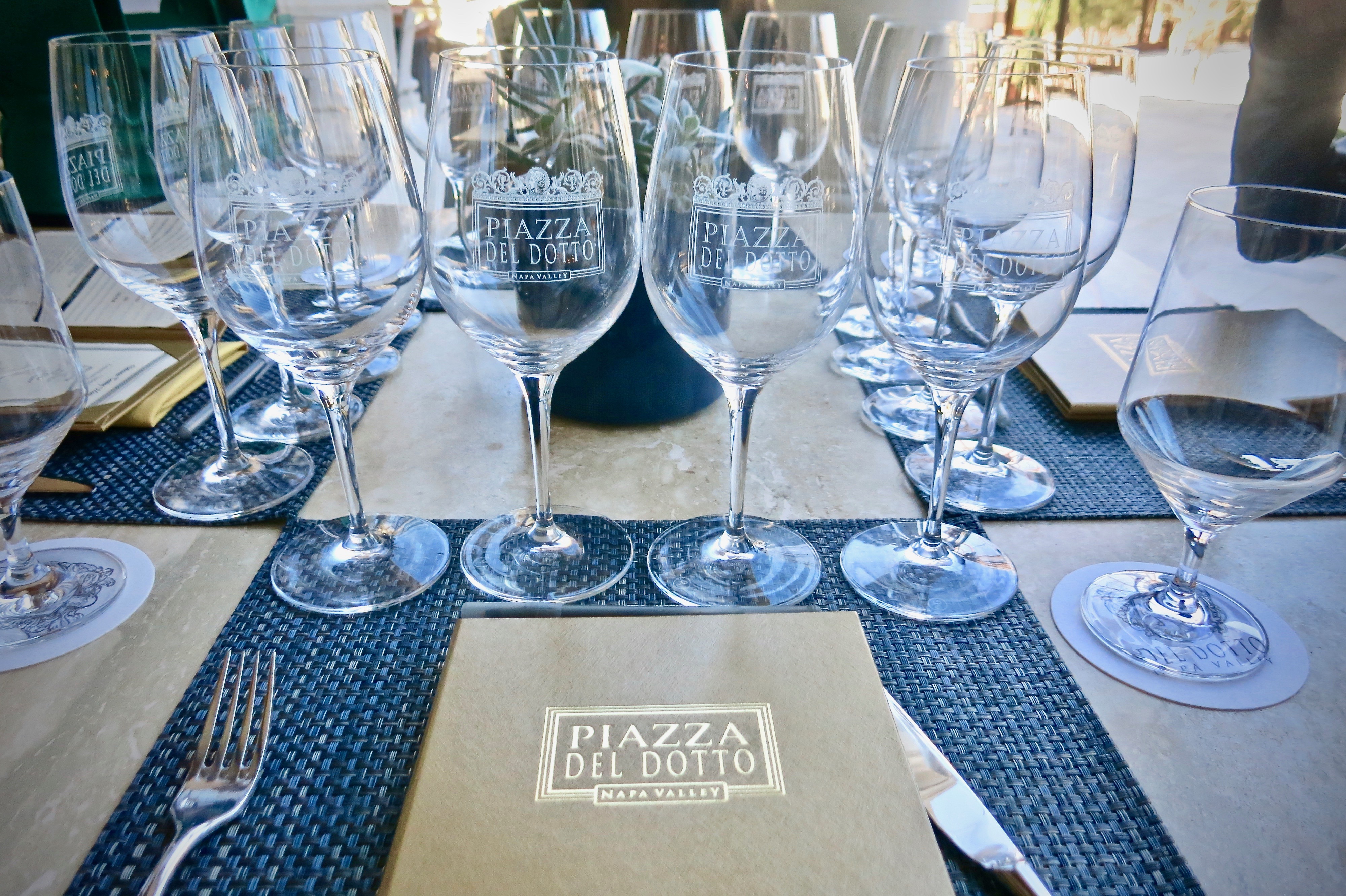 A big thanks to our host Julia!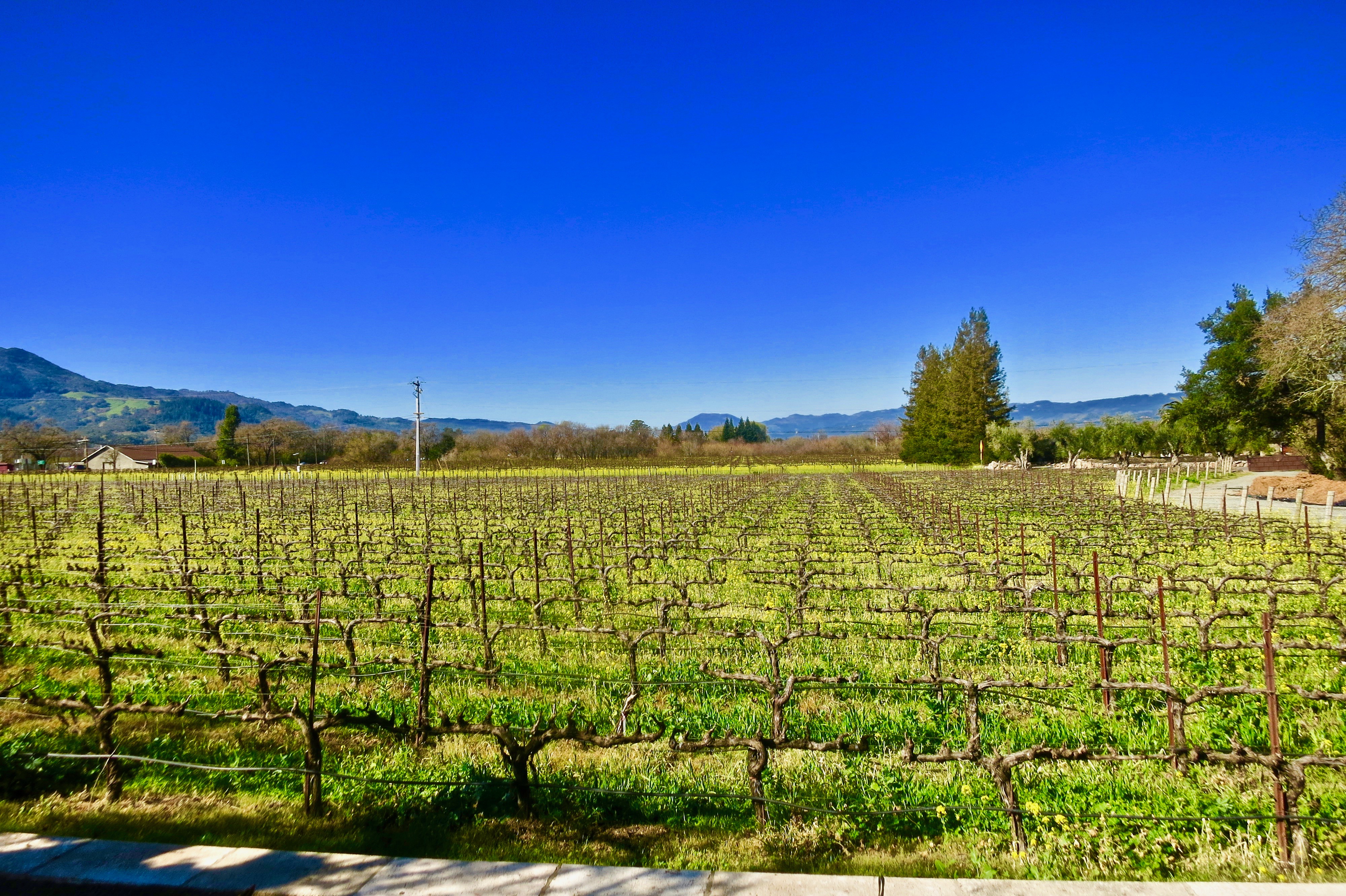 TheWineGuys Verdict: A Must Visit
Piazza Del Dotto
7466 St. Helena Hwy
Napa, CA, 94558
(707)-963-2134
Wine Bar Tasting: $45
Poppers Experience: $60
Delicacies Experience: $95