Red Cap Vineyards is a small, family owned winery that has been one of the best-hidden gems in all of Napa Valley. Located at the cap of Howell Mountain, off a few windy roads and hidden down a road, that's where you'll find Red Cap Vineyards.
The road to Red Cap Vineyards is not an easy one, traveling through Howell Mountain and windy roads, you journey far away from many of the big name wineries on highway 29 into unfamiliar territory. However, hidden in the mountain, you'll find a gate overlooking into a humble house surrounded by grape vines. At first sight, you may think you have come to the wrong place, but rest assured you are exactly where you need to be. After the gate opens, the real experience begins, and here is ours.
Upon driving through the gate, we were immediately greeted by Roscoe, the house dog. He followed our car as we pulled up and kept barking, naturally, we were unsure of what to do. That's when Tom, walked on over from a section of vines to us and told us that Roscoe was friendly and just was saying hi.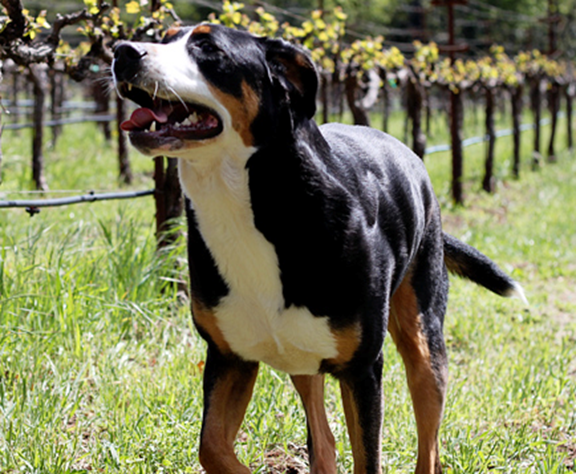 (A picture of Roscoe)