What do you do when you're 15, underage, but manage to get your hand on a beer crafting kit? You make beer, and throw a party. That's what Ralph Hertelendy did, and little did he know it would eventually come full circle, and he would be making alcohol again years later, but in the form of wine.
We've heard of Hertelendy wines through a various amounts of media such as Ian Cauble's SommSelect and have seen it on Wine Spectrum newsletters before, and have always been curious to try it, and luck would have it that Ralph reached out to us. While it isn't often that wineries/owners will come visit us in San Francisco, Ralph was on his way up for bottling and decided to pay us a quick visit at our headquarters in San Francisco.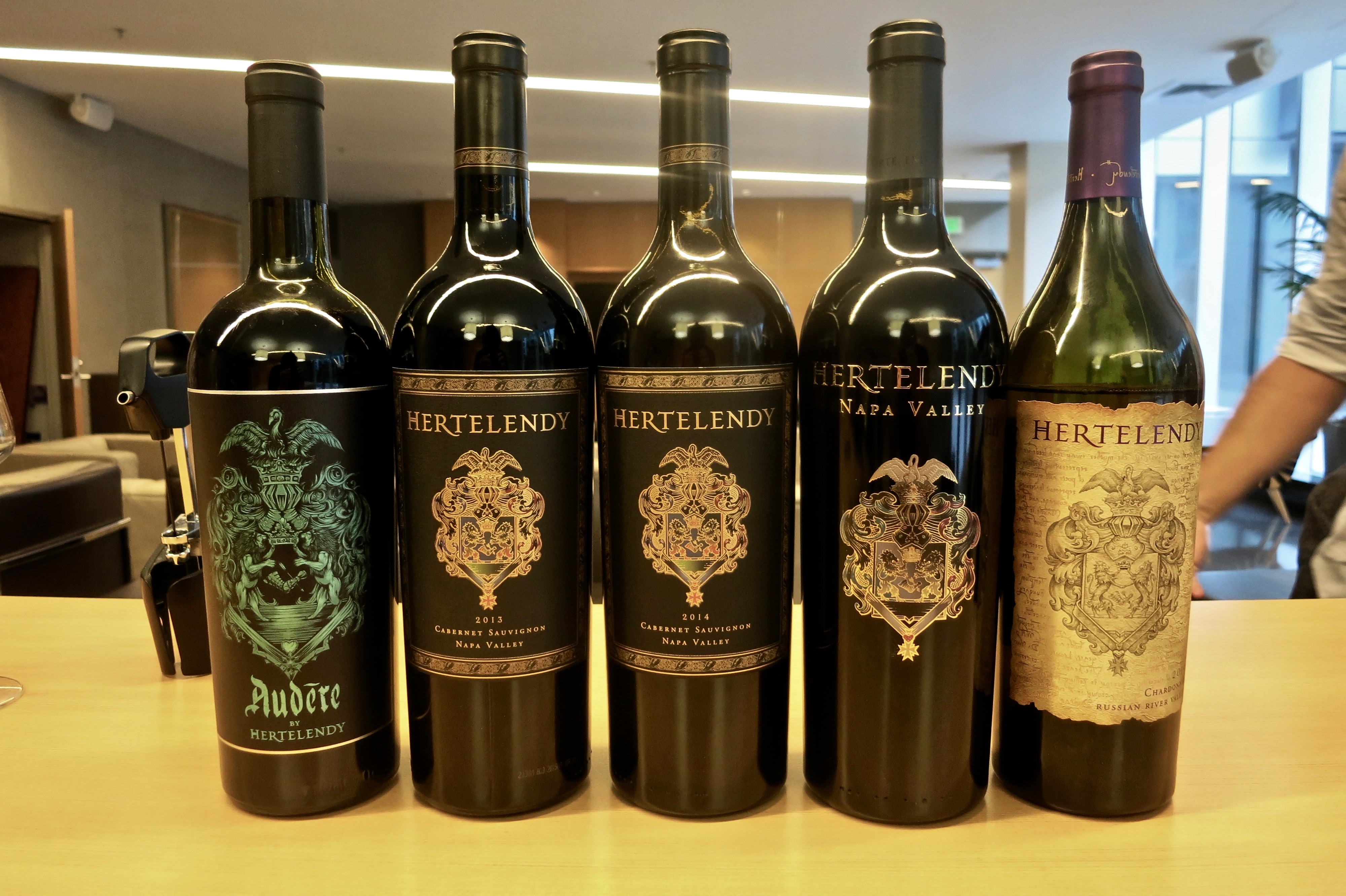 Ralph was a born native of Oakland,California and alcohol was a part of his life at an early age, although he never thought it would be part of his career. After graduating from University of San Francisco with a degree in Business, he went on to work a number of odd jobs such as working on a golf course, a DJ, and even tried a little bit of acting. After a string of random jobs here and there, he found himself back in the world of alcohol in 2010, as a sommelier. During his time as a Sommelier, he became well versed in the world of wine, but ultimately found out that he wanted to make wine instead of serve it. So he came full circle back to making alcohol in 2011 when he became the Winemaker's Assisnt at Casey Flat Ranch.
Following his stint at Casey Flat Ranch, he eventually moved his way to Napa by working for Del Dotto doing sales which only got him further into wine culture. It was barely a minute before he decided he wanted to make his own wine, and in 2013 he debuted the Hertelendy label and his very own wine. Sourcing grapes from all over the valley (Coombsville, Atlas Peak, Oakville, Pritchard Hill…) he set out to create and make his own style of wine with the guidance of consulting winemaker Phillip Titus (Chappellet).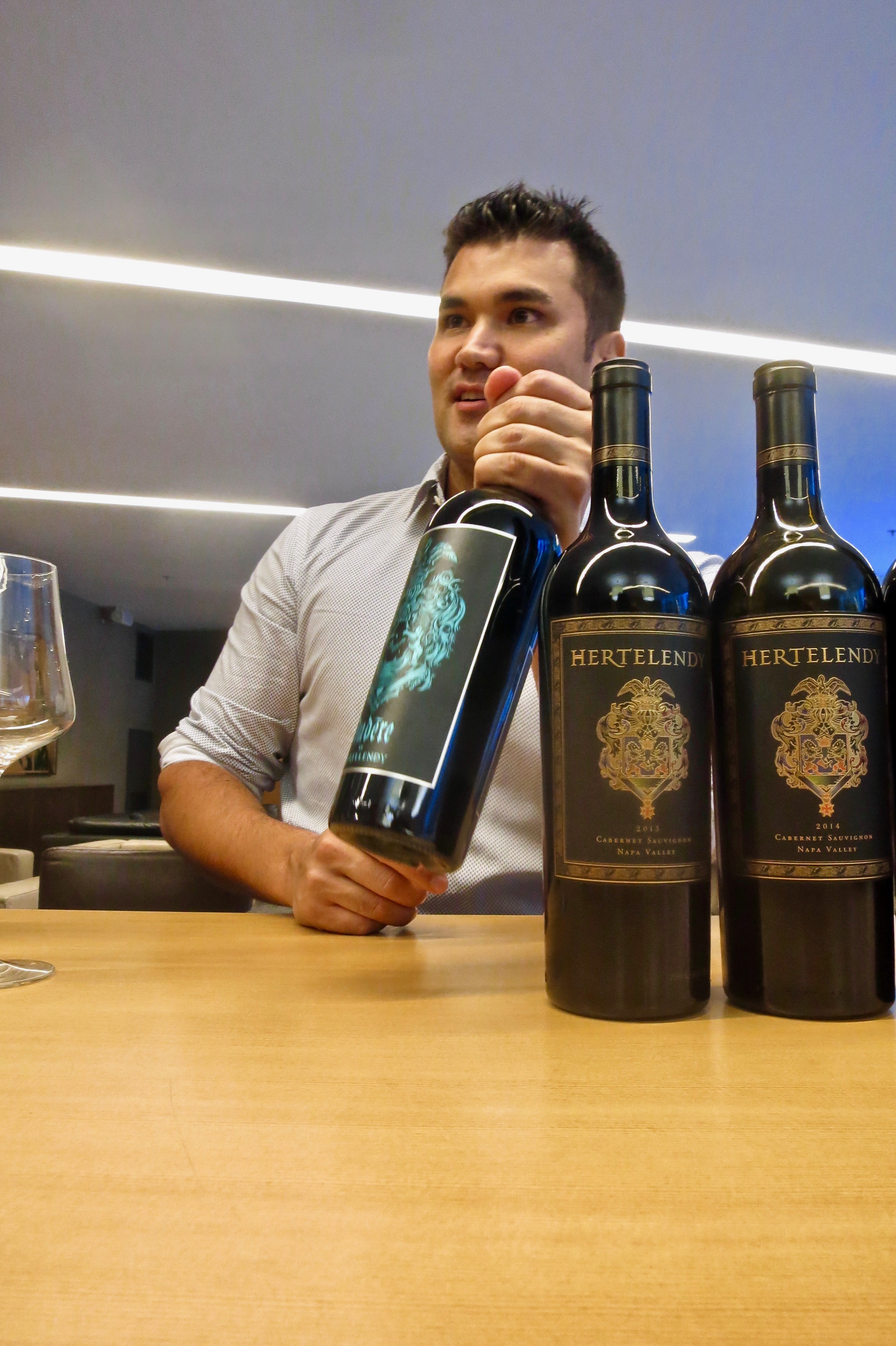 Ralph went on to purchase a small four acre property near the edge of Howell Mountain, between Viader and CADE. His property, promptly named Rockwell Ridge Estate was a homage to where he grew up in Rockridge (on a a street called Rockwell),  and the abundance of rocks on the property and a well on site. The property unfortunately sits at an elevation of 1365 feet, which is under the minimum requirement of 1400 feet to be called Howell Mountain, but the grapes produced are nonetheless of high quality in which he uses for his own wines.
Safe to say that the story was fun, the grapes came from reputable vineyards, and the fact that press was still hot about this new label, we were rather excited to try his line up.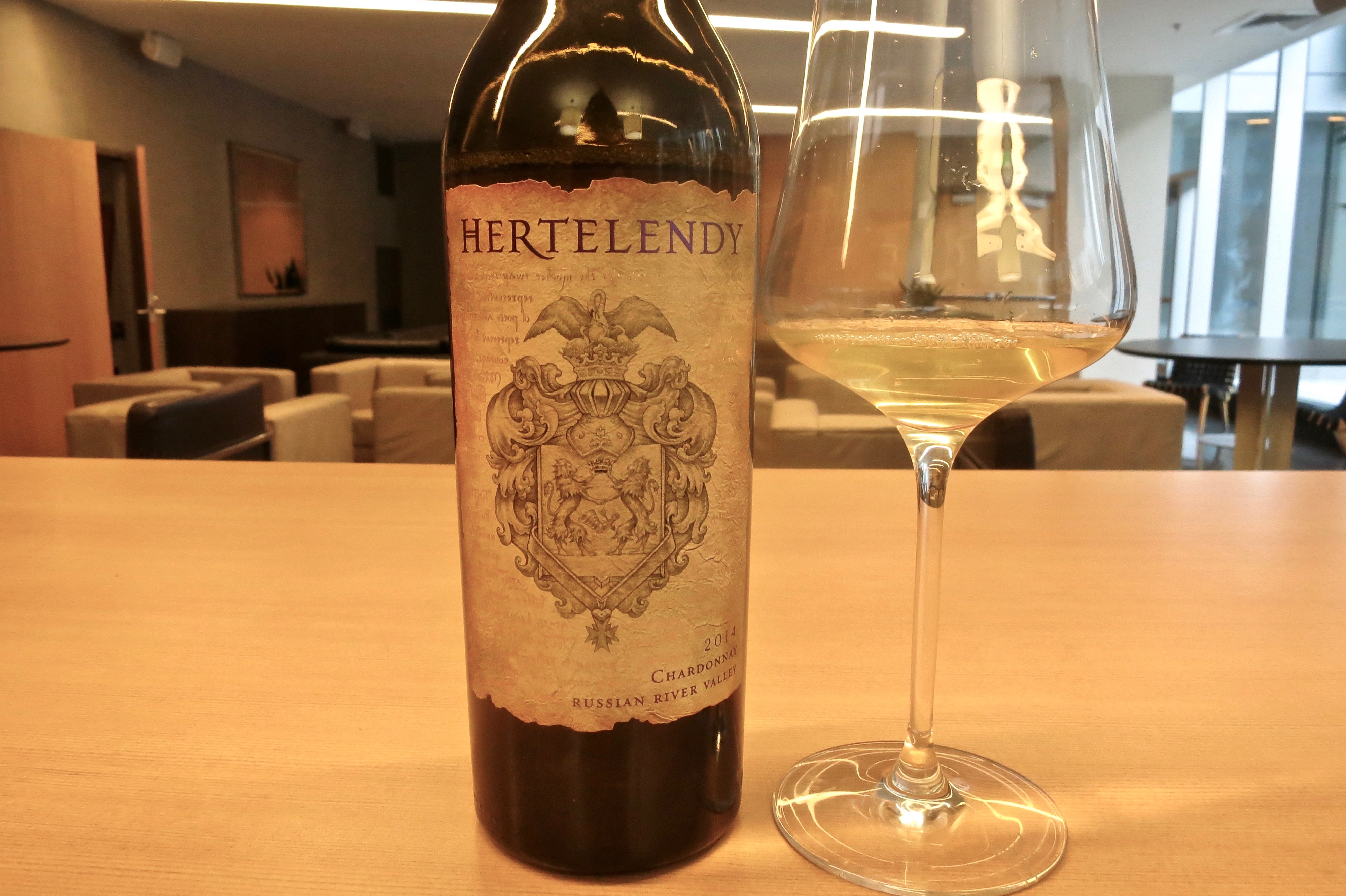 Hertelendy Chardonnay "Russian River Valley" 2014 – Ripe notes of tropical fruits, pink guava, pineapple, lemon cake, apricot, papaya, and honeysuckle. While the wine goes through 100% MLA, the palate is not over-oaked by and has is dominant of sweet tropical fruits and a gentle creaminess. The intensity of the fruit is outstanding and persists throughout all the way to a lengthy finish. This is a full throttle Chardonnay, and not for the faint of heart. Unapologetically a California style, but in no ways a butter bomb, just intense and bold fruit. A Cabernet lover's Chardonnay. 94/100 points. $85 bottle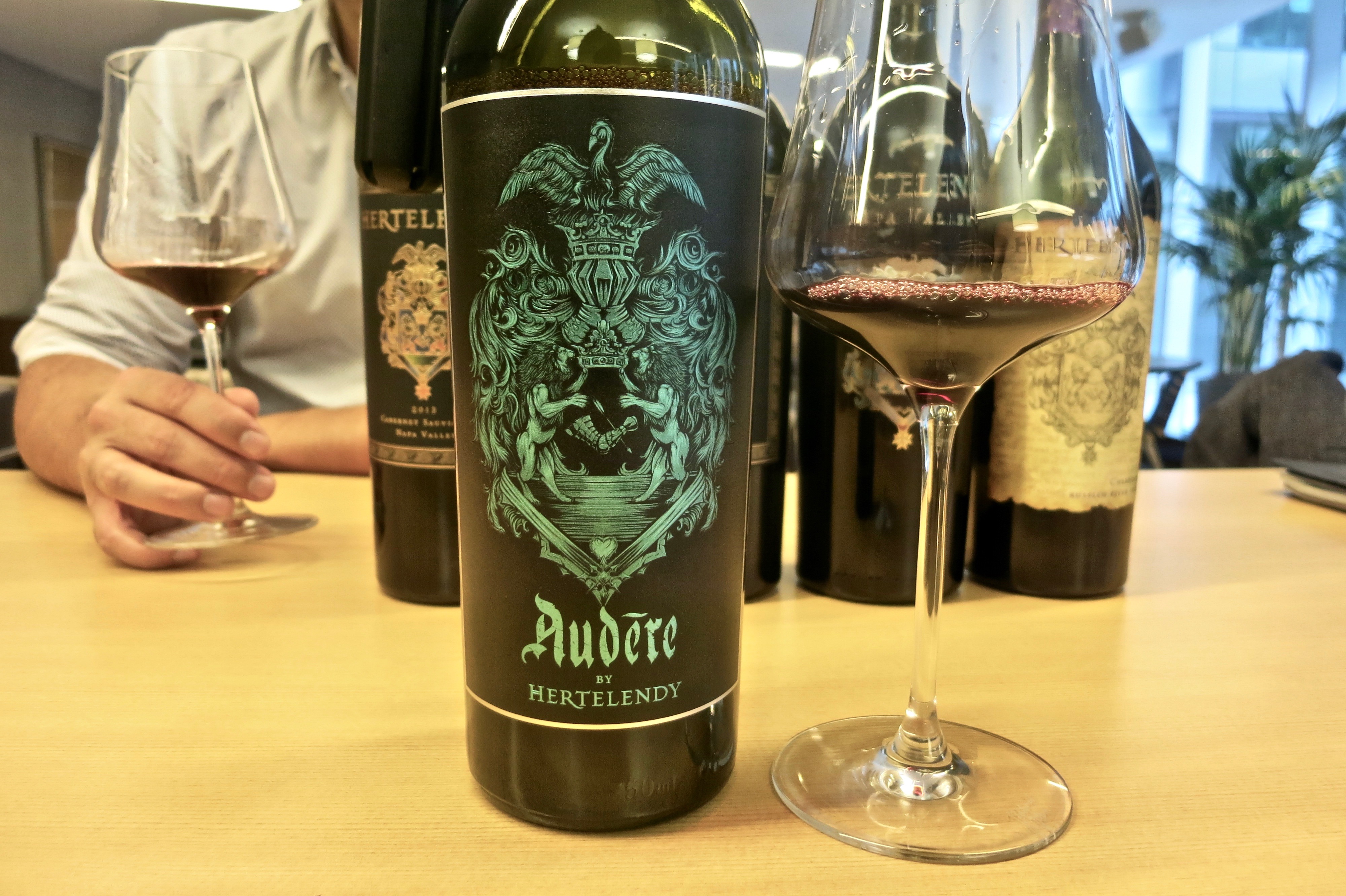 Hertelendy "Audēre" Red Blend 2013 – While you could call this a second wine, the Audere is the juice that doesn't make the Cabernet Sauvignon blends, but in no ways inferior juice. Very intense notes of blackberries, red cherries, dry soils, pepper and baking spice. The mouthfeel is aggressive and packs intensity from start to finish (a trait in his wine), finish has big tannins which should settle in a few years. Fun fact, Audēre is the Latin word for "To dare!" "To venture!" or "To go to battle!" which represents Ralph's take on approaching the wine industry and going all in at 110%. 89/100 points. $75 bottle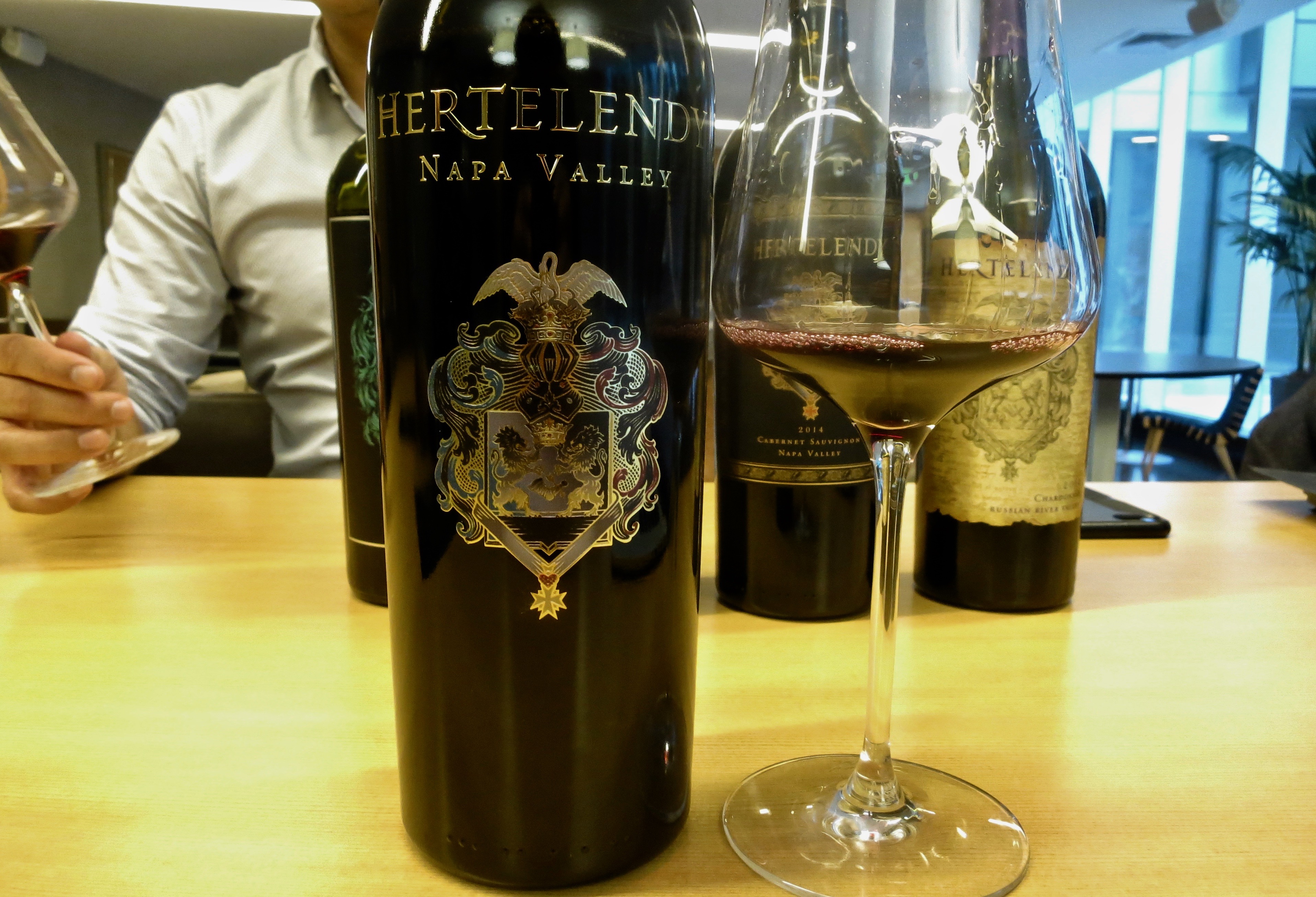 Hertelendy "Signature Mountain Blend" 2014 – Ralph calls this the "baby maker" of his wines, with a nod to the elegance of France's right bank style. Notes of vanilla, coffee, leather, cassis, blue florals, blackberry, red cherries, loam, cinnamon. A little less heavy than the other wines, but still has great persistence and exudes a gentle elegance on the finish. Surprising fact that majority of the wine is Merlot, but has such great structure and acidity one would expect out of a quality cab. 94/100 points. $135/bottle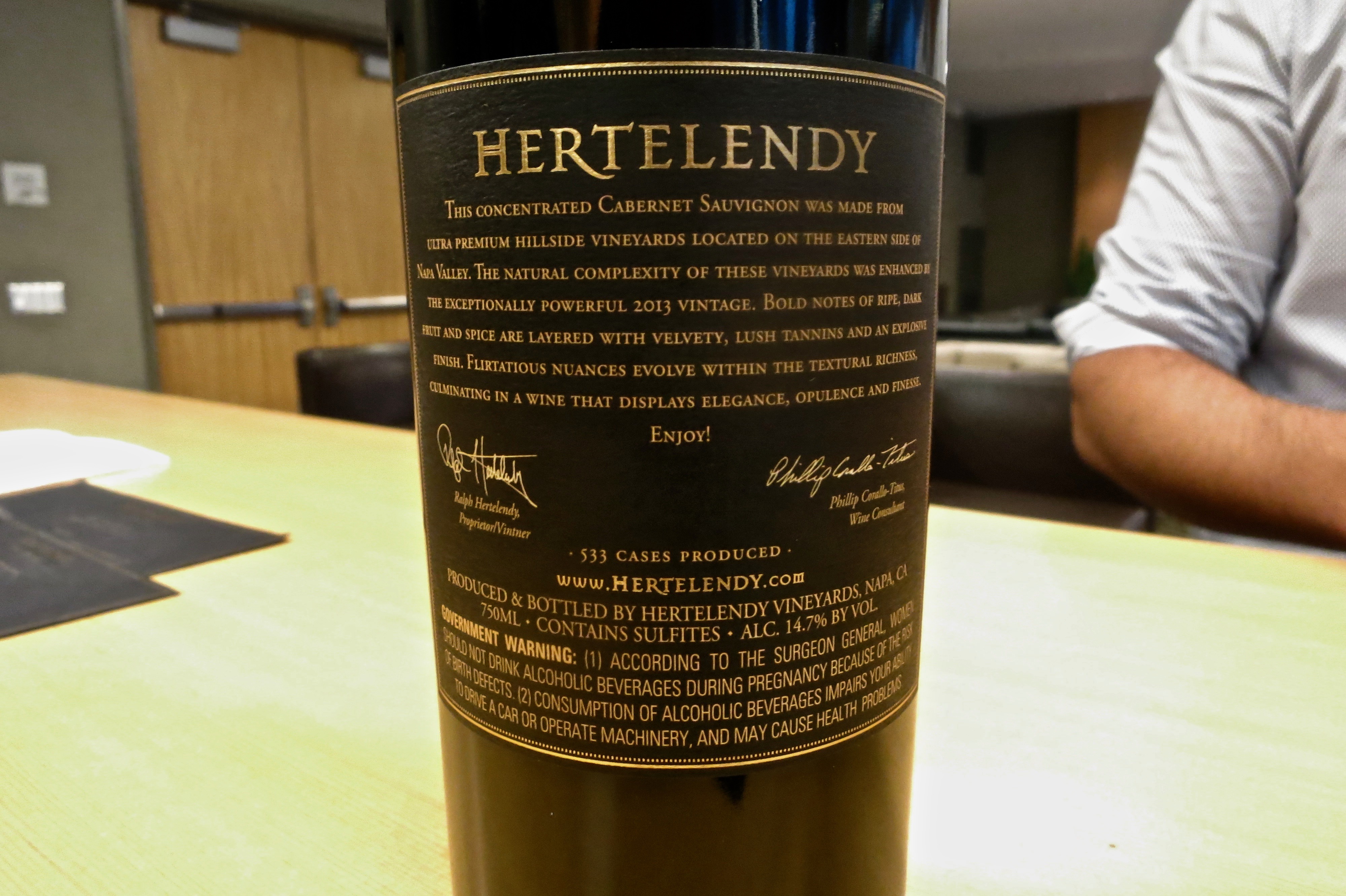 Hertelendy Cabernet Sauvignon 2013 – The inaugural vintage has seen incredible ratings from Parker and Ian Cauble, and a taste of this was definitely validation. Notes of cinnamon, black cherries, cassis, licorice, blackberries, toasted oak, tobacco, chocolate and earthy minerality. Rich on the palate with mouth-coating black fruits, and the intensity is persistent throughout the entire mouthfeel to a refined and elegant finish. Finely structured and beautiful balance of acidity makes this a classic California Cabernet. 95/100 points. $125/bottle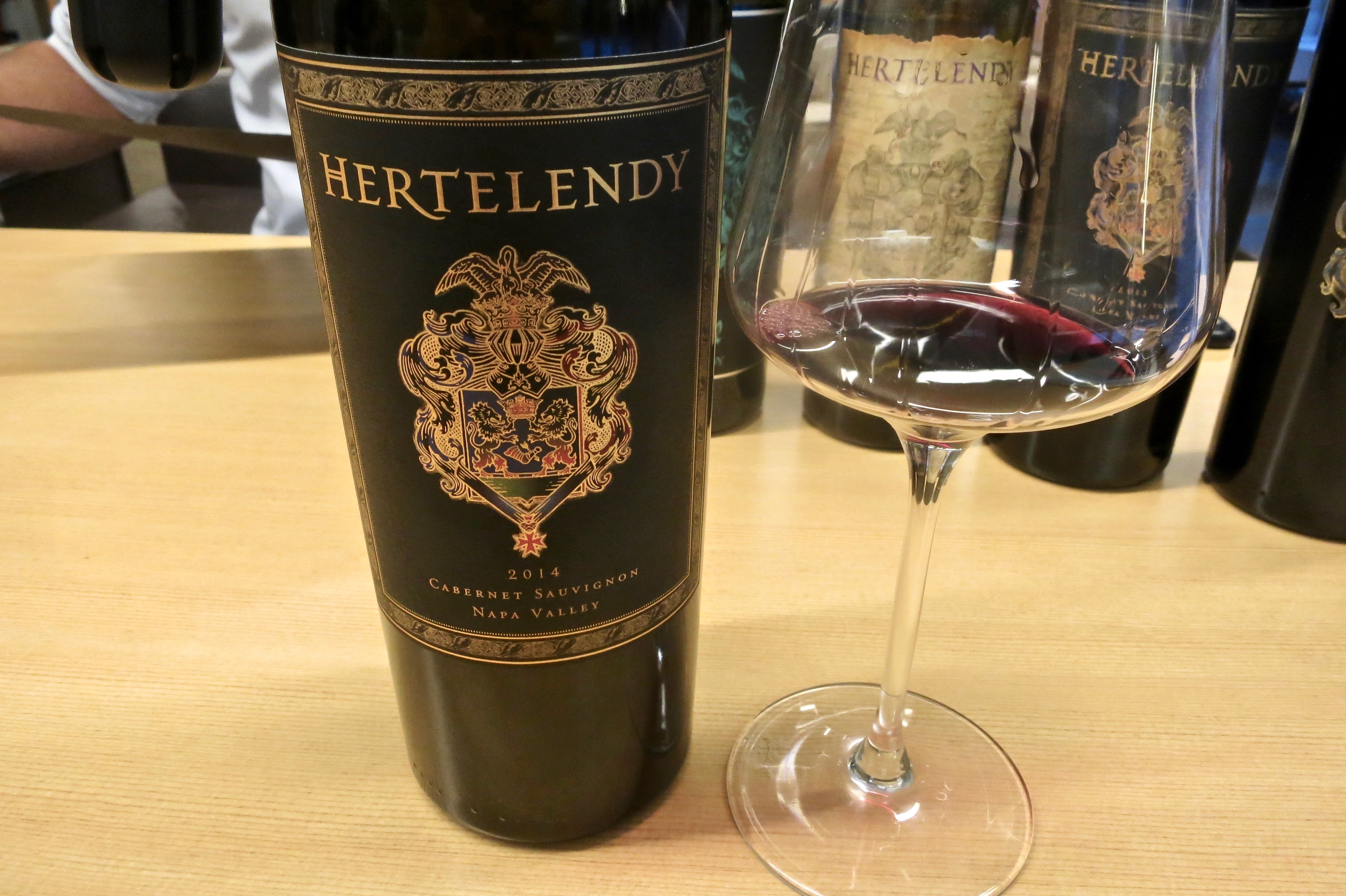 Hertelendy Cabernet Sauvignon 2014 – Coming off the spectacular inaugural release, the '14 is right on the coattails of the '13 with a chance to surpass it. Notes of blueberries, violets, black currant, cinnamon, pencil shavings, asian spice and mocha. Much tighter than the '13 but shows the same intensity and persistence on the mouthfeel but perhaps a touch of more elegance and structure. Long, lengthy finish, with the right amount of acidity and tannins, this would definitely benefit with time and should be tested later. Huge potential. 93+/100 points. $135/bottle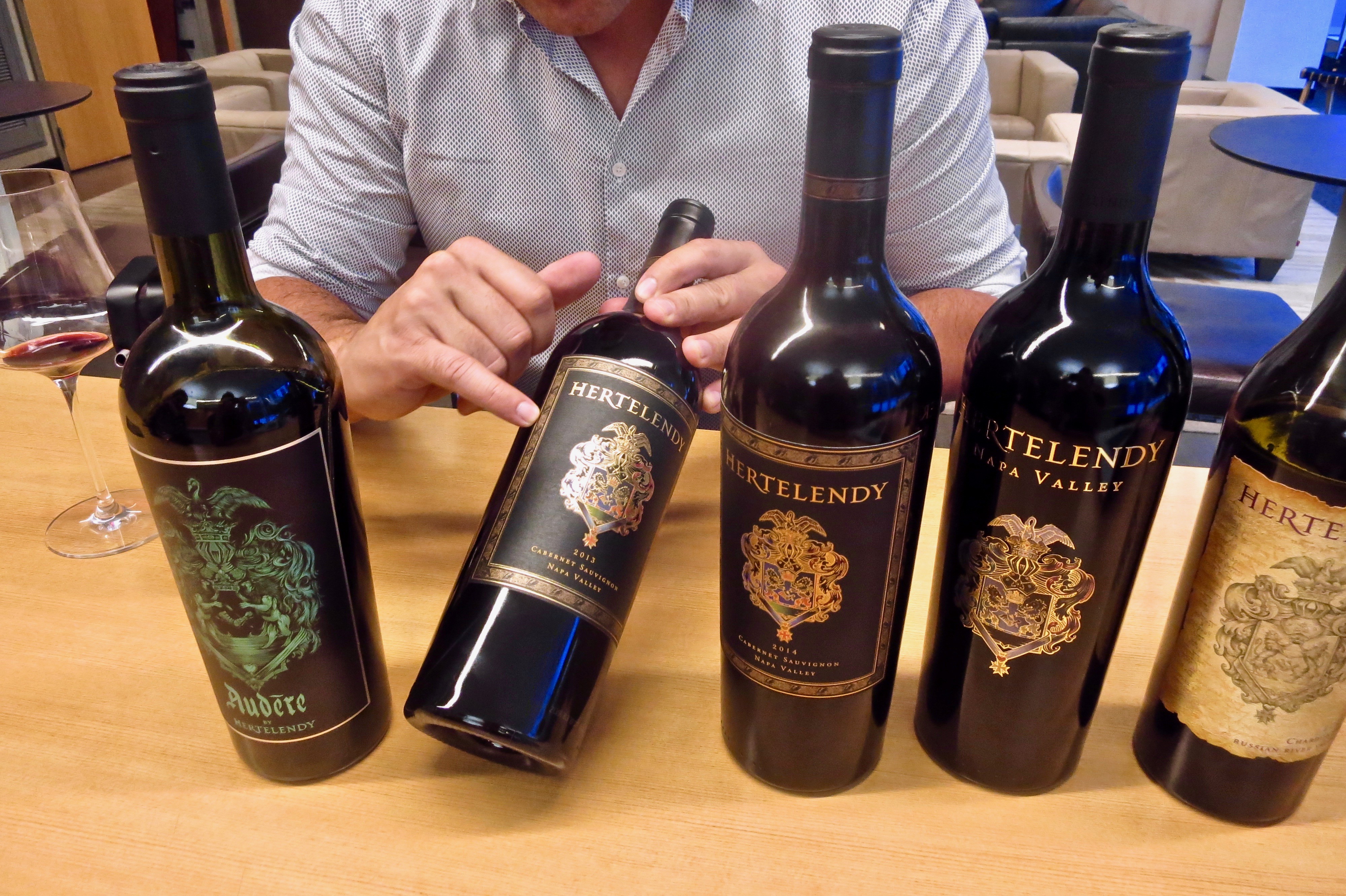 While his wines were certainly impressive there was one more thing that caught our attention while talking to him. His attention to detail is ridiculous. Every Hertelendy bottle holds his family's coat of arms which took him and his design team a year and half  to create, and another six months to get the border down to exact preference. The coat of arms bears his family's original Hungarian crest, which his father escaped from during 1940 on the last boat out during World War 2. However, Ralph made the swan into a spread-eagle image as a nod to to America. In addition to his creativeness, the Chardonnay bottle actually displays mirrored text, and to be able to read it, one would have to hold up the bottle to a mirror, and by doing so, one reveals details about the original Hertelendy coat of arms. He has other things in-store such as glow in the dark labels, as well as something super cool with text appearing when induced with cold air (he showed us a brief demo). Despite the fun antics with his wine labels, don't be mistaken, his wine is serious, and his attention to detail shows in his winemaking as well. For instance, he uses 11 different cooperages for his in his wine program for all his wines. Ralph is a fully invested man into his wine from start to finish, and we couldn't be more excited to see how he grows on his road down success.
You can find Hertelendy wines at some of the more luxury restaurants such as The French Laundry in Yountville & Morimotos in Napa, or at the Vintners Collective where you can arrange for a tasting. Less than 1000 cases produced, it'd be smart to get on their allocation list before this explodes.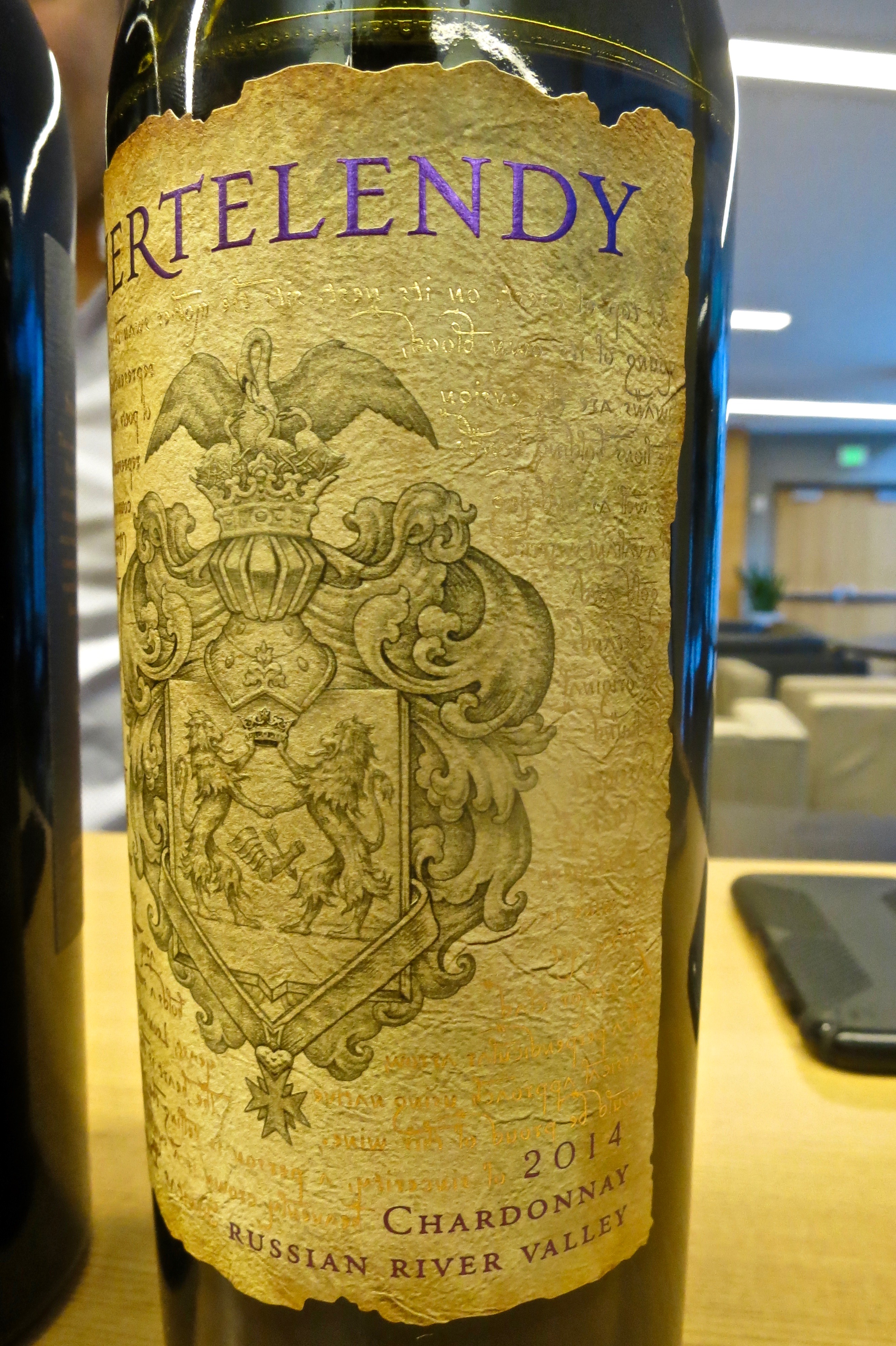 Personal Cheers to Ralph for the great success thus far and for his inbound marriage soon! Thanks for visiting us in San Francisco.
TheWineGuys Recommendation Level: Highly Recommended
Hertelendy Vineyards, LLC
510-MAX-WINE (510-629-9463)
Or
Vintner's  Collective
1245 Main Street
Napa, Ca, 94559
Tasting Fee: N/A