Add together an exclusive piece of land in St. Helena, a super star vineyard manager, and two legendary winemakers, and what do you have? You have Revana Vineyards, makers of world class Cabernets.
In 1997, Dr. Madaiah Revana, on a trip to Napa, came across a patch of land up for sale in St. Helena. Already knowing that this was a region of creating some of the top wines in the world, he bought it and sought out to hire the best team to make the wines that would be considered first class. It didn't take him very long to find the rockstar vineyard m anager Jim Barbour who's portfolio already included such mega names as Grace Family, Hundred Acre, Checkerboard, etc. Shortly after, he assembled the next piece of the rockstar lineup by getting acclaimed Heidi Barrett (Screaming Eagle, La Sirena, Lamborn, etc.) as his winemaker. With Heidi Barrett leading the way, Revana went on to make world-class wines, even catching the Wine Spectator's #4 spot in the top 100 wines of 2010. In the year of 2011, following the departure of Heidi Barrett, Dr. Revana brought on board another heavy hitter winemaker Thomas Rivers Brown (Schrader, Pulido Walker, Round Pound, Chiarello, etc.) to take the wines to the next level.
We were fortunate enough to get a tasting reservation, which in itself, was already a task and were prompted greeted by Lionel as we made our way through the gate. We sat down in the small but cozy tasting room and were immediately treated to the wines. It should be noted that we were here for a tasting and not a full tour.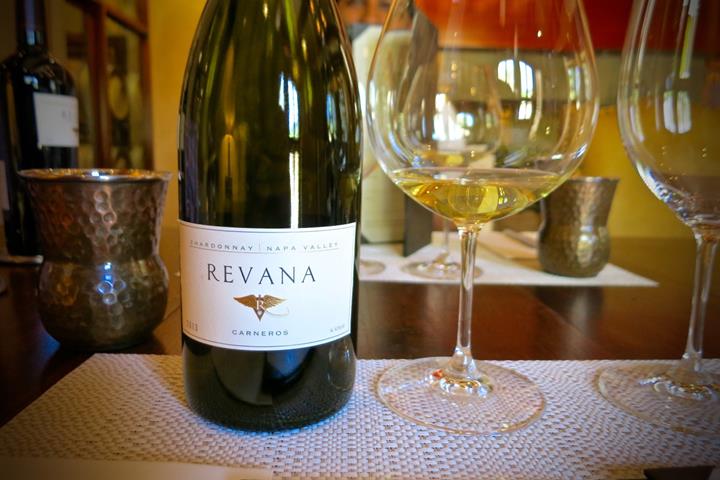 Revana 2013 "Carneros" Chardonnay
While relatively a new project, and only two vintages up to date, it is said that this will be the last vintage. Nonetheless, it was a worthy experiment, the Chardonnay was beautiful, featuring notes of green apple, white flowers, bright citrus and crushed/clean minerality. We gave this a 90/100 points at $45/bottle