If you take a look at the label on any of the Quixote wines, its definitely an out of the ordinary design that doesn't flow with the prestige of Napa labels. However, don't let the label fool you, because underneath that quirky label lies some world class wine with an all-star line up of a team.
We were fortunate enough to have an inside connection with Mike and visited the winery. Staying true to the theme of "out of the ordinary," Quixote was not an easy place to locate. Although situated right next to the world famous Shafer, the road to Quixote was no simple drive considering it took us deep into the hills and even at the destination, the winery was hidden among the brush.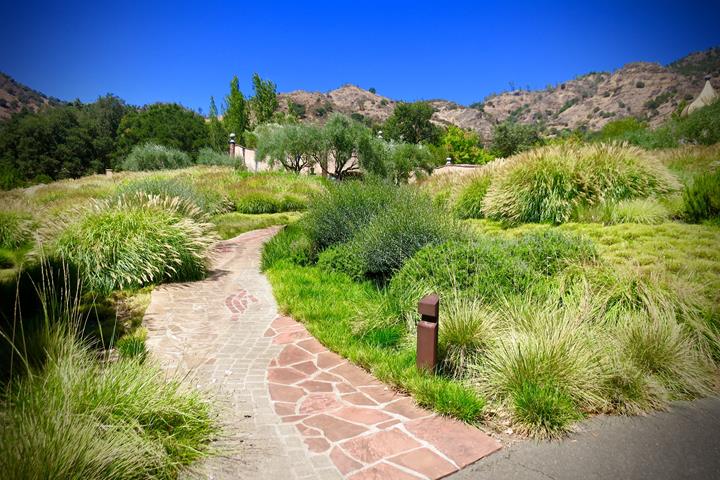 (Entrance to Quixote winery)
After walking up the road, the winery started to show and just like the label, the winery was designed in equally quirky way.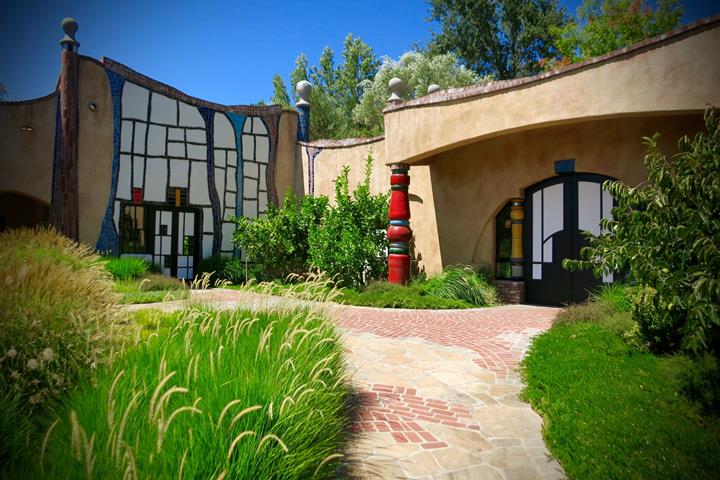 (Quixote Winery)
Walking in, we were greeted with Mike and he gave us a glass of the Quixote Rosé to start off our tour of the grounds.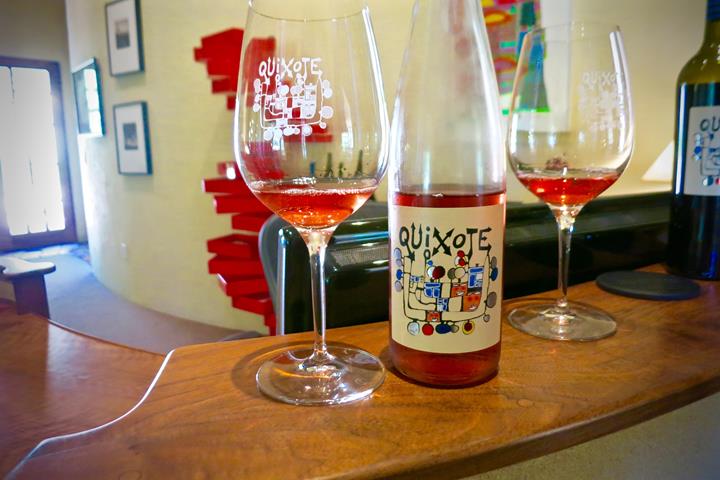 Quixote 2014 Rosé
Made from Petit Syrah, the rosé was clean and refreshing featuring red berry notes, strawberries, crisp minerality and bright acidity. Good weight and depth in the mouthful, this was quite an interesting rosé that featured subtle spices and herb flavors in the finish. We gave this a 90/100 points at $25/bottle.
Quixote was formed by Carl Doumani of Stags Leap's Winery, after he came across the work of a famous painter by the name of Friedensreich Hundertwasser. Carl, who decided that Napa was getting a bit prestigious over wine, decided to build up a winery that defied the pompous aura that Napa had developed, and eventually hired Friedensreich to build and design his winery. In around 1997, Carl finally had his finished winery, but to stay in the theme of being different, he decided to mainly plant his favorite grape, Petite Syrah, instead of Cabernet Sauvignon that dominated the Stags Leap region. Staying true to Hundertwasser's belief in organic architecture (designs that flow into nature seamlessly), Carl made sure that the fruit was sustainably famed and organic. He started off by hiring an all star of a line up with Michael Wolf as the vineyard manager (Bond, Harlan, Lewis, Duckhorn, Scarecrow) to manage his land and to make the wine, he hired Aaron Pott (Quintessa, Chateau La Tour Figeac, St Helena Estate, Bello Family). With the star studded line up, Quixote set off to make world-class wines, especially Petite Syrah. In 2014, Carl sold the winery to a Chinese company and set off to pursue his next project.
During the tour of the facilities, we were handed a glass of the Cabernet Sauvignon that was produced on the estate while visiting which appeared to be a blending room. Not to mention, the room seemed to be filled with bottles that Aaron had brought and shared with his staff, and from the line up we saw, the staff at Quixote are quite lucky!!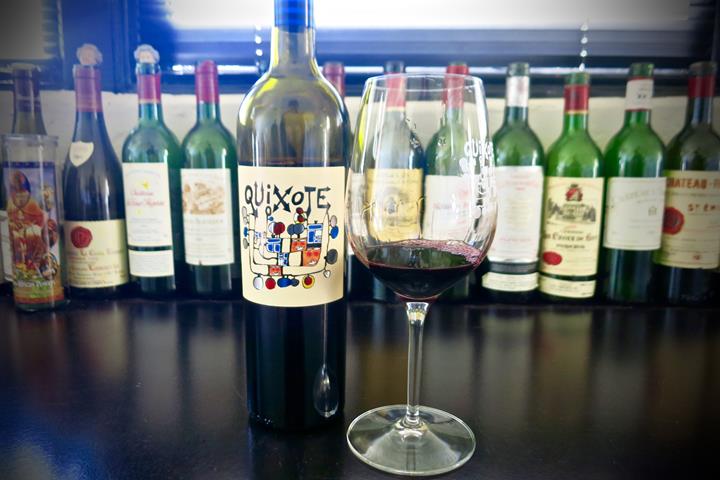 Quixote 2009 Cabernet Sauvignon
The current release of Quixote, the cabernet displayed intense notes of blackberries, raspberries and figs, which are complimented by complex layers of cured meets, herbs, coffee and tar. Very complex palate, good length and intensity, we gave this a 92/100 points at $100/bottle.
After our tour we got ourselves situated in the tasting room, which featured a long table and some fun paintings on the wall. It seemed like we were tasting in someone's bedroom instead of an actual tasting room, but nonetheless, the ambience made sense considering Quixote was anything but ordinary.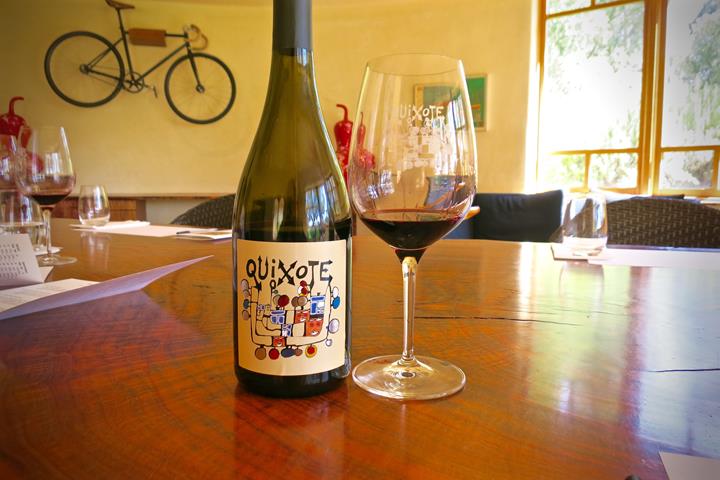 Quixote 2010 Petit Syrah
The 2009 Petit Syrah displayed strong tones of blackberries and licorice, accompanied by spices and wild game. A hint of green lightens the palate but the persistence remains strong leading into a firm tannic finish. We gave this a 92/100 points at $60/bottle.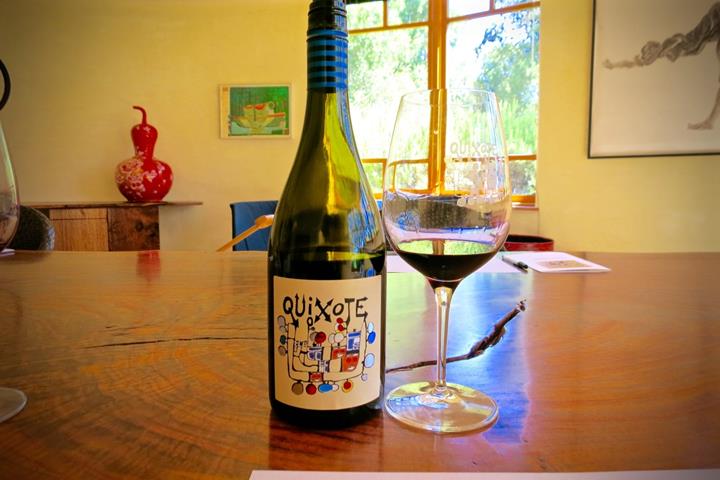 Quixote 2011 Petite Syrah
In contrast to the 2010, the 2011 is a bit leaner on the palate, still featuring notes of blackberries and licorice, the body is a bit leaner and not as bold but the spice notes really permeate through the finish. We gave this a 92/100 points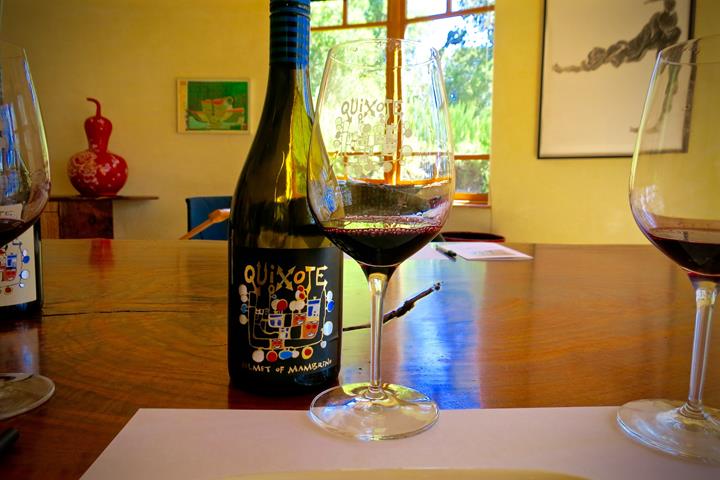 Quixote 2011 "Helmet of Mambrino" Reserve Petite Syrah
The Reserve Petite Syrah features gorgeous black fruit notes, mint and black currants. The body is juicy with a mingle of black fruits and brown spices and has a chocolatey mid palate that is drives into an earthy finish. We gave this 94/100 points at $125 a bottle.
Overall Impression: Since it is hidden into nature, Quixote is definitely not a place flooded with visitors, which makes it a great place to enjoy world class wines in peace. Quixote is definitely a hidden gem hidden deep in Stags Leap District and offers some of the finest Petite Syrah we've had in a while. A refreshing change from the hustle and bustle of the big names of Stags Leap and Cabernets.
The Wine Guys Recommendation: Highly Recommended
Quixote Winery
6126 Silverado Trail
Napa, CA
707-944-2659
Tasting Fee $45/Person