Dark clouds, possible chance of rain, no sun in the near horizon…yet one thing was sure on this gloomy Saturday, we were going to have some wine, rain or shine.
Tucked on a side off road of highway 29 in a nest of residential houses, we pulled up to the ever so beautiful Obrien Estate. Upon first impression, it was quiet, and a majestic sort of serenity came from this family winery. As we checked in with our host Steve, we got right down to business with a glass of their Sauvignon Blanc.
2013 O'Brien Estate "Facisnation" Sauvignon Blanc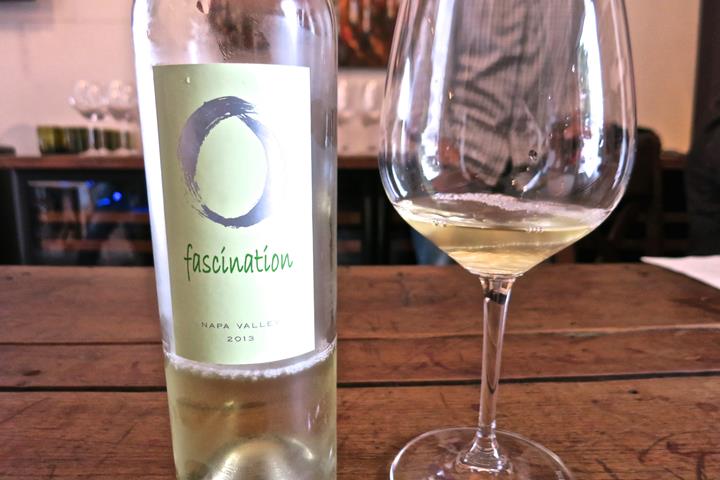 The nose displayed aromas of haystack, straw, bright, acidic notes and tropical fruits. The palate displayed notes of grapefruit, lemon and lime peels, and green pineapple. The body seamlessly transitions to a mineral driven finish and cuts with a crisp refreshing bite. We gave this a 88/100 points at $35
As we sipped on the Sauvignon Blanc, we moved from the tasting room into the vineyard which appeared to be the "backyard" of the Estate. As we moved into the vineyard, Steve walked us into a middle ground separating two giant vineyard and told us to soak in the view.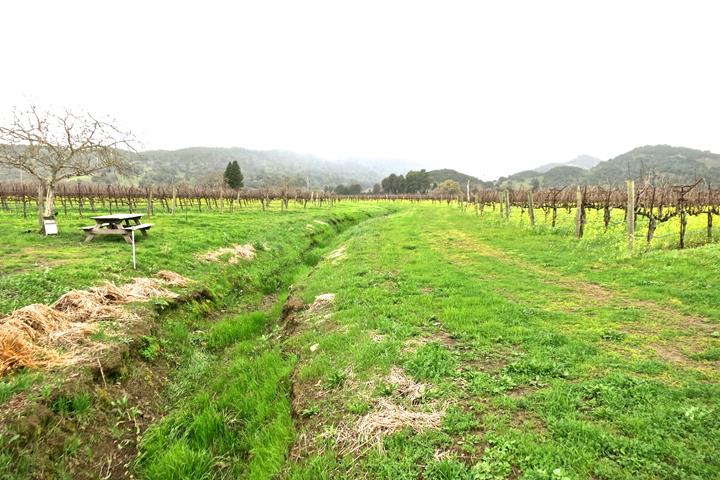 There was something about a quiet vineyard after a rainy day staring off into the majestic mountains that just was epitome of "serene." We both took a few minutes to just appreciate such a gorgeous view, we really didn't have much to express the view than just "beautiful and serene."
As we soaked in the view, Steve went back to the tasting room and brought out us some more wine.
2013 O'Brien Estate Chardonnay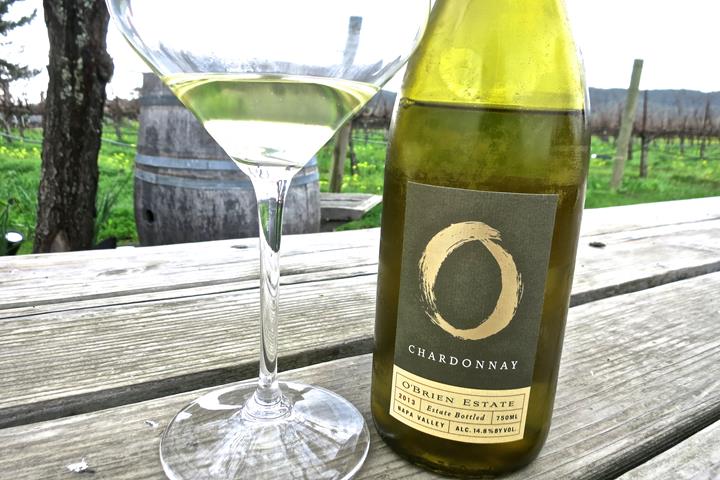 The nose displayed aromatics of crisp tropical fruits, jasmine, white flowers and subtle notes of oak. The palate shows notes of white apricot, white peaches, spice box, and a hint of oak. The body is full and rich and leaves for a refreshing and balanced finish. We gave this an 89/100 points at $46
The next wine wasn't on the tasting menu, but steve was nice enough to give us a try of the Wine maker's personal project's pinot noir.
2013 Cobden Wini Pinot Noir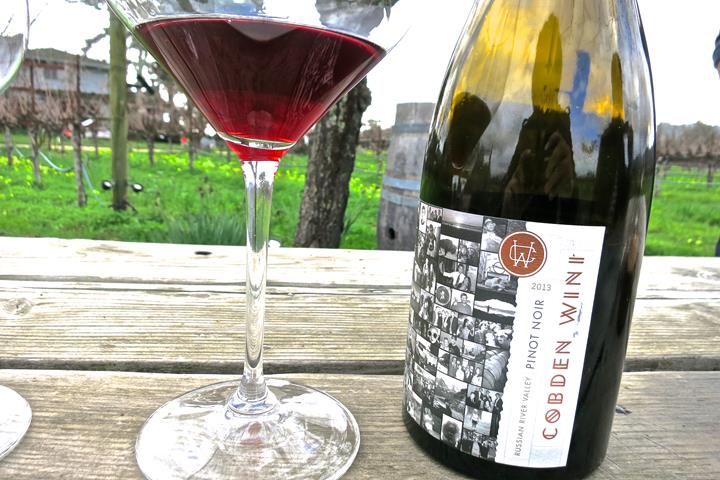 The nose displays notes of red berries and dry earth and herbs. The palate boasts flavors of raspberry, red cherries, cola and baking spice. The finish is led by crushed earth and balanced acidity. We gave this a 90/100 points at $40
2012 Seduction Red Blend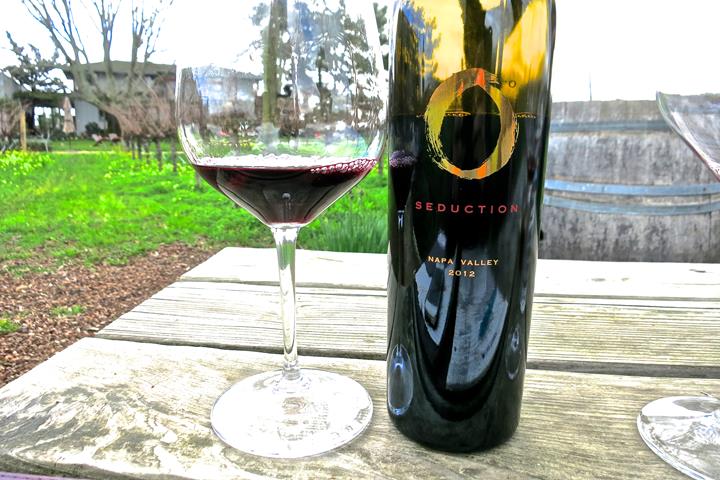 The nose shows aromas of cassis, coffee, black fruits and molasses. The palate is juicy with notes of black cherries, plum, black currant and chocolate. The body is complex and finishes seductively with creamy and sensational finish of coffee and well integrated tannins. We gave this a 91/100 points at $68
2012 Passion of the Soul Cabernet Sauvignon
The nose displays notes of cassis, sweet oak, blue flowers and spice box. The palate shows juicy notes of plum, black cherries, licorice , crème de cassis and sweet tobacco. Luscious mouth feel of juicy black fruits leads to a gorgeous finish with notes of vanilla. We gave this Cabernet a 93/100 points. At $78
Upon enjoying the wines with Steven and striking up conversation about wine, the O'Brien family history as well as personal interests, he brought us back to the cellar room to taste one more wine. As we traveled through the barrel room, we could see how difficult it must have been to organize so many barrels in such a compact space, it really was quite the feat. But, separated from the rest, was one barrel of their Cabernet Reserve! Steve was kind enough to give us a pour.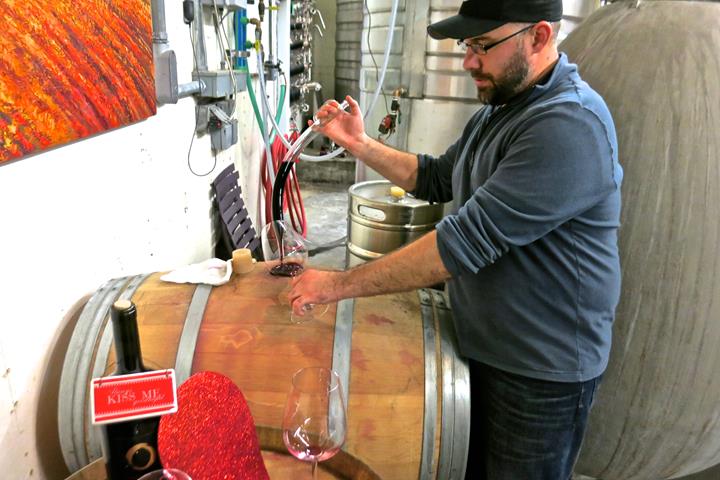 2013 "Unreserved" Reserve Cabernet Sauvignon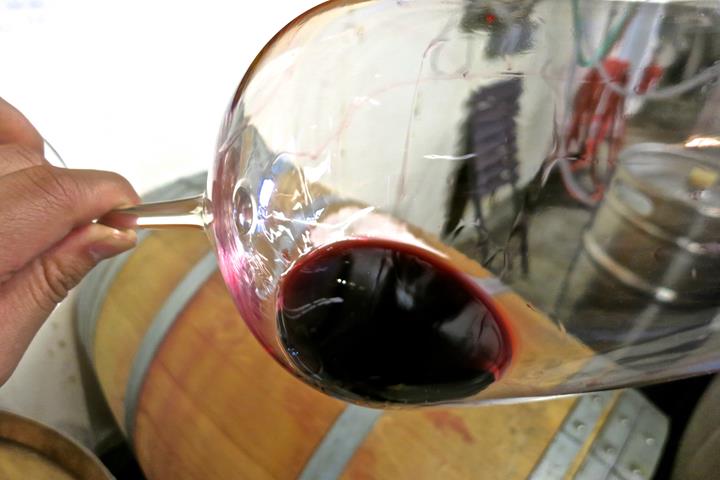 The aromas on the nose burst with notes of spiced black fruits, fresh blue and purple flowers, and currant. The palate shows juicy layers of blackberry, blueberry and dark cherries. Beautifully textured and exquisite, the mouth feel leads to layers of cassis, graphite, with a hint of leather. It finishes smooth and sexy with soft tannins and lingering notes black fruits and oak. We gave this stunner a 96/100 points at $145
After the barrel tasting, we picked up a few bottles and we thanked Steve for the hospitality as we had another appointment to make. As we left, the sun began to shine upon O'Brien Estate, and amplified the beauty of their vineyard. It was a beautiful sight to behold and a perfect ending to our tasting.
Overall impression: If you're looking to get away from the hustle and bustle of big wineries along highway 29, but still want quality wines, head over to O'Brien Estate, you will find peace and quiet, beauty, serenity, and great wine.
The Wine Guys Recommendation: Recommended