Being wine lovers, we're always looking for the next best thing on the horizon, through our journey in the last few years, we believe we've stumbled upon a rising star in winemaking. Julien Fayard is a winemaker that has been our radar for quite some time, and he has started to begin making big strides in the Napa Valley.
Julien Fayard was born and raised in Saint-Étienne, France in where he would eventually get his masters in agribusiness and winemaking at the School of Agricultural Studies of Angers and PURPAN Engineering School. He would eventually go on to get more degrees at Paul Sabatier University in France and his MBA and University of California, Davis.
With a seasoned wine and agricultural background, he would eventually intern at Chateau Lafite Rothischild for a year then find his way to Quintessa in 2003 for a few months. He eventually would take a Assistant Winemaking position at Chateau Sainte Maguerite for two years before moving home to be the Managing Director for Atelier Melka of Philippe Melka. At Atellier Melka, he would work on projects such as Melka's own Metisse, Lail, Dalla Valle and Parallel. During that time, he would open his own consulting business as a Consulting Winemaker under the name of FayardWines. Studying under the legendary winemaker Philippe Melka really cemented his style of winemaking and allowed his name to become a sought after winemaker. He opened his own label of Azur wines in April of 2008 and eventually in 2012, co-founded Covert Estate in Coombsville with his wife, and two partnering families, the Nicholson and Nestor families whom were long time wine collectors.
Covert Estate, being a relatively young winery, is situated in the hillsides of Coombsville, an up and coming region that produces some amazing fruit in Napa. Unsurprisingly, the winemaking technique used there by Julien is the same approach as what he learned from Melka, a Bordeaux expression of letting the vineyard and soils speak for themselves. We were fortunate to get in touch with the Hospitality Maven Kristi, who graciously invited us up to the estate.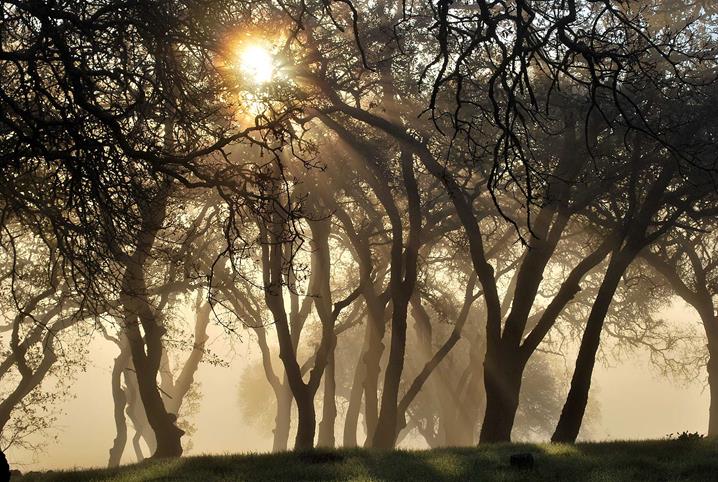 (the view from the Estate, hidden from view)

The Estate was nestled into the hills so much that from the outside, you were unable to see the Estate until you drove up to it fully (thus for the name Covert). It was definitely off of your usual road, with quiet and calm scenery around, we felt immediately comfortable when we got there. Kristi arrived to greet us in a golf cart, and we went on a quick and fun drive down to the cave. Just down the hill from the estate was a cave with tons of construction going around it. Since the winery was founded only three years ago, they were still in the building stages of their official tasting cave room and cellar, but from what we saw, the barrels were already situated and the tasting room looks to be quite beautiful when complete. Kristi told us that they should be done around March 2016, so look for a more in depth winery feature at that time!
After touring the unfinished cave, we took the golf cart drive back up to the Estate to taste wines. We were told that this Estate was used by some of the co-owners from time to time, and walking in, it really felt like we were walking into someone's house. It wasn't like other "house" set up wineries, but it really felt like we were almost intruding on someone's property to taste wine! Nonetheless we were very excited to try the wines made by Julien.
We were situated to try wines from all three different labels, Azur, Nicholson Jones, and Covert Estate all in random order, and so we started off with the Azur Rosé.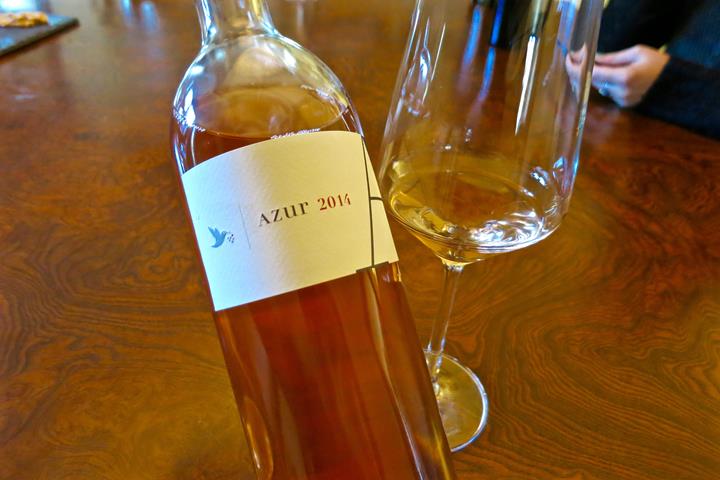 2014 Azur Rosé: Bright and refreshing, this was really enjoyable despite the cooler weather of Fall. Bright aromas of red berries, zest, fresh cut herbs and spices. Clean and refreshing palate of strawberries, watermelon, some hints of pepper, and orange peel. This was a great palate starter with the bright acidity and flavors. We gave this wine a 88/100 points at $32.
Moving onto another label under the Azur family, we got to try Julien's take on the Sauvignon Blanc. Having already loved the Melka interpretation of the Sauv Blanc, we were really excited to see what Julien's take would be. Instead of 22 months, Julien used 18 months in new French oak and held it longer in bottle before release, compared to the standard release point of Melka.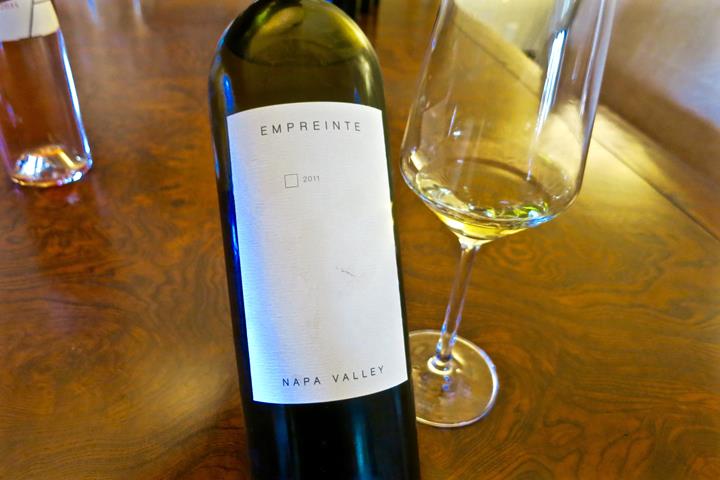 2011 Empreinte Sauvignon Blanc: Fresh aromas of cut flowers, grass, lemon zest, tropical and white fruits really stood out in this glass with a kiss of vanillin. The mouthfeel was creamy and lush, with balanced acidity with notes of green pear, white peach, melon and nutmeg. You could definitely see the traits of the Melka winemaking style, but it definitely had a stylistically different approach you could tell that was definitely Julien. We gave this a 94/100 points at $65.
We moved onto the Nicholson Jones wine next, which featured a Chardonnay, it was noted that Julien was still the winemaker here but the label was put under the other partner's name.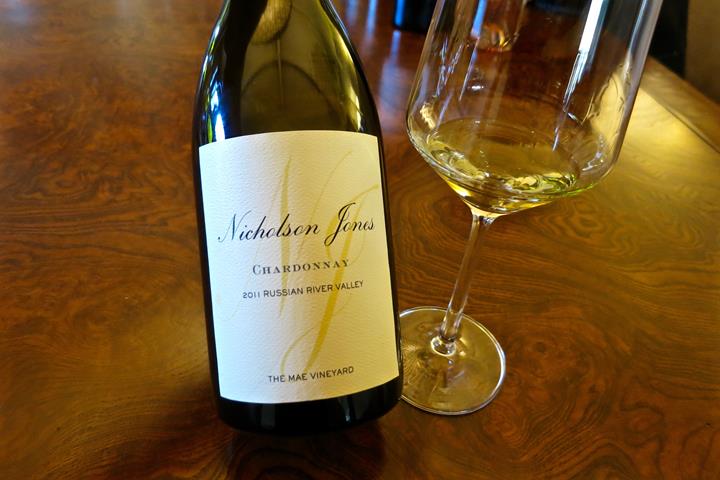 2011 Nicholson Jones Chardonnay "Russian River Valley": We'll start off by saying this Chardonnay had the most interesting bouquet ever, definitely a first for us. The nose had a most unique nose of canned corn, sweet corn, brioche, butter and tropical fruits. Yes, corn!! The palate was equally as unique with carrying on the layer of corn notes, ripe melon, peach and nutmeg. The mouthfeel was creamy, well balanced with acidity and truly was a wonderful slightly aged Chardonnay palate that we really enjoyed. We gave this Chardonnay a 93/100 points at $45.
After the Chardonnay, we began to move into the reds, in which many we were able to really figure out what traits Julien had in his winemaking that really stood out more so than the white wines.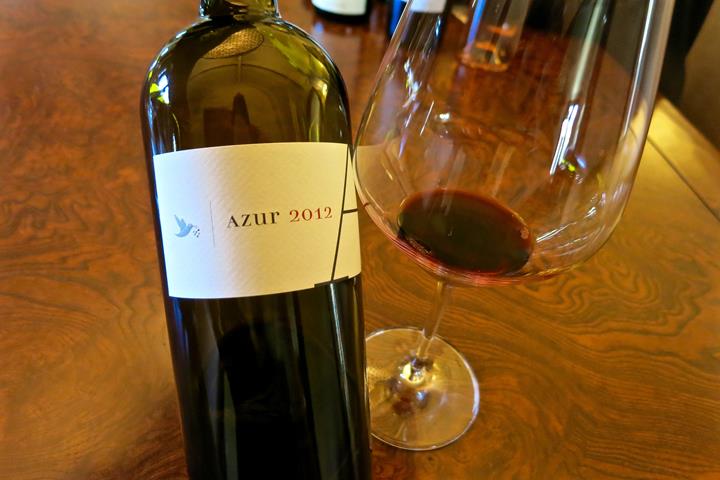 2012 Azur Cabernet Sauvignon: This Cabernet focused blend featured bold flavors dark fruits, brown spice, blue floral aromatics and currant. The palate was juicy, with notes of dark cherries and blackberry jam with a richness of chocolate, mocha and a hint of vanilla. An extremely approachable wine, this was a mouth-coating wine to really enjoy. We gave this a 93/100 points at $75.
2012 Nicholson Jones "Sugarloaf Mountain" Cabernet Sauvignon: A single vineyard Cabernet, the sugarloaf had a beautiful and rich aroma of black fruits, coffee, currant and a toasted hazelnut. On palate, there were notes of dark chocolate, plums, blackberry jam, and mocha notes. The tannins were integrated beautifully and again, this was a lush and approachable wine early. We gave this single vineyard Cab a 93/100 points at $120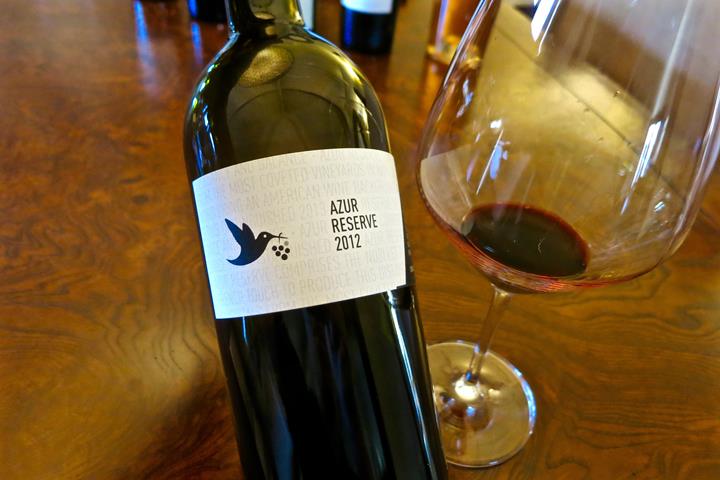 2012 Azur "Reserve" Cabernet Sauvignon: The best barrels of the Cabernet Sauvignon, the nose was expressive of dark berries, cherries, vanilla, warm spices and currant. The palate was smooth and round, with notes of strawberry jam, blueberry, chocolate, tobacco with fine acid of raspberries all finished with notes of cedar, mocha and vanilla. It was a gorgeously rounded out Cab with the smallest hint of beautifully integrated tannins. Although approachable, this was a great wine for cellar selection. We gave this a 94/100 points at $115.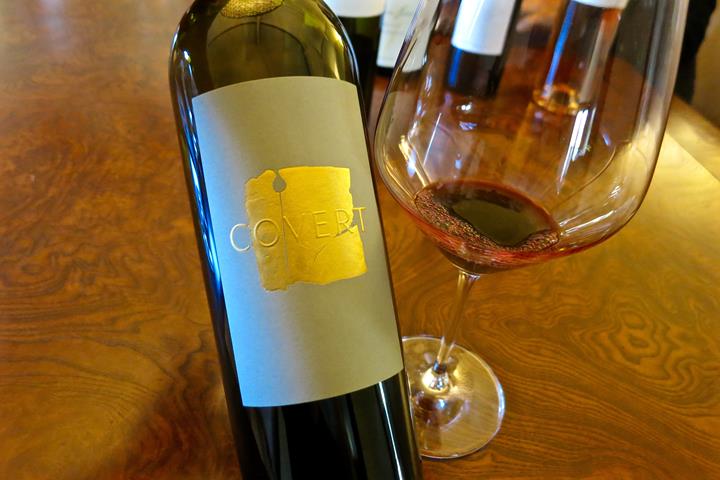 2012 Covert Estate Cabernet Sauvignon: Fully Coombsville fruit, it had a great expression of what we really love about the Coombsville region. Big aromatic notes of dark fruits, with a lightness of blue florals and bright baking spice. The palate featured classic dark cherries, chocolate, blueberry jam, cassis, refined minerality, and big tannins with medium acidity. A beautiful first vintage from Covert Estate, we gave this cellar worthy Cabernet a 95/100 points at $150.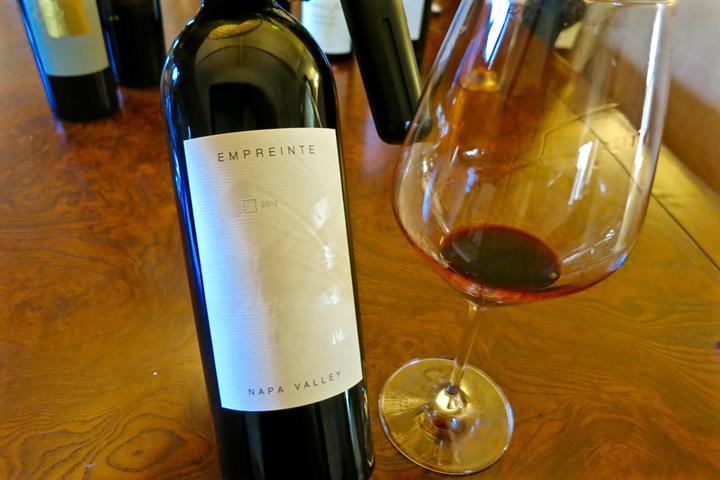 Empreinte 2012 Reserve Cabernet Sauvignon: The last of our wine tasting, and by this point we could really see Julien's winemaking style with the great extraction of fruit for a jammy profile, yet with a complex and balanced midpalate with a great expression of terroir. The aromas of this reserve were focused with dark cherries, cassis, mocha, and warm spice. The palate was focused with blackberry jam, chocolate covered strawberries, cassis, with earthy notes of soil, graphite, and well-integrated tannins. The finish is bold, yet eases into a soft, beautiful finesse. We gave this wine a 95+/100 at $175.
This concluded our tasting with Covert Estate, as Kristi had another group coming and we were also on a tight schedule. It was unfortunate that we couldn't stay much longer, but next time we plan to come back and really take some time to enjoy!
Our overall impression with Covert Estate and the associated wines were very good. The wines really were all ready to drink now, but showed beautiful complexity and many were cellar contenders. The estate itself was very peaceful, serene, and the tasting was very comfortable and we were able to enjoy this experience. The wines were definitely recommended for a more advanced palate, and the price range was around the mid-tier to more luxury tier, but well worth it. We recommend visiting Covert Estate and checking out Julien Fayard's wines and discover one of the up and coming superstars of winemaking in Napa Valley.
Recommendation Level: Highly Recommended
Covert Estate
17 Chateau Lane
Napa, CA, 94558
Reservations Required