If you've stopped by Calistoga, you would probably notice that this town has it's own vibe, much different from the atmosphere you normally would find in Napa. It's fun, quirky, relaxed, and it still provides you with everything that you would expect: good food, good wine, and good people without the fluff. It makes sense that a winery that embodies that spirit of Calistoga is conveniently placed in town disguised as a restored 1930's gas station.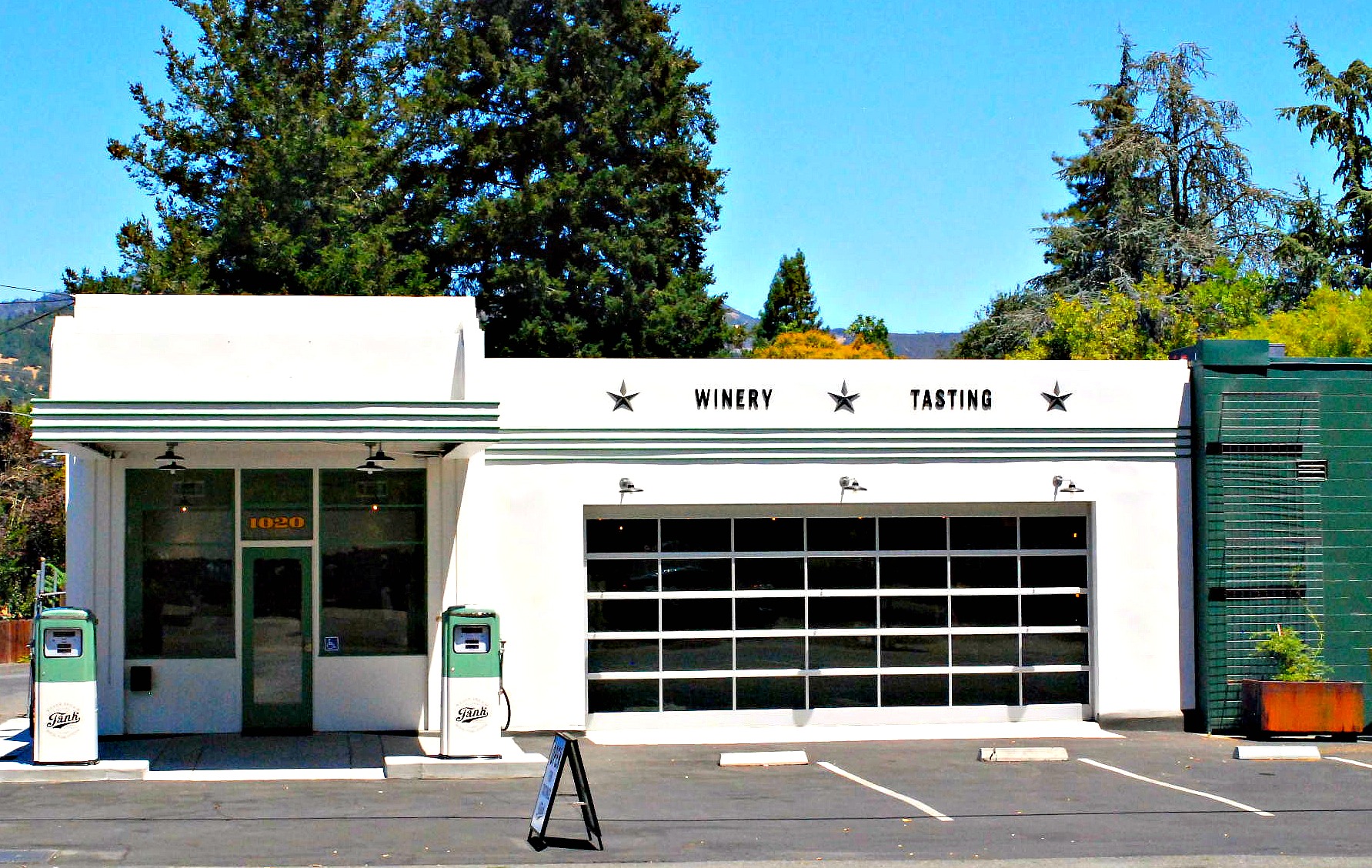 Tank winery has been around for only three years, but they are no strangers to the wine game. Having sister wineries Regusci, T-Vine, and James Cole, Tank has departed from the traditional branding of wineries that they represent and have pushed their own agenda and image. Tank winery is all about living in the moment, and having no rules.
The concept is pretty straightforward for them, first off, the name Tank Garage literally comes from wine being made from tanks, and the winery has a garage door, and thus Tank Garage winery. In keeping up with their theme of "in the moment" all the wines are made only once, and once it's gone, it will be never created again. There was a phrase that stood out to us, they said that "people that drink wine are always trying to re-capture that moment of when they fell in love with a brilliant wine, but they never can quite recreate it exactly." Instead of trying to recreate those moments year after year, Tank just makes one great wine once, and moves on. The pressure of recreating a standard for a wine consumers love year after year just isn't in Tank's agenda. For the consumer, it's a tough pill to swallow if you enjoy the wine and realize it will never be made again, but the idea behind Tank is, if you enjoy their wine, the likelihood that you will have moments of where you fall in love with their wines will be re-created time after time with every new release.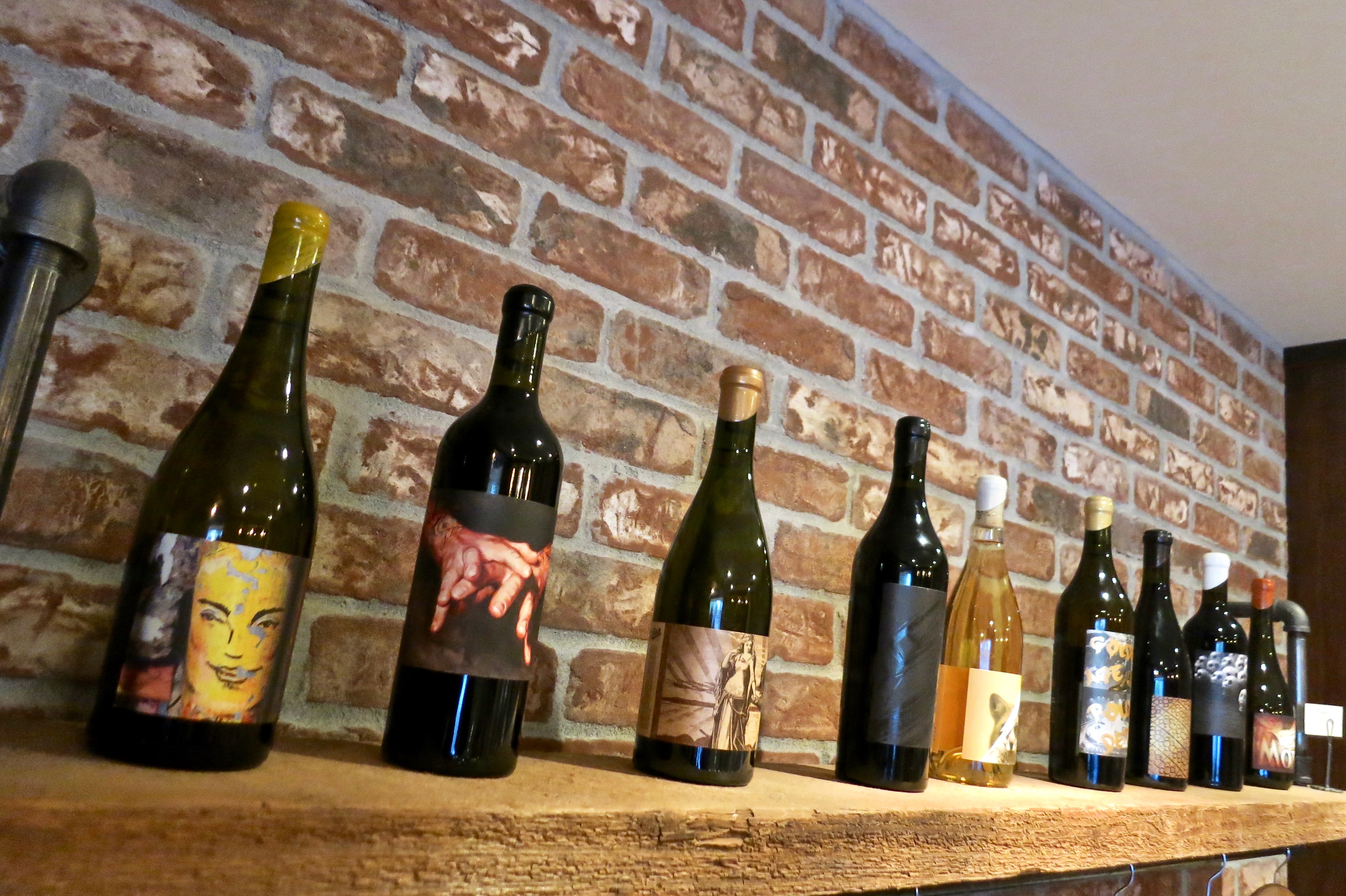 So how does Tank Winery go about making a new wine every quarterly release? They stick to their motto of "no rules." Tank sources their grapes all over California, and as most wineries that source fruit, it generally involves a contract if not multi-year contracts. Tank only contracts grape sources for up to a year, and after it expires, they move on and find something else. What results is the winemaker literally works with the grapes that he has for the vintage and is allowed to experiment until something magical is created. Nothing is for certain, and that is what makes Tank's wines interesting and exciting. As you may have noticed in the photos of the wine, the labels of the wine are nothing traditional, and what they are named after are nothing of it either. Tank's graphic artist uses a custom wine label printer and retouches some old photos to recreate or reimagine a concept. It is said that the names of the bottles are a reflection of the owner's James Harder and Jim Regusci life experiments and moments.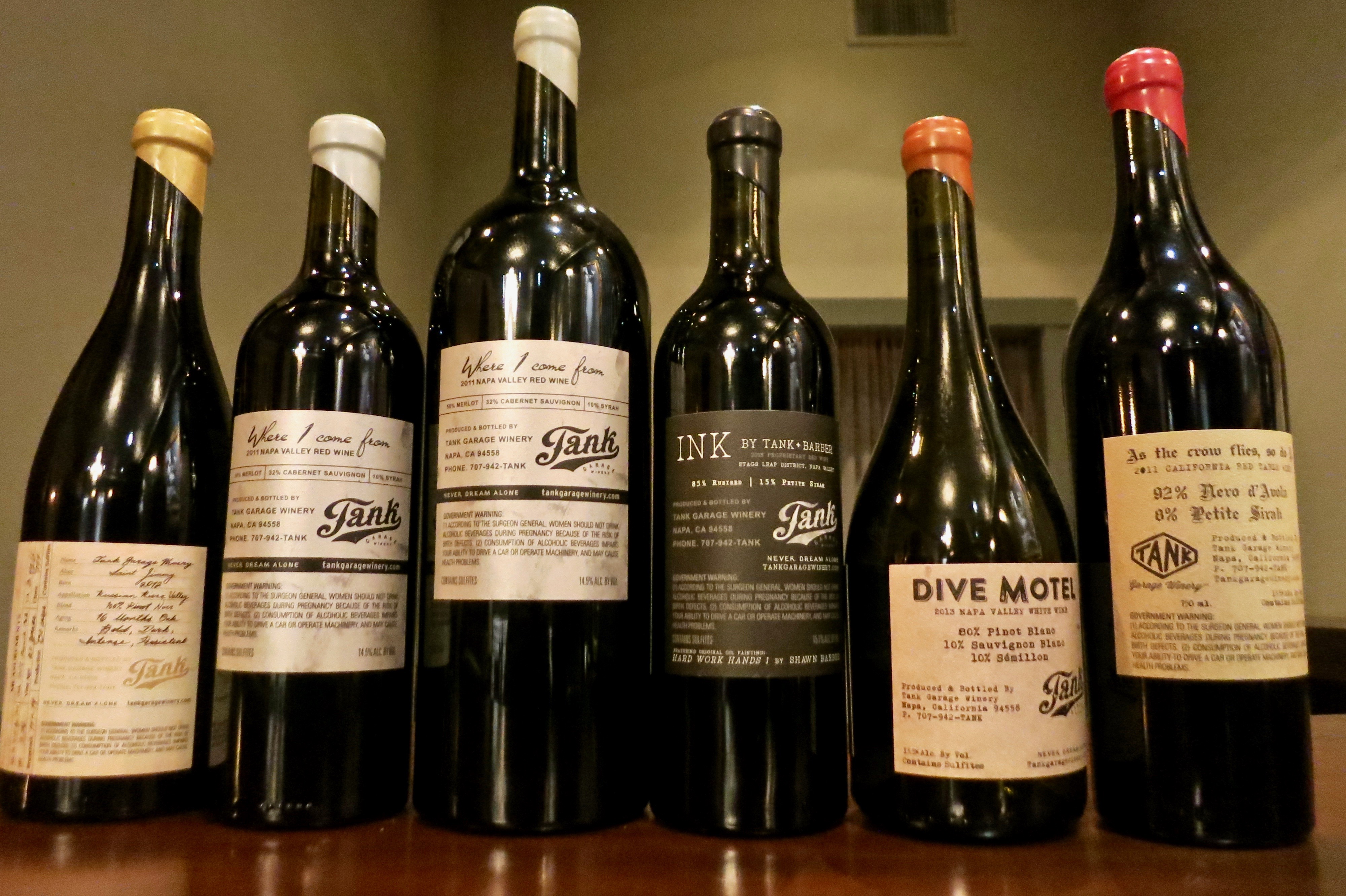 What drew us to visit Tank Winery was definitely the uniqueness of their bottles, the names of the bottles, but ultimately, the quality of wine that was being made. We had the opportunity to taste through a few of their wines before, and when we realized after the fourth or fifth bottle that all the wines were sound in quality, we knew that this hipster looking winery was no joke. Although the day we visited was rainy and gloomy, upon arriving there was a charming warmth about the place. Walking in, there was a low buzz of chatter, music, and the faint ring of a pinball machine going off in the background.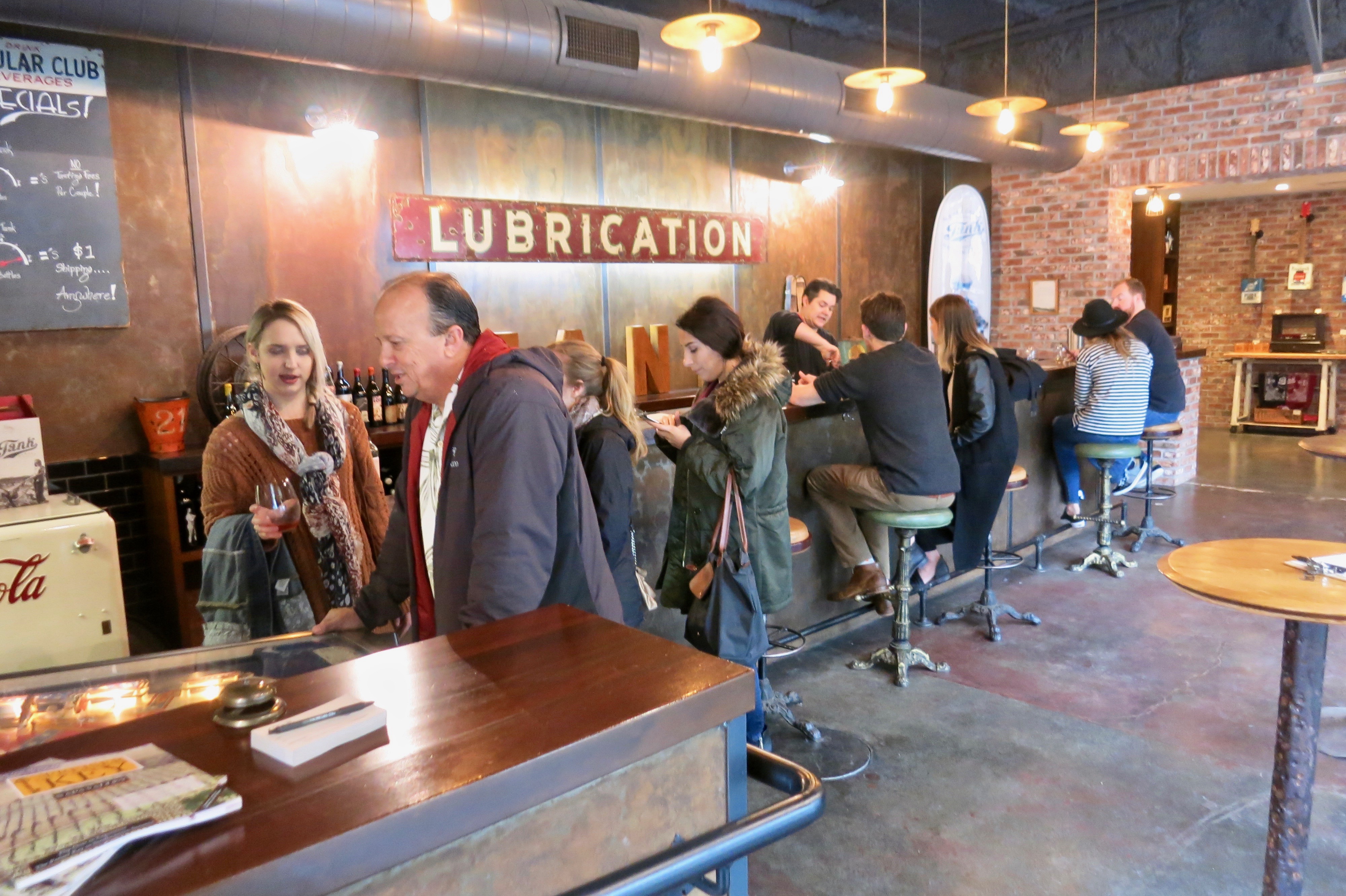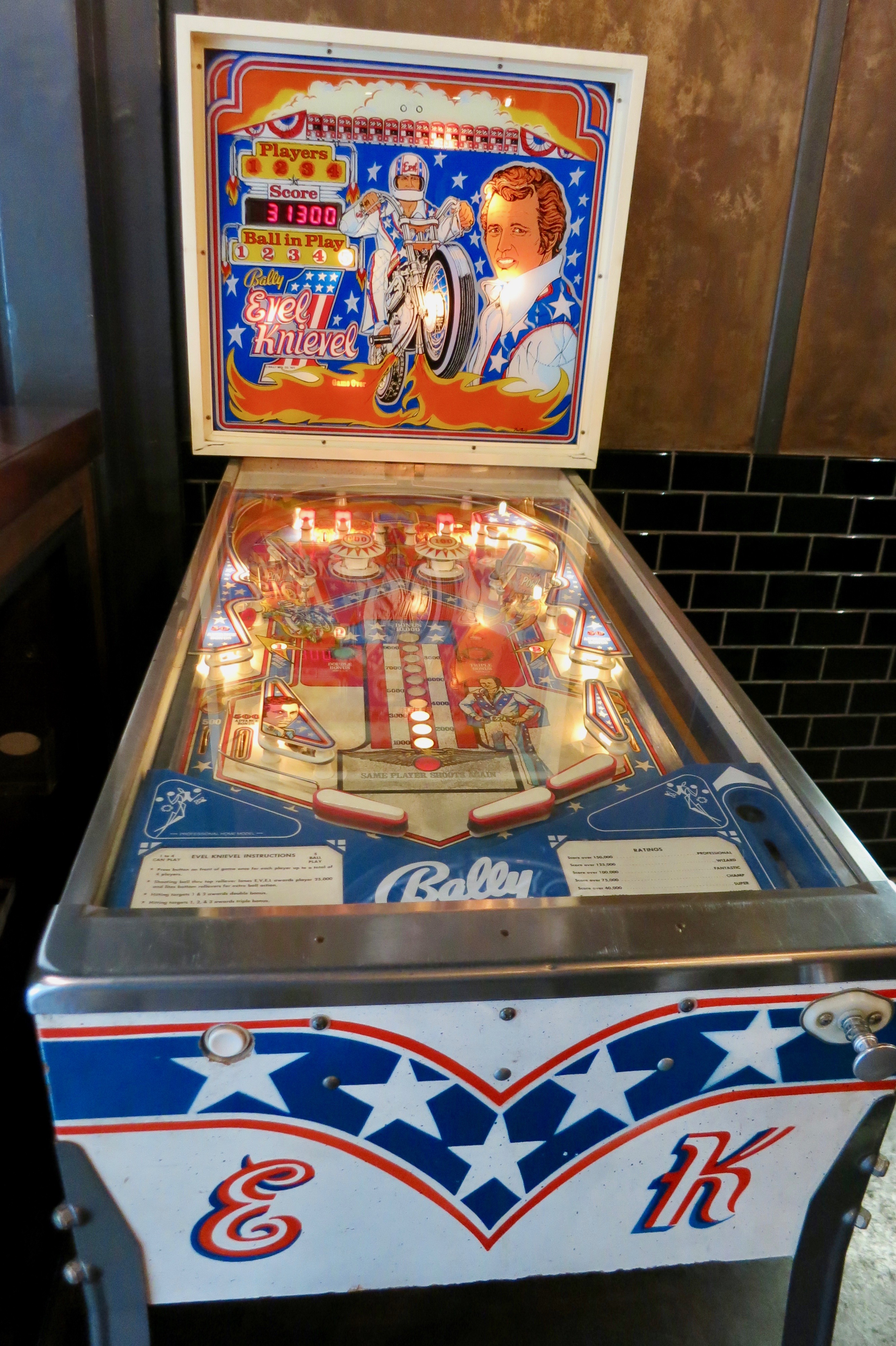 After taking a brief look around of the super snazzy tasting room, we were ushered to the back where we would have our tasting. Through a pair of curtains we entered a room that sported the theme of a speakeasy-prohibition style lounge. As soon as we made a comment of that how it reminded of us of a speakeasy, we were notified that on Fridays, Tank Winery is actually open at night, and in order to enter, you would need a password (very fitting)!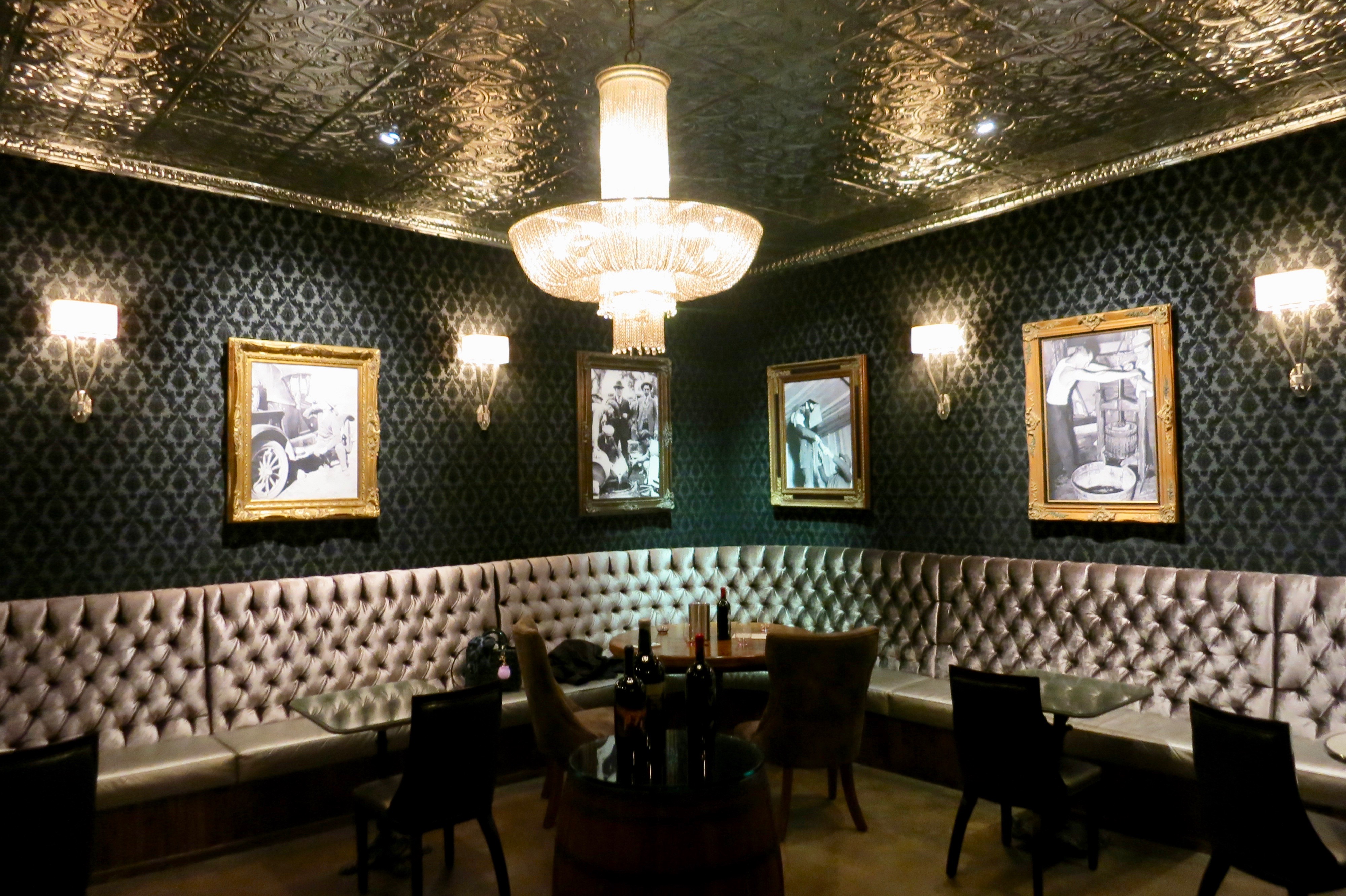 After marveling at the prohibition photos hanging from on the wall, we settled down at a table sitting under a chandelier and began our tasting. 
Tank Garage "Stars Like Ours" Rose 2015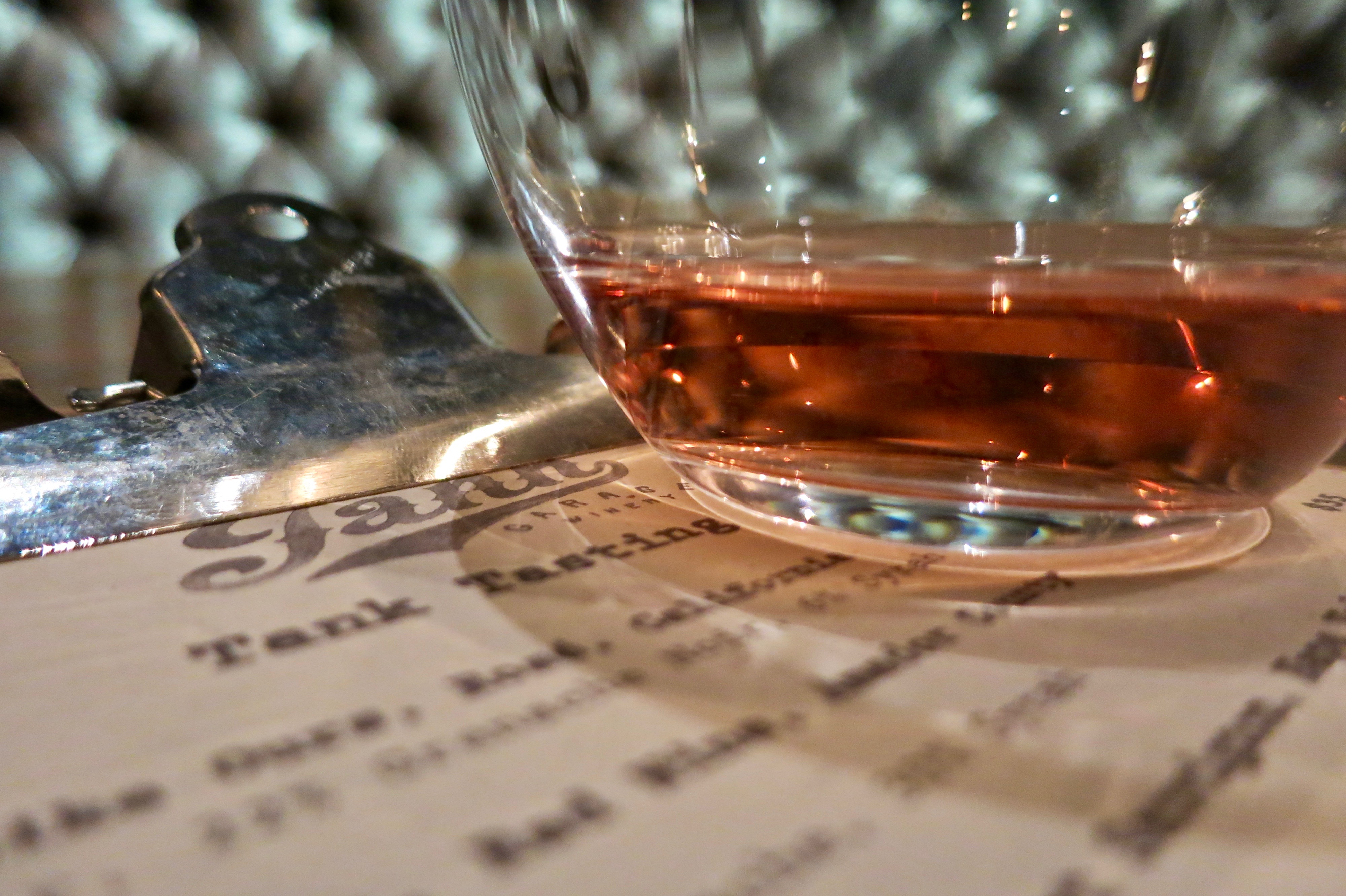 This is a wine we've had prior to coming to Tank, notes of strawberry candy, white florals, watermelon, stone fruits, honey, and honeydew. Ripe and sweet on the mouthfeel and a little dense, but finishes with crisp acidity. Fantastic value for a rose and definitely would be a great summer wine to have.  We gave this a 88/100 points at $16/bottle.
Tank Garage "Lost at Last" Skin Fermented White Wine 2015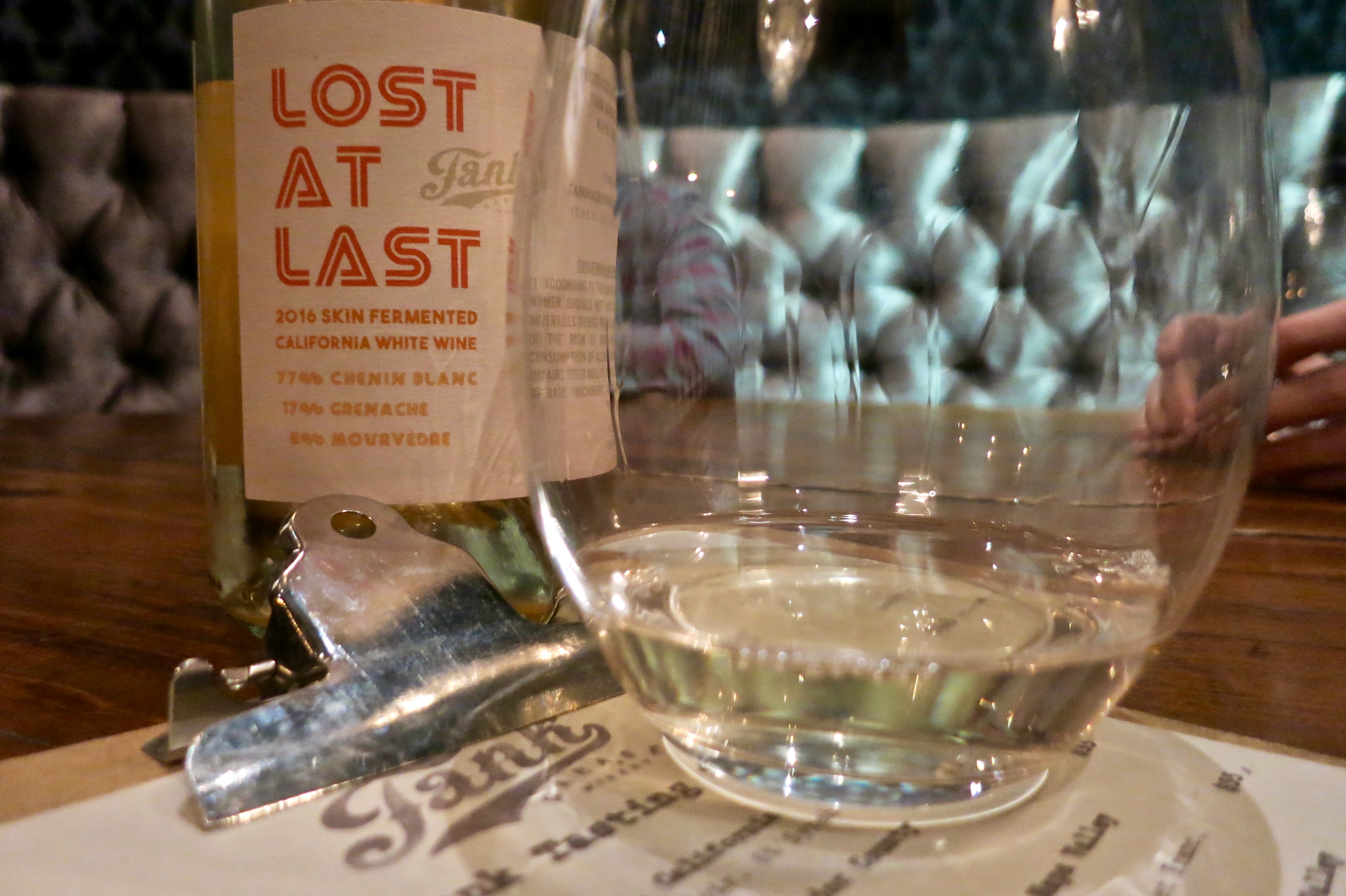 We had the intention of coming to to Tank Winery in hopes to buy more of their previous white wine "Girl Loves Boy" which we found to be phenomenal, and upon arrival we learned of their way of doing things only once, and were notified that it was sold out, and "Lost at Last" was their newest release of white wine. We were crushed to find out the wine we loved was gone, but we were able to get a taste of what it was like being a member here at Tank, where every release was something new. Notes of grapefruit, peach blossom, lemon, yellow plum, white peach,  crushed rock, and green apple.  Bright mouthfeel, really fine acidity and a grapefuit peel floral finish. This wine has a little bit of grenache and mourvedre in it which gave the body a little bit of depth which we found really fun and interesting. We gave this a 89/100 points at $30/bottle.
Tank Winery "Todos Santos" Red Wine 2015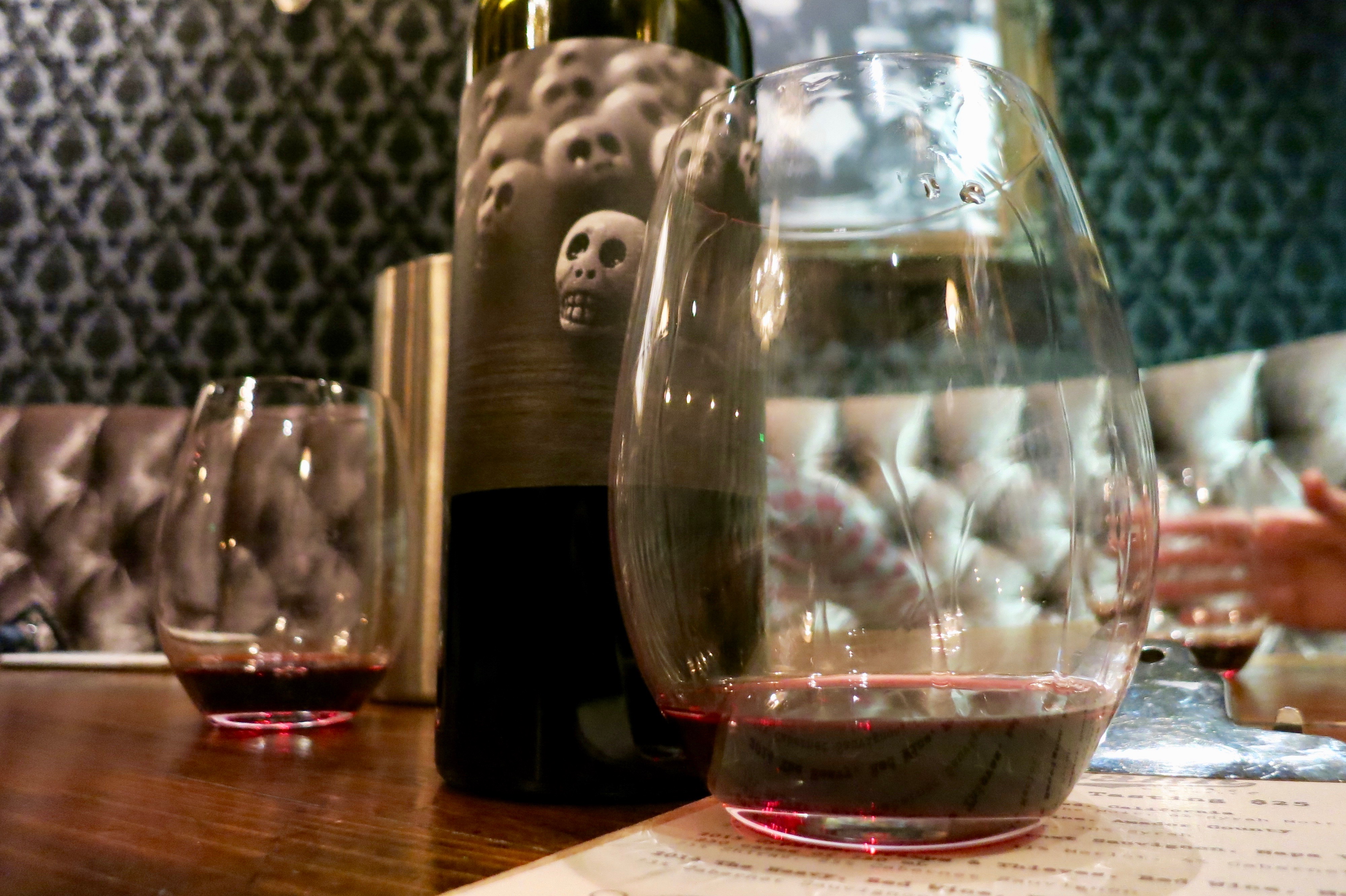 This was a wine we fell in love with on first sip, a blend of Barbera and Mourvedre, and were also immediately told that this wine was on the way out and would be gone soon. We were planning to buy one after tasting, and were told that the one we tried just happened to be the last one! A bittersweet and fleeting moment. Notes of soft black raspberries, pepper, oak spice, gentle notes of vanilla, and spiced plum. Really smooth on the mouthfeel, with soft tannins and nice acidity on the finish. Really a wine that grew on us, we gave this a 94/100 points at $45/bottle.
Tank Winery "Dark Scientist" Red Blend 2014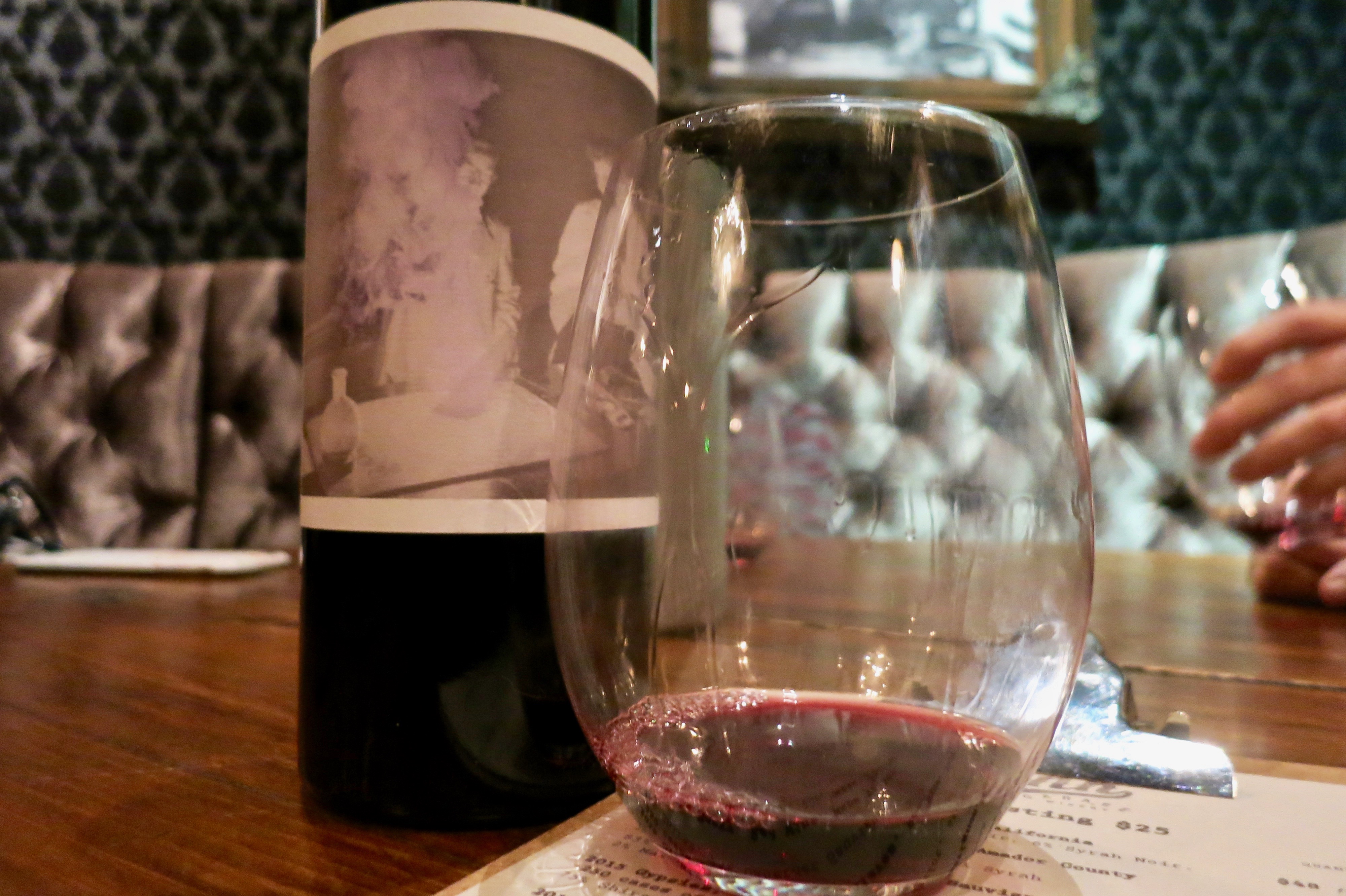 We were excited to see that this was a GSM blend as we have really begun to really get into the groove of GSM's lately and this one, like the rest, delivered. Notes of blue floral, lavender, blueberries, oak spice, licorice, blackberry jam, and pepper. Classic juicy mouthfeel, dense and packed full of rich dark fruit, soft tannin structure and medium acidity. Really a fun wine. We gave this a 92/100 points at $35/bottle.
Tank Winery "Space Cowboy" Red Blend 2014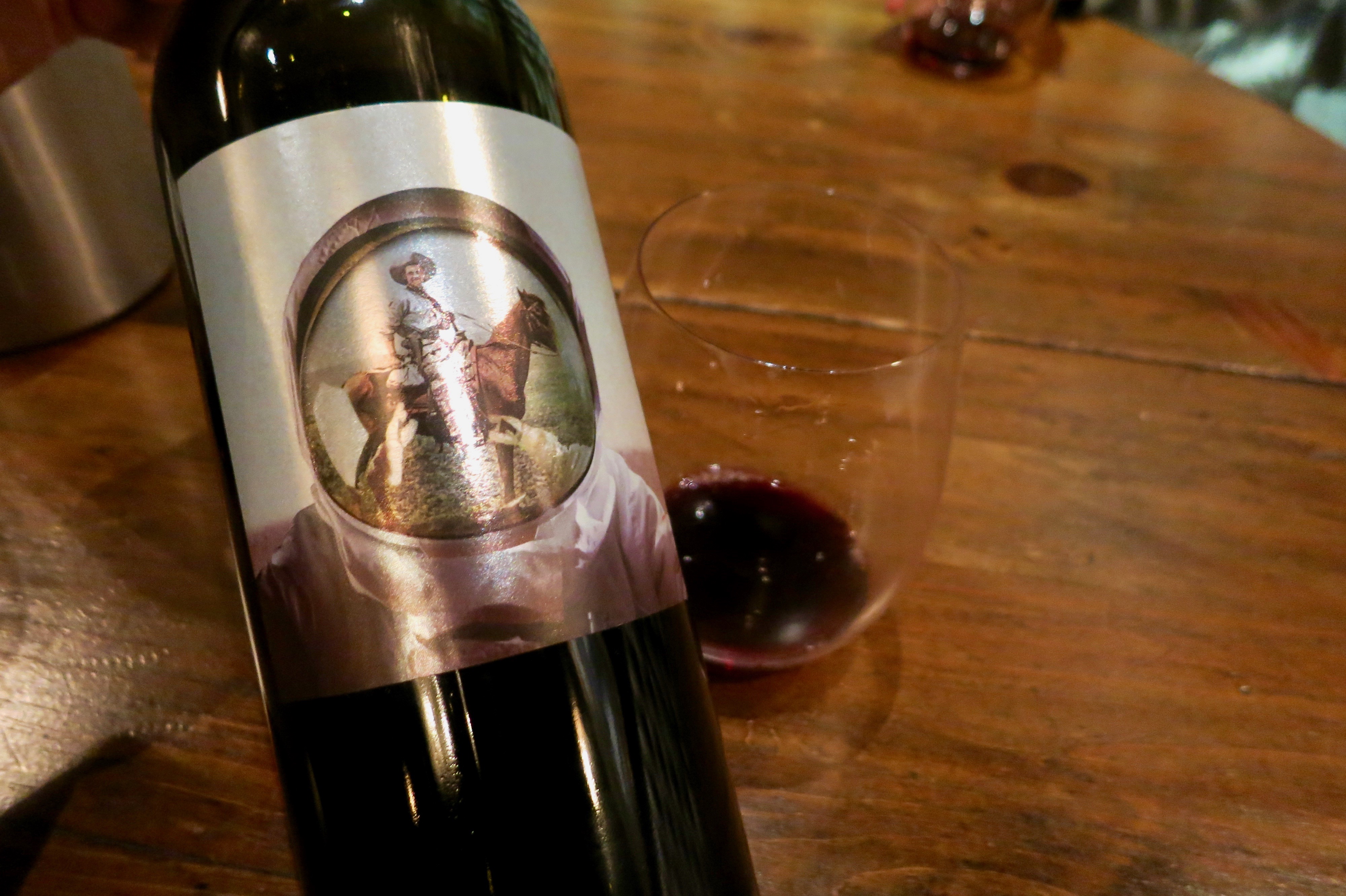 After a mouthful of uncommon grapes, we finally came to a more familiar taste of a Cabernet focused wine with possibly the most awesome label's we've seen in awhile. Notes of chocolate covered cherries, oak, vanilla, currant, licorice and blackberry. Rich on the mouthfeel, elegant structure, present tannin with nice acidity. This is a finely constructed Bordeaux-style blend and definitely would age gracefully over time. We gave this a 93+/100 points at $55/bottle.
Tank Winery "The Heavy" Red Blend 2014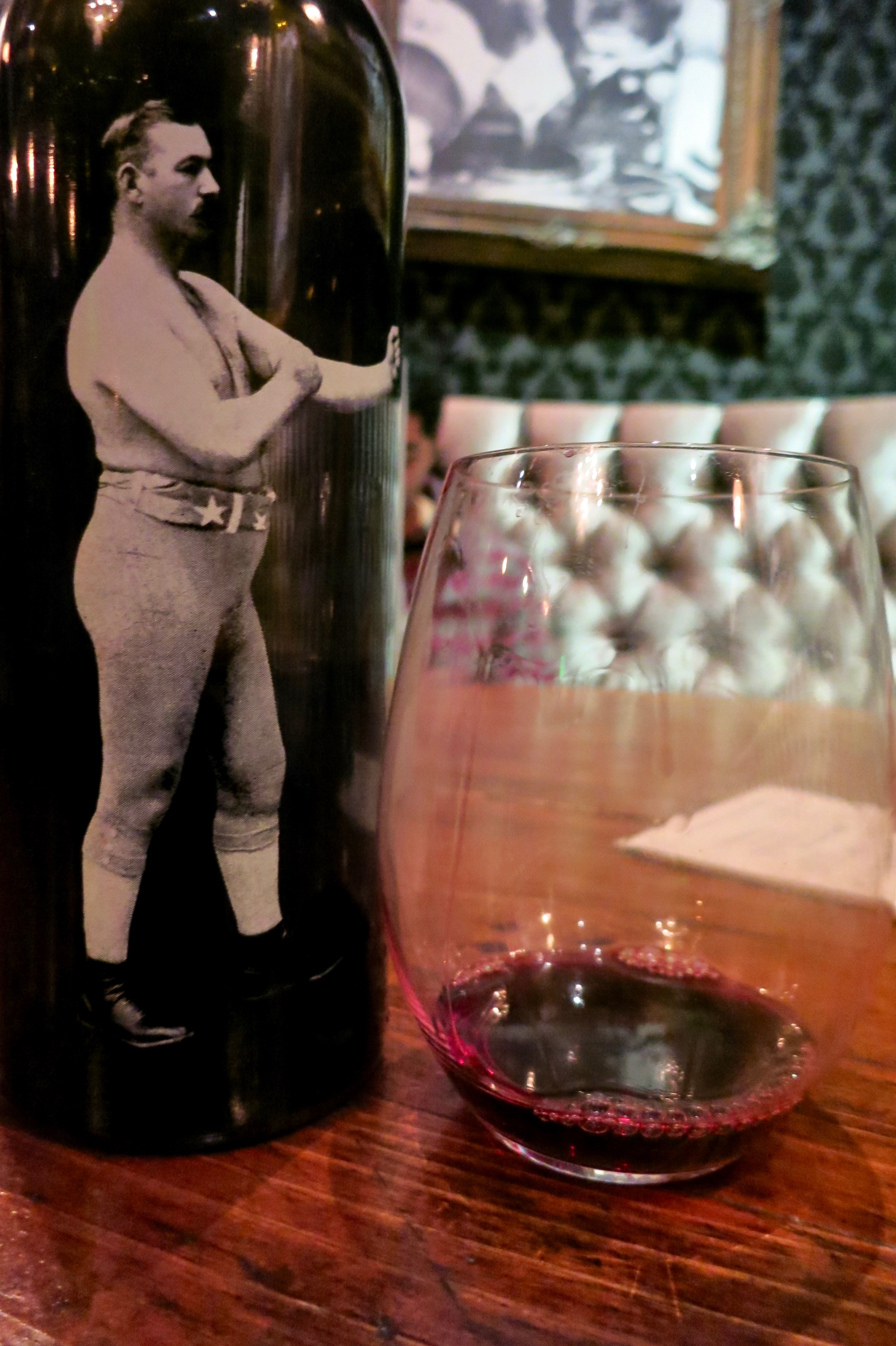 This was another wine had tried prior to visiting Tank Winery, and it was one of the big bold wines that really stood out to us in the past. Having it again just validated the winemaking done here. Notes of tobacco, chocolate, earthy undertones, oak spice, leather and forest floor. RIch mouthfeel, bold on the mid-palate and finishes with dusty tannin with plenty of length. Wonderful value, we gave this a 93/100 points at $55/bottle.
This concluded our tasting with Tank Winery, and we were super impressed with their wines. Throughout the tasting, we commented on how well made the wines were, and how age-worthy some of them would be, but were reminded that to enjoy Tank winery would be to be in the moment. They would be equally as happy if someone let one of their wines sit in the cellar to age, or opened one up immediately to enjoy. All that mattered would be if the person was 100% invested into the moment and that's it. Quite a way to think of the enjoyment of wine, as it is quite often that we are constantly stuck with delicate intricacies of how to drink wine properly, or when is the adequate window to drink, that often we forget that wine is a beverage, meant to be shared with friends. Perhaps Tank Winery will be the ones to start a new trend of enjoying the moments and stripping wine country out of its prestigious fluff that negatively coats it.
What you can find at Tank Winery, is a setting that is far from intimidating, a quirky yet fun vibe, and quality wines that you and your wallet will be happy about. As they put it, they aren't out to make a "trophy wine" but rather out to make a wine that captivates you in the moment, even if that moment can't be replicated ever again. We like the idea of "no rules" meaning they never have the pressure to re-create a wine, and have a freedom of exploration in winemaking. If this can apply to winemaking, surely it can apply to wine tasting right? No rules, just opening a bottle and enjoying it.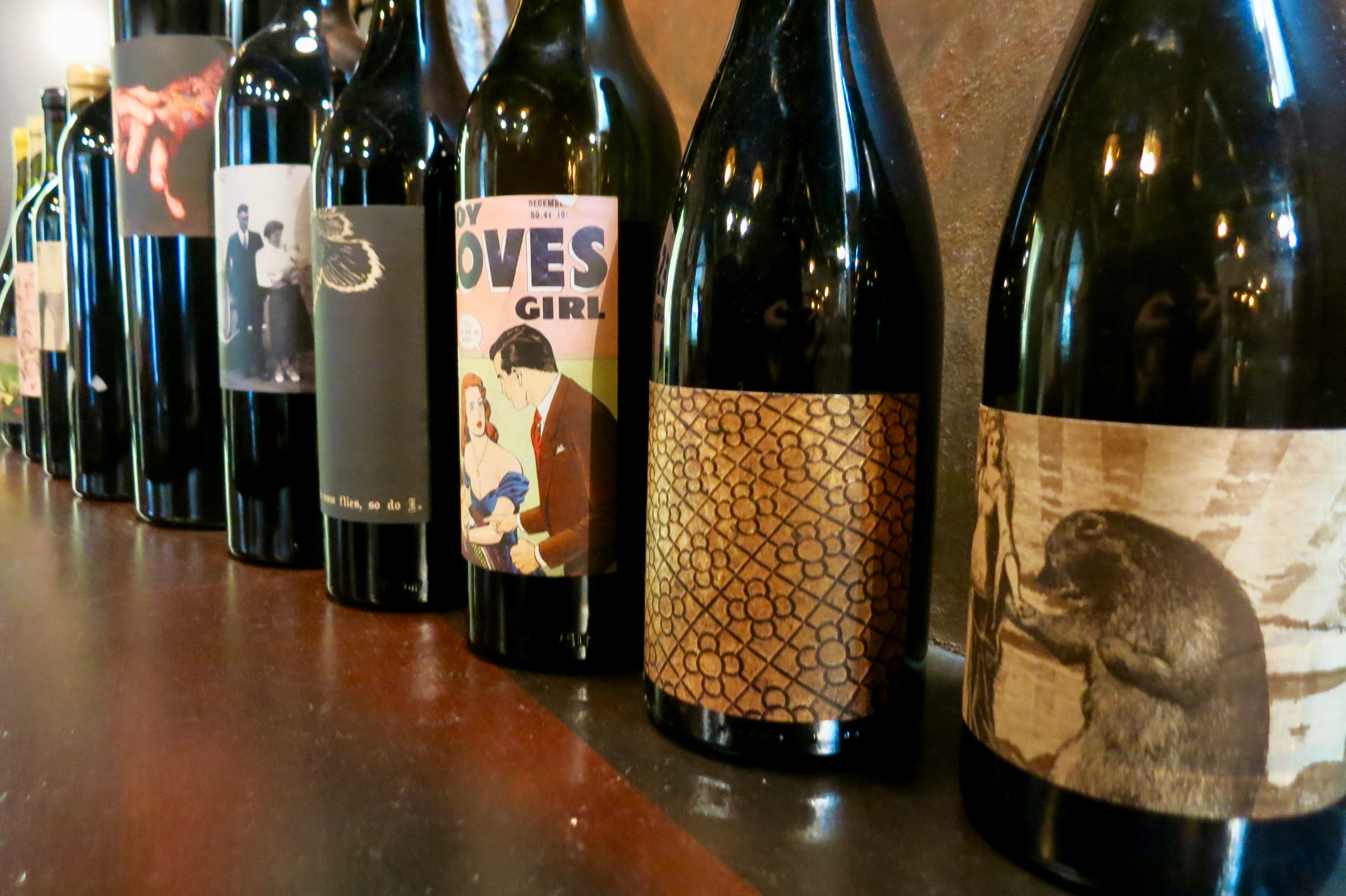 You can be quite sure we will be back, and every visit will be a new adventure that we can't wait to explore!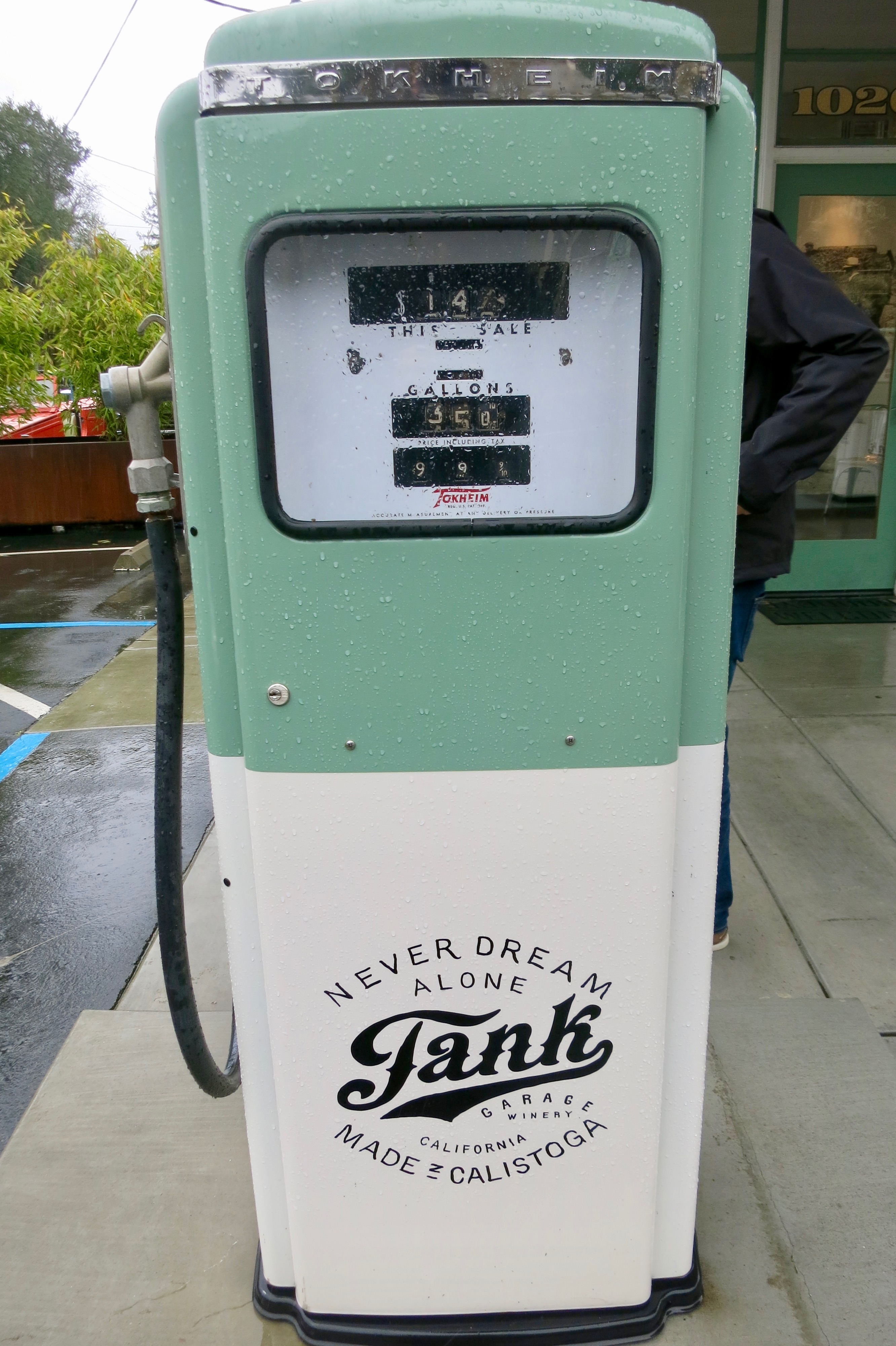 TheWineGuys Recommendation Level: Highly Recommended
1020 Foothill Blvd, Calistoga, CA, 94515
(707)942-8265
Tasting Fee: $25/Person