While we definitely are active in trying to find great wines, sometimes we miss more than a few, and have to be recommended by our good friends. Young Inglewood was one of the wineries that we just didn't know quite a lot about and it came to our attention after our friend and distributor Nathan Kunzman (The Wine Poor) raved that we had to visit it. While we definitely kept Young Inglewood in mind, we always seemed to have missed them, either they were busy, or we were busy, and our schedules didn't work out. Every time we would talk to Nathan, he would ask us, "have you visited Young Inglewood yet?" It became such a dragged out process that we were beyond thrilled to find a time that worked for us. It was a rainy day, and Napa was borderline flooding, but that didn't stop us at all and we sure were glad we stopped by.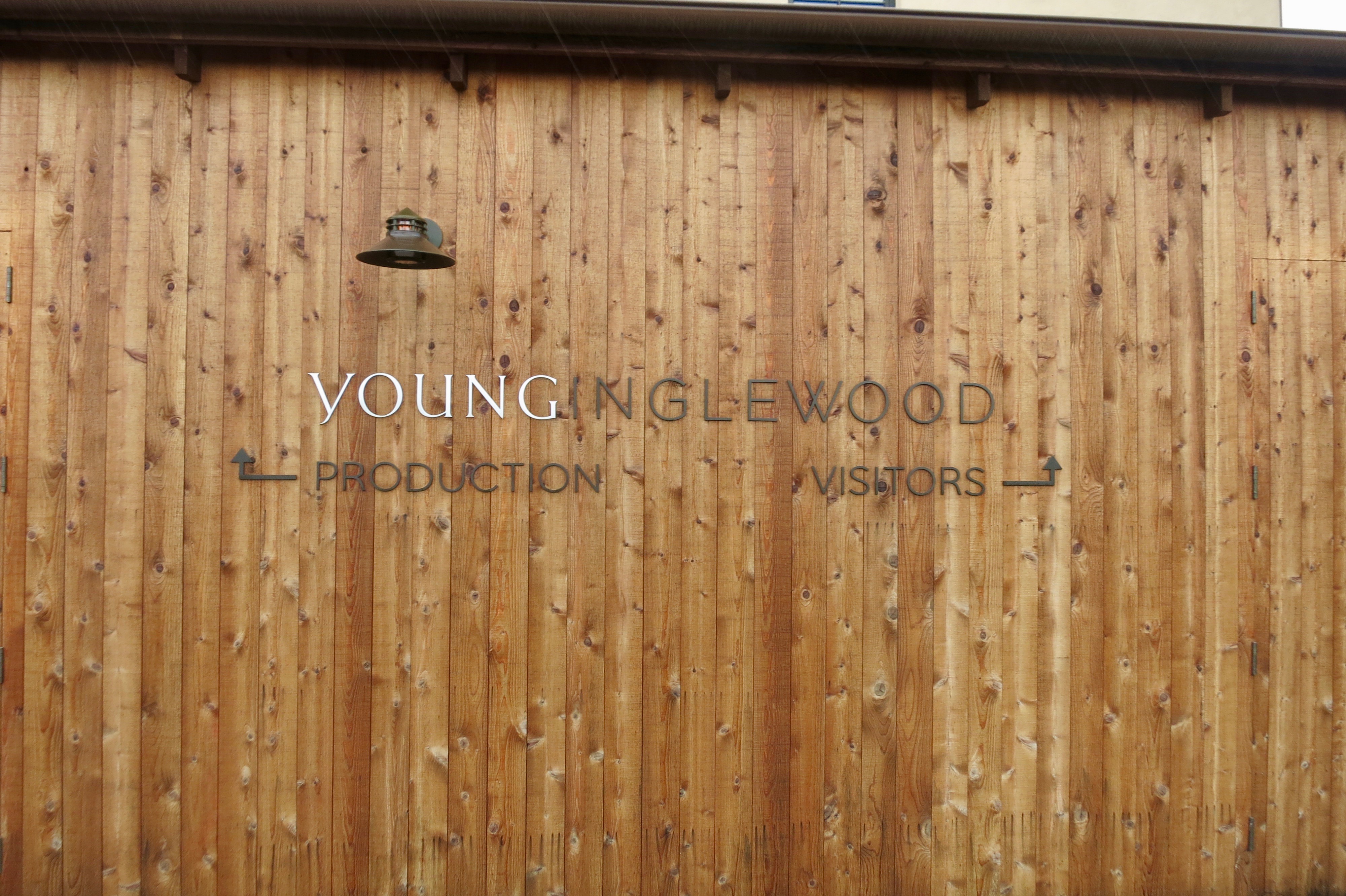 Young Inglewood, although a relatively new winery, was always a part of Napa as we know it, just under a different name. The vineyard was planted in the 1870's and was mostly producing wine except during Prohibition. Under the previous owner Bill Jaeger, the 16 acre plot of vineyard was mainly sold off as grapes. It wasn't until the mid 2000's did Jim and Jacky Young decide to purchase the vineyard. Keeping with French traditions of having the last name and street be the winery name, Young Inglewood was born (coincidence that Jaeger Inglewood was the name of the winery before). Jim and Jacky Young discovered their love of wine together in college, and Jacky claims they started learning more about wines all so that she could get Jim to drink with her (he didn't deny it). As their relationship grew, they always knew that they would eventually want to own a vineyard, falling in love with it after many trips abroad to wine regions. After retiring from their software business, they traveled around in search of vineyards to buy. Essentially it came down to France and Napa (not surprisingly), two places where they absolutely loved. However, upon dealing with France, Jim realized that he spoke not a word of French, and that would lead into complications in regards to all the politics and regulations of French winemaking. The two decided to search Napa (their favorite place), and eventually came upon a gem of a vineyard, the Jaeger property which they eventually bought. With the property bought, the family set on creating wines with exceptional balance, and thus their logo was also formed, the tightrope walker. The tightrope walker represents "Balance," as one would need when doing such a feat, and they sought to make their wines represent such an image.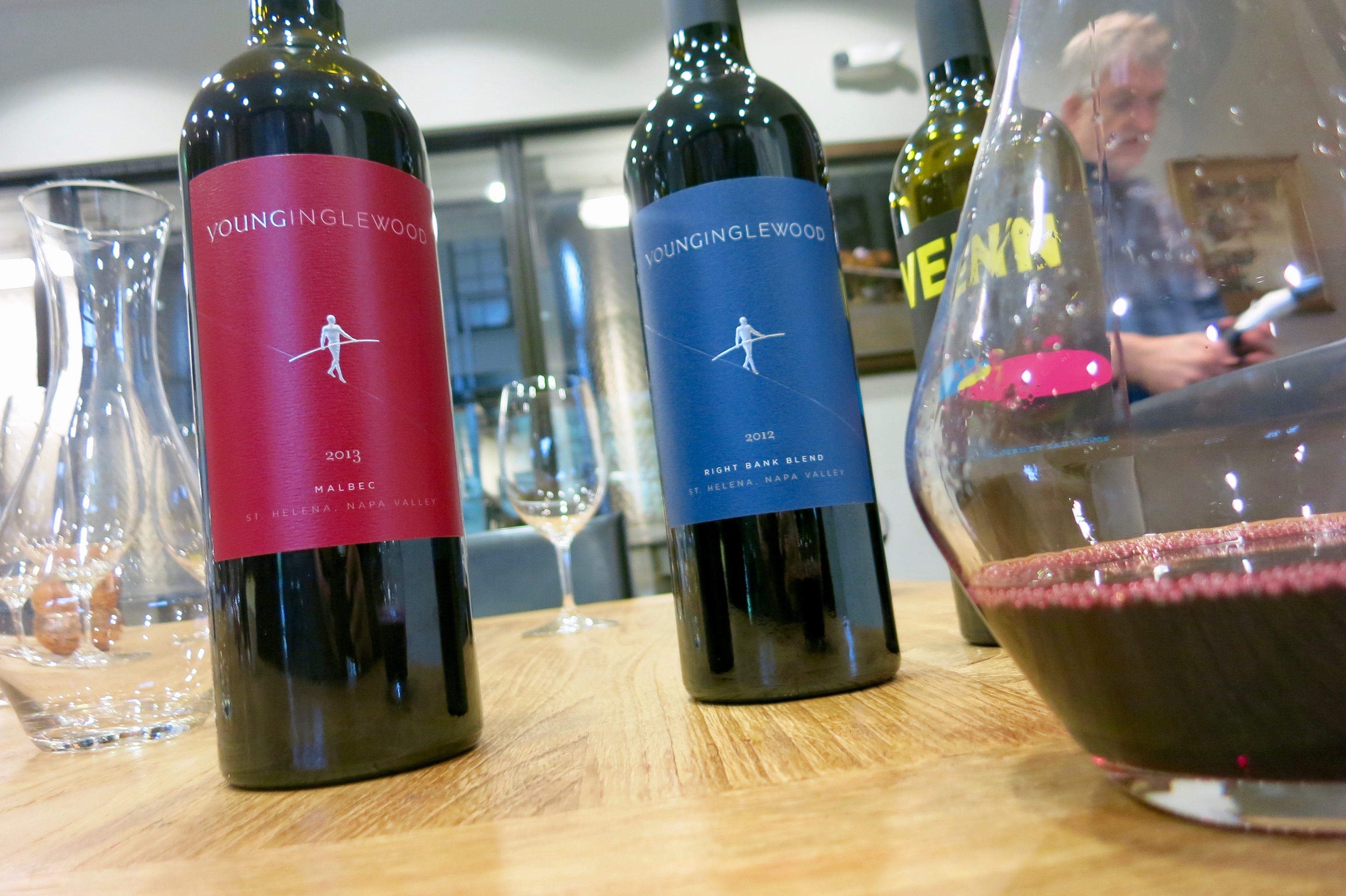 Young Inglewood is very much a family operated winery, with Jacky and her son Scott at the head of winemaking, with Jim managing the daily operations. Jim will be quick to tell you that his palate for wine is "Black and white," either he likes it or he doesn't, and that Jacky has an exquisite palate, and that's why she's in charge of winemaking. The family is also committed to respecting the grapes, and utilizes sustainable and organic farming methods, and is a "green" winery approved by Napa. With 16 acres, their production is relatively small, but the quality is high and it's absolutely a joy to see another successful family winery.
When we finally made our way to Young Inglewood, unfortunately we had a minor error of communication somewhere, and weren't on the schedule, but Jim was more than a gracious host and invited us in. Like most family wineries we have visited, the tasting room was cozy, with a big table facing the fermentation room on one side and facing the vineyard on another. Jim wasted no time in offering us a glass of their 2015 Rosé, in which they only had five bottles left of, due to the rest being sold out! While Jim poured us the Rosé, he said he always plays a fun game (especially with sommeliers) and asks them to guess what type of Rosé it is, and up to this date, nobody has guessed right. While smelling the Rosé, it definitely was a little tough, with the floral and brightness notes coming through did not smell too much like a Rosé of something common (like a Grenache or Pinot Noir), and the somewhat hazy yellow-pink color of the wine also threw us off. We eventually settled with the fact that it was something we were not going to be able to guess, and Jim told us that it was a blend of Malbec and Merlot.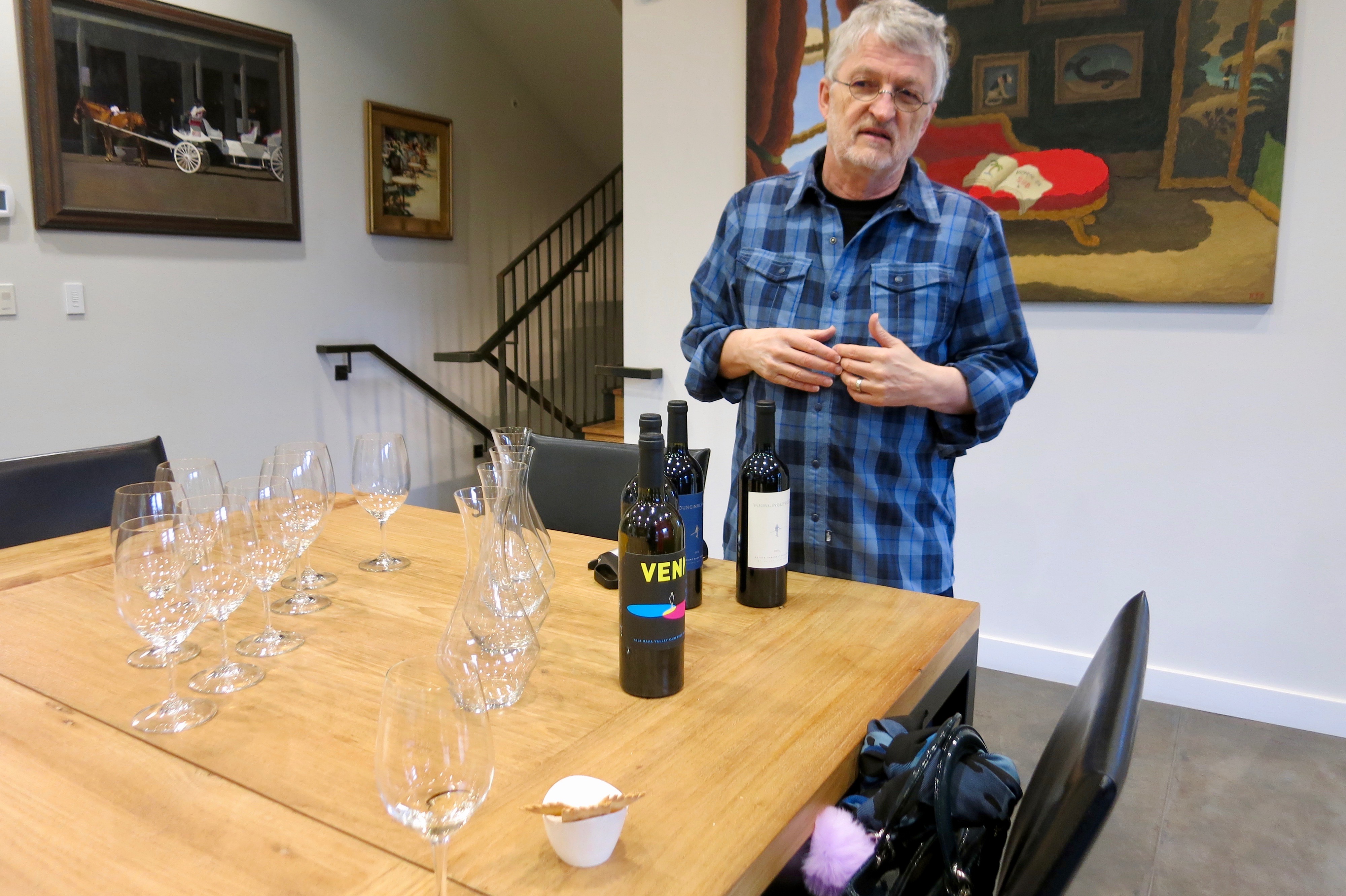 Young Inglewood "Vin Clair" Rosé 2015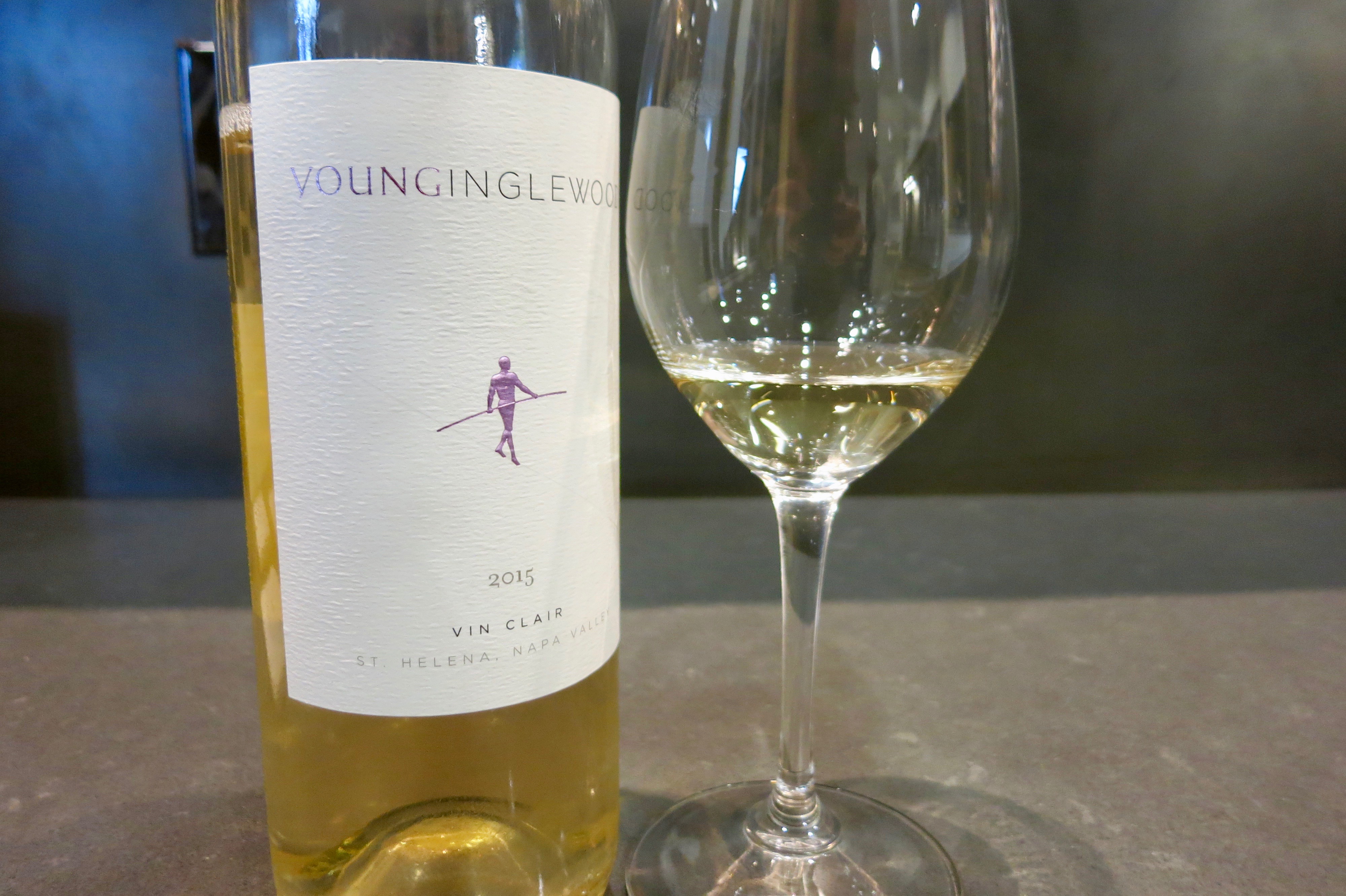 Notes of white strawberries, grapefruit, citrus blossom, yellow plum, raspberries, crushed rock and fresh herbs. Bright and floral mouthfeel with plenty of refreshing acidity. Nice body to it that has a slight denseness to it but still very clean and bright. We gave this a 90/100 points at $35/bottle
After having a glass (or a few) of the Rosé, Jacky came out of the production room and greeted us. She got us some glassware, crackers, and we all sat down to listen to her talk more about the winemaking process. She expressed her inner curiosity of wine, and how she was constantly researching into methods of winemaking, and being able to learn more was the most exciting part of winemaking. She also mentioned that with their wines, she loved the use of oak, and thought it was an integral part of winemaking, as long as used in the right amount. She also noted that their wines saw an extended time of barrel and bottle aging, and their vintage releases were much slower than most (as seen their 2013 are about to come, with most wineries pushing towards their 2014 soon).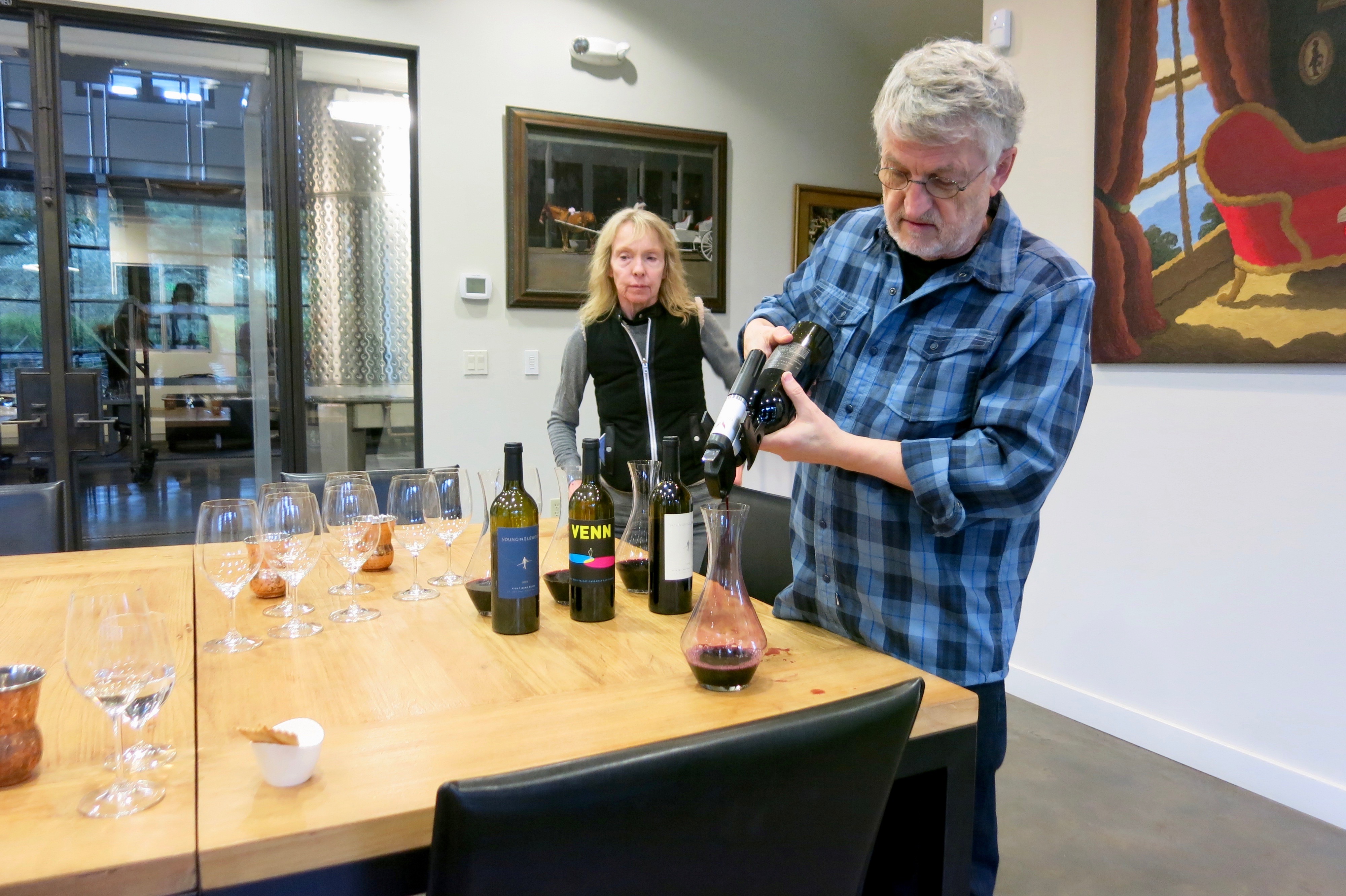 Young Inglewood "Venn" Cabernet Sauvignon 2014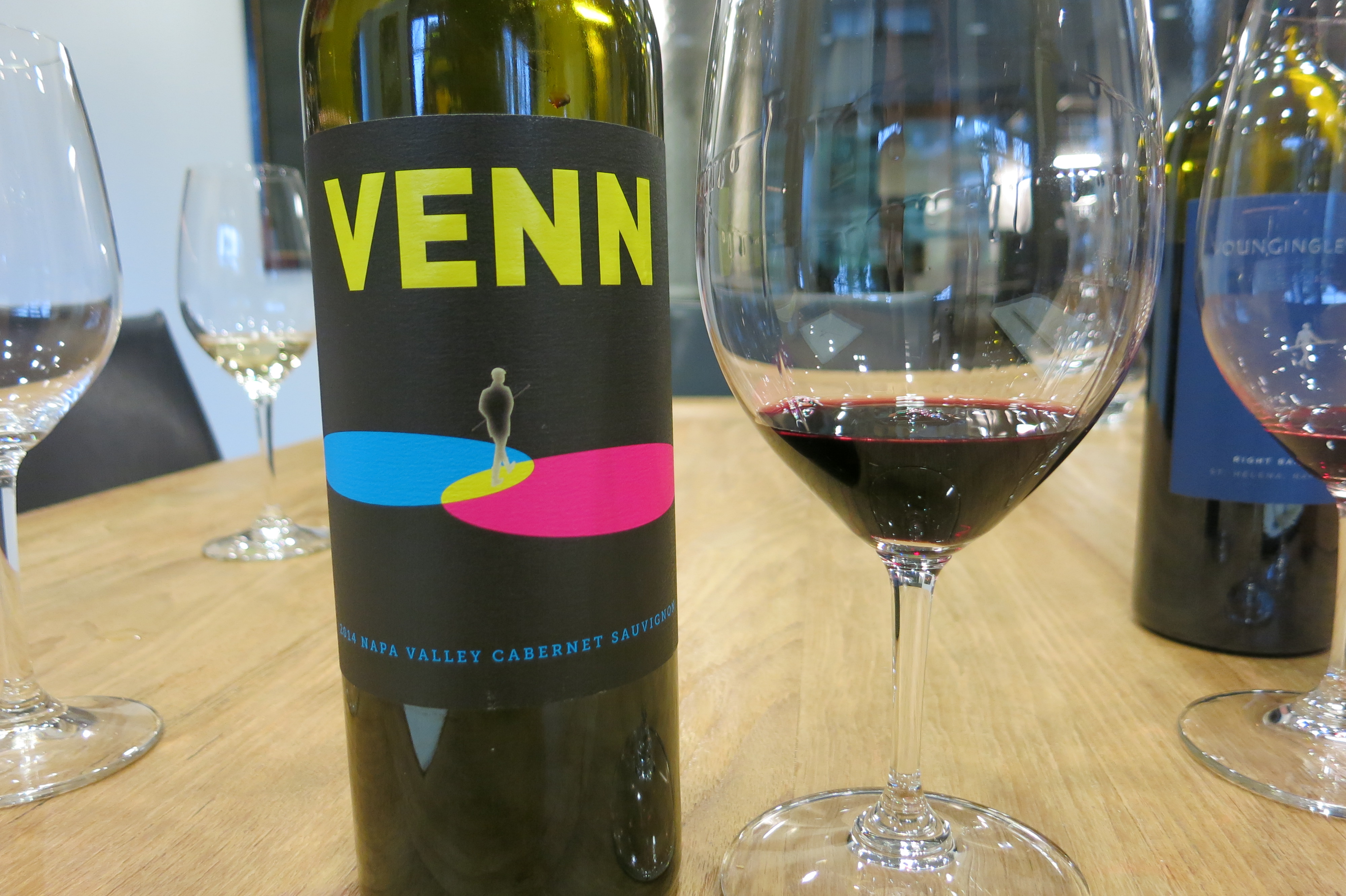 The Venn would be what you can consider an intro wine to Young Inglewood, and a wine that was made to be more approachable early and drink now. Notes of black cherries, black currant, mocha, warm baking spices, dark chocolate, blackberries and licorice. Good weight on the palate, juicy and good length on the finish. A well made Cabernet Sauvignon, this could benefit with seeing time, but definitely approachable now. We gave this a 91/100 points at $50/bottle
Young Inglewood Right Bank Blend 2012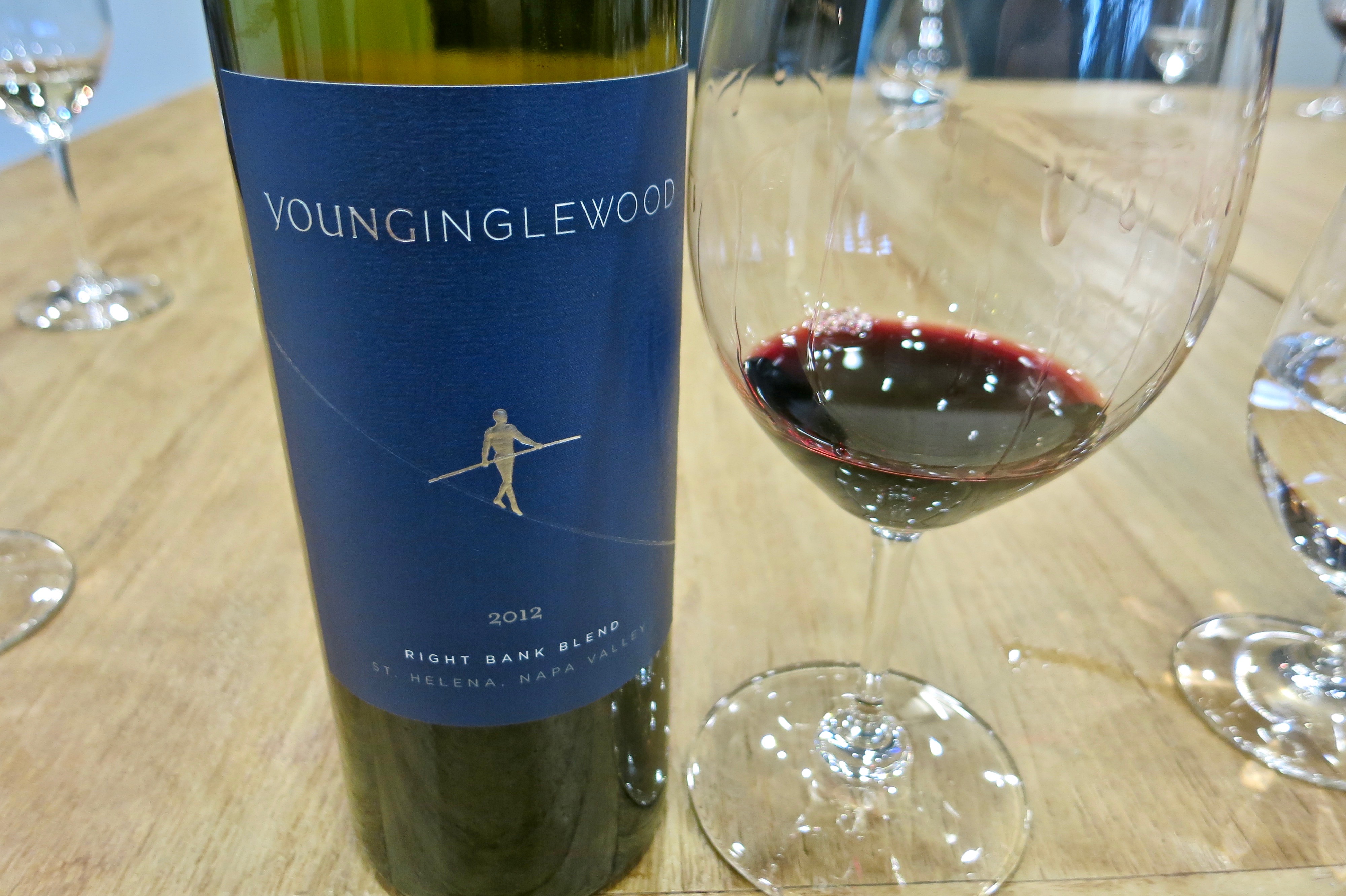 This Cabernet Franc focused right blend had been raved about via our industry friends, needless to say, it was nothing short of splendid and well warranted. Notes of blueberries, chocolate, cigar box, clove, damp earth and leather. Silky smooth and gentle palate, present tannins but incredibly well integrated. Absolutely a magnificent wine that only got better in the glass. We gave this a 95/100 points at $75/bottle.
Young Inglewood Estate Cabernet Sauvignon 2013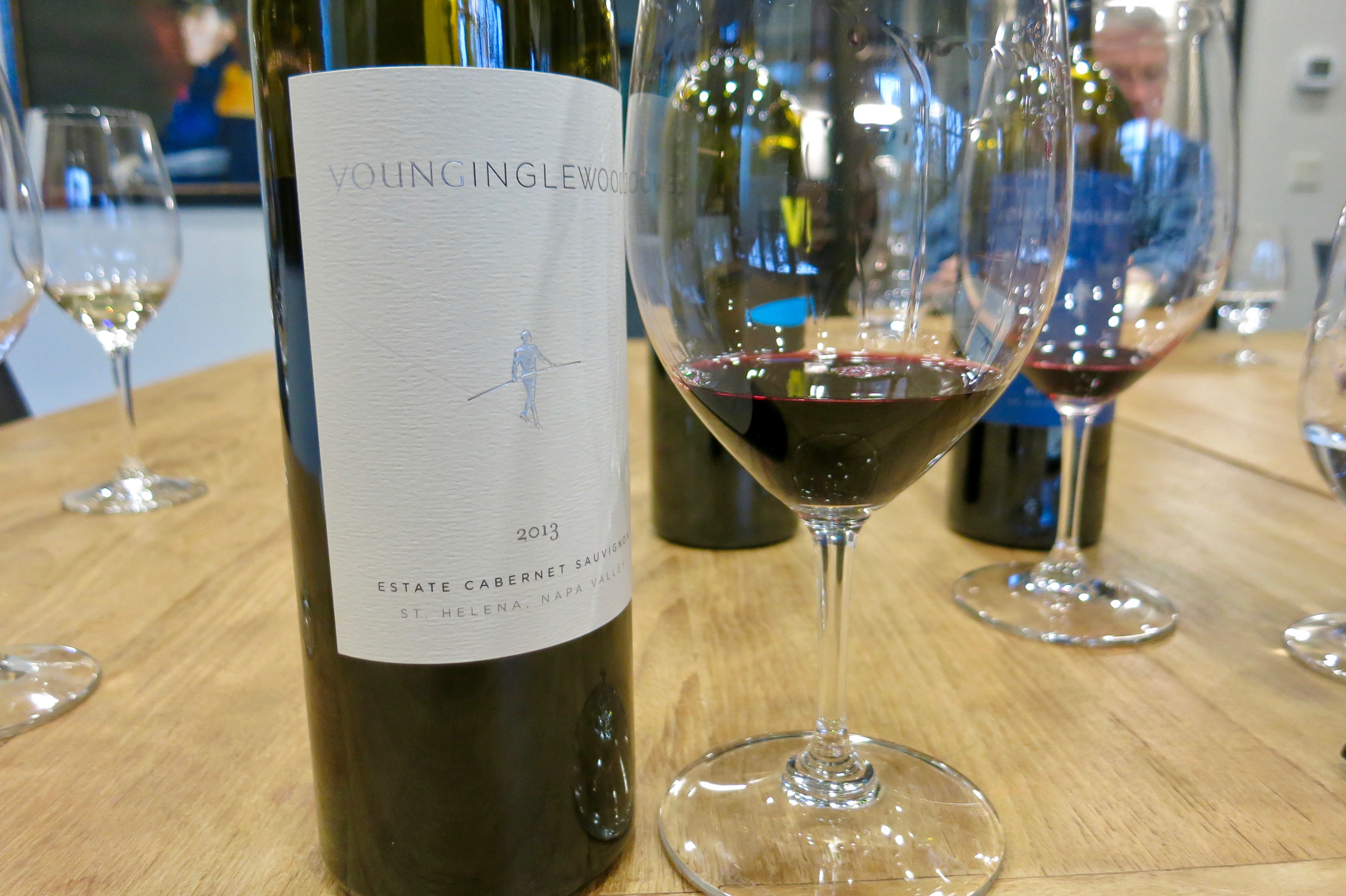 This was their take on a traditional "left bank" blend with Cabernet Sauvignon being most of the blend, and it was actually the wine that was going to be released later this year (Jim must've grabbed the wrong vintage). Notes of blueberries, black cherries, raspberry jam, toasted oak, mocha, chocolate, baking spice and cassis. Really elegant mouthfeel, but slightly bolder than the left bank in terms of the midpalate. Much like the left bank, a smooth finish with very well integrated tannin. Great complexity to both of these wines, and this would only get better with time. We gave this a 94+/100 points at $110.
Young Inglewood Malbec 2013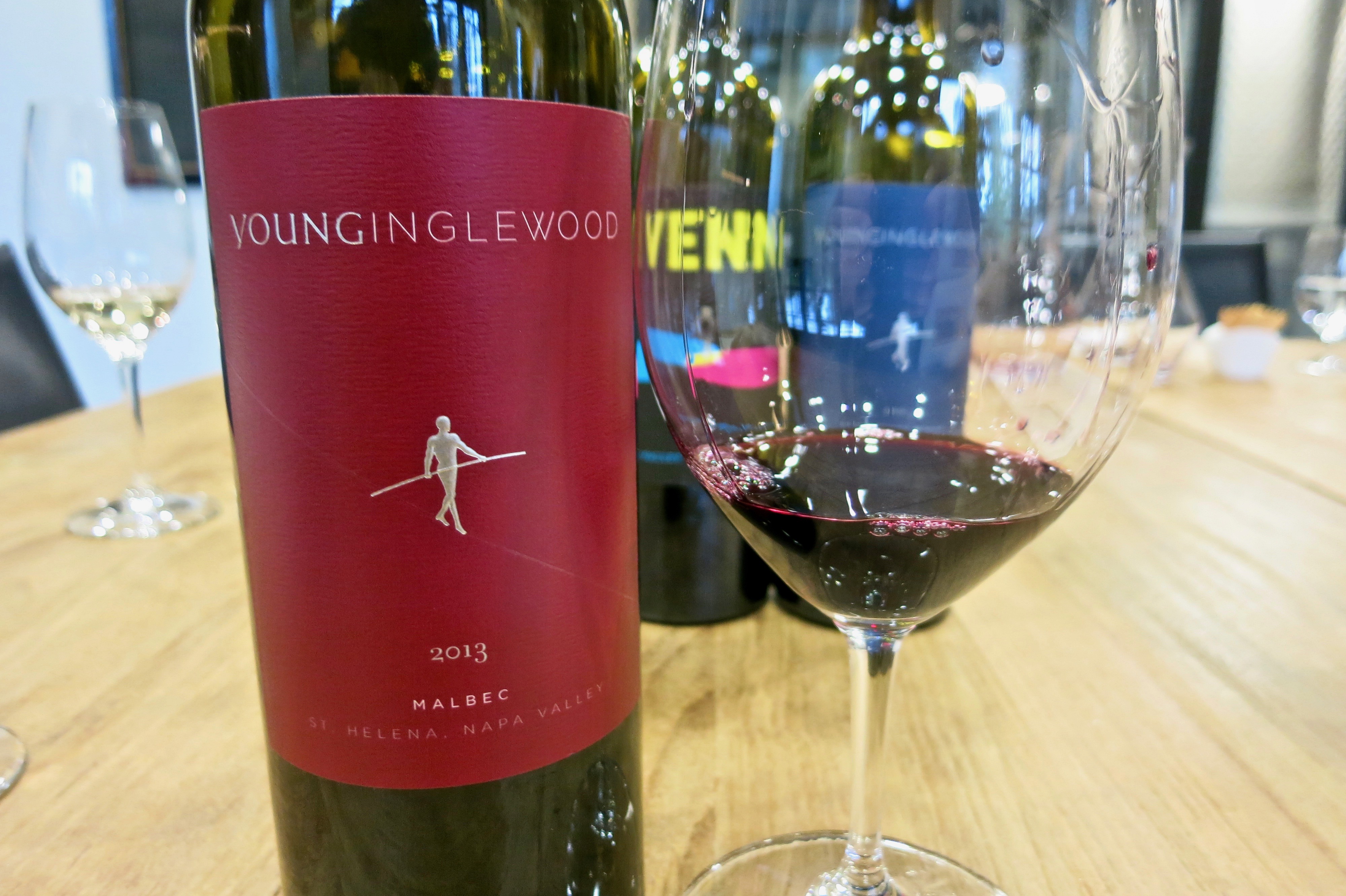 This was a relatively new wine that they debuted, citing that 2013 (much like 2012)  was such a good vintage that they couldnt help make another single barrel Malbec. Notes of  raspberries, spiced plum, smoked meats, red currant, and pepper spice. Bright mouthfeel, generous layers of red berries accompanied with fresh acidity. Well integrated tannin (no surprise), and a lengthy finish made this quite the Malbec. Not heavy at all, bright and inviting, we could've drank this entire bottle and not have gotten palate fatigue. We gave this a 93/100 points at $85/bottle.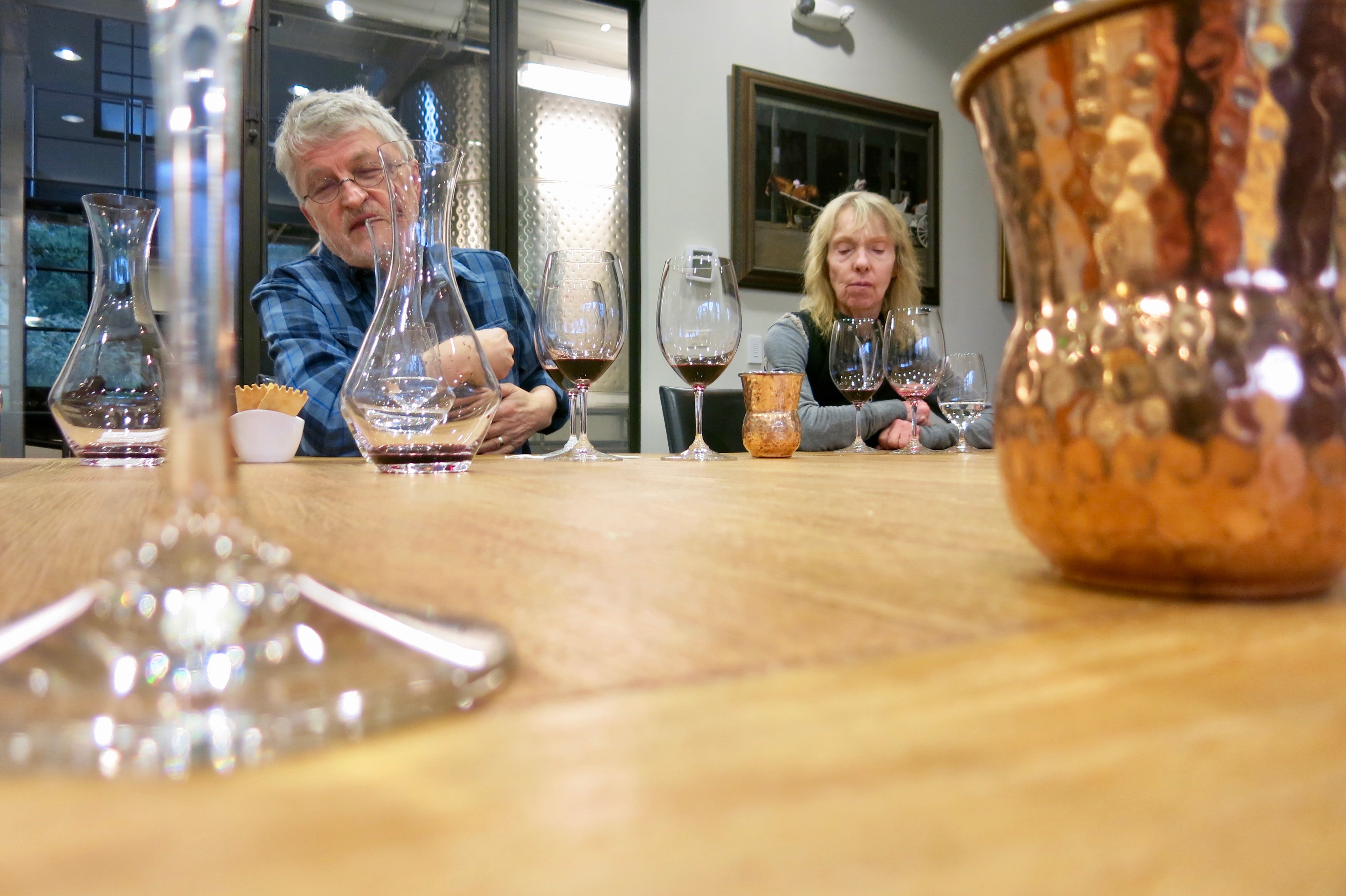 There's something about family wineries that make a simple tasting seem magical. You get the opportunity to really connect with the owners, and really get to experience something that most big wineries cannot offer. We felt this way with Young Inglewood, even though they were unprepared for us (due to a scheduling error), they still welcomed us with open arms and showed us their craft. Hats off to their passion, and we're so thrilled to watch them continue to grow, as another gem in Napa Valley.
TheWineGuys Recommendation Level: A Must Visit
1919 Inglewood Ave, St helena, Ca, 94574
(707) 200-4572
Tasting Fee: $50/Person